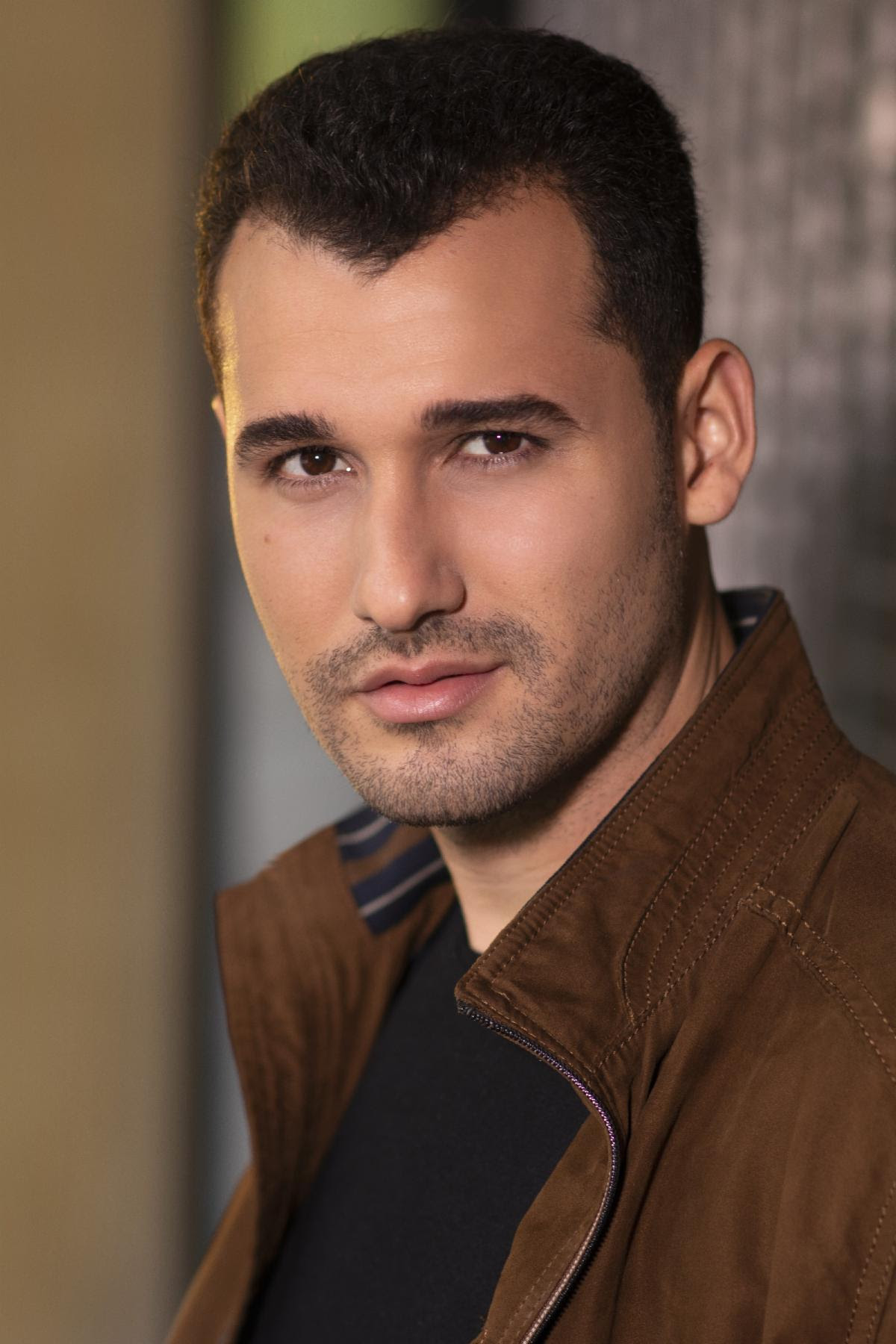 On this latest edition of THE INTERVUE, we have an third-generation actor who made his debut at the age of six in a telenovela in his home country of Cuba. He fell in love with the craft and was selected as one of the stars of the children's show "Los Chicos Altura" ("The High Kids"). From theater, his career thus began to roll, and his name to be known on the Miami scene. Not long after he was cast in the successful Nickelodeon Latin America series "Grachi" which he starred in for three seasons.
Our guest is making his U.S. prime time debut in the CBS hit TV series S.W.A.T. where he portrayed 'Gio Torres', a middleweight Cuban boxer, aka "The Caribbean King. Ladies & Gentlemen, we have Carlo Arrechea 
Tell us how your artistic career started, you have acted from a very young age?

My mom was an actress in Cuba, and my grandfather was also both professional actors. Since I have the use of reason, acting is something that cannot be described as a feeling is how my call is like my passion. When I act, it is like a bubble of happiness. Joy is like that flavor that is rich and you taste it a lot. So I felt that since I was born, I have been acting.

You started in soap operas and other series. You recently made your debut in a successful series here in the United States. Tell us how that process was?

I started in Miami working on television and there was a point that it came in my career where I said "What would be my next step if I wanted to continue doing Spanish projects or if I wanted to do the crossover from the Latin market to the American market?" I was undecided if I was going to Mexico because everything I recorded was in Miami. So I was either going to Mexico and continue making telanovelas to keep me growing or go to Los Angeles and start working on the crossover. So I feel that life works extraordinarily in a way that everything is always working in our favor even though we do not see the big picture.
Sometimes, there is a contrast. There are things that are happening. Still, it is always working in our favor and everything I feel that what we sow, always flourishes. Some managers from Los Angeles contacted me when I was in Miami and told me why I wasn't going for the pilot season and that I should be in Hollywood. They also said that I was wasting my time in Miami. I did not think about it many times. I traveled to Los Angeles for pilot season and I stayed.
And it has been a journey of ups and downs. People think that because one comes from a Latin market doing television and one is well known in the Latin market, it will be much easier. I feel that it is the opposite because you have the pressure from the fans. Still, as I said, everything works in a particular way. I feel the characters find the actor, not the actor meets the characters is a form of a flow and alignment that connects.
And well, Diego Torres from S.W.A.T. arrived. It has been life-changing for my career. Diego Torres is a middleweight boxer, a world champion, and the king of the Cuban Caribbean. I cannot tell too much because I want them to see the project, but it was challenging because I had never boxed. Hence, I had to work very hard in everything that was training that was learning to box. It was also choreography like a dance. Then, I was learning, it was not that we had a lot of time because television records very fast.
The good thing is that we started doing this before going to the Christmas break, so I had all that time to prepare and begin recording those scenes in the first and second week of January of this year. I shaved my hair, I gained weight like 10 to 15 pounds for the role, also my accent despite being Cuban, as I come from doing television in Miami the audience requires us to speak a neutral dialect, my Cuban Spanish it wasn't no longer as strong as that of character then I had to get all my Cuban accent voice again. Thanks to this role, I am a contender for the Emmys for this character if God wants and the television academy members voted for me, I would become the second accomplished Cuban actor in the history of being nominated after almost 20 years with Andy Garcia. If I win, I would be the First Cuban. At this point I am delighted to be doing what I love and receiving very favorable reviews of this market, which is a different market from the Latin Market. It fills me with gratitude, and I am very thankful for that and also that I am sharing this with you, thank you very much for having me here.

Have you ever imagined getting to where you are now?

Yes, because I have always been dreaming. I have always said that you have to fight for your dreams and you have to follow your hearts. Taking action is not that you are going to fight for your goals and you are going to wait at home for someone to knock on your door. The first thing I did when I came to Los Angeles was that I got a scholarship at the Stella Adler Academy of acting, where Marlon Brando, Mark Ruffalo and Salma Hayek have studied. People that I admire a lot and that was one of the first things I did. Despite that I started auditioning in the pilot season, I was preparing myself non-stop for this for what life had for me for what life has for me.

I remember when I was interviewed for Spanish media. They asked me "Do you see yourself in Hollywood?" I said "Yes, but I saw it near and far at the same time." I feel that if you have to have a plan in life, it will also go with that flow. And to trust that there is a big plan and that everything you want can be achieved. I keep thinking and like you say I have done several things in the world of entertainment. I am young, but there is still much to continue doing and creating because for me doing television cinema or theater with other people is like a co-creation because all these people are also making their dreams come true. They are working on it and we all come to complement that and something magnificent is done.
Who are your favorite actors? Did any of them inspire you to follow your dream?

My little motor has been my grandfather who had passed away. He has been one of the people that I love the most in this world. One of the reasons to keep going wasn't only my success, it was for him, my mother and obviously for all the people who have believed in me. Actors that I greatly admire are Andy Garcia, Antonio Banderas, and well Desi Arnaz. As his character, Ricky Ricardo, is very special to me to see a Cuban who made history long ago for CBS. He was one of the pioneers of multi-cam comedy here in the United States.

What are the biggest challenges you have had to go through during your career?

First of all, when I moved from Cuba to Miami, it was the approval of my grandfather and my mother because they did not want me to continue my career. My grandfather was a professional actor in Cuba but he gave up and wanted to be to be a teacher. Despite the fact that I was a professional actor and my mom also how they wanted me to study psychology, that was like my first obstacle. There was a point that I started studying psychology the first semester and I left it after the first week. I told myself that this is not for me.
If you have something in your heart, it has to go on. If your family really loves you, they has to respect that the second you prepare for Latin television. It was the accent why I couldn't speak Cuban. It was the neutral accent. Then, I was taking classes and the industry is very competitive in Miami. There are many actors and so many productions. I think there are two productions a year or something like that then it is a small market. It reached a point that I said I know what am I going to do until Sebastian of Nickelodeon arrived, which was what made me known nationally.

The entertainment industry is very competitive. What is the key to stay firm?

To not lose faith, not give up. They will be close ten doors, and a window will open. The point is constancy we are humans we can adapt. We are resilient I think that is what an actor does not give up continue, if that dream is there in your heart there will come the point where the right character for you will arrive and also be open to knowing that if life wants to take you another way it will do for the best but you have to be clear enough to know why it is very easy to throw in the towel it is very easy to give up on the first no.
I am a person I don't know if it is because I am an artist or an actor I am sensitive. Obviously, at the beginning of this market, it was always something or this or that or another thing that came to the point that said that this is happening. I am wasting my time because I am going back to Miami. Still, I did not give up, and I went on and on, and today that I am talking to you, I realize that all work in the perfect way for me and how good that I did not give up and went on.

What would you say to all the young aspiring actors who want to get where you are?

That they do not give up that they have to fight for their dreams and prepare because being an actor is not that because you are rich or it is like o I'm an actor I am going to take photos, or I am cute or pretty. No! You have to prepare. It's a lot of work and hours and hours of rehearsal recording that sometimes the form scenes are not working for the camera, and you have to be done in another way, you have to prepare a lot. My legacy that I can leave is not to give up; there is a statement that I always say there is nothing that I cannot be or have or doing; everything is possible by being proactive and taking action. But what is in your heart can be achieved. I come from Cuba where there is no freedom you cannot leave the country, I thank God that my mother and I won the visa lottery and that is why we were able to leave. I don't know what I will be doing right now in Cuba If I will be acting. Still, it is another mentality, or I will be risking my life to go out on a raft to have freedom. If I could, we all can, we all have the capacity for what we want to be in this world. Society and some humans think that only a limited group can achieve their dreams or things, it is suddenly you for your family or if you are rich or for the way you dress or the skin color. I feel that it is time to have an unlimited mind of what we can do to be and have and what we want and not be jealous or envious because the other person is doing well, on the contrary, I feel that when one is happy that is going well for the other person you are sowing success in yourself. For me, that is the key.

I read that you do volunteer. Tell us more

I did that in Miami. Here I can't do it with all this of the COVID19 it's not possible. I believed that children, grandparents and animals give you the greatest love of all – an unconditional love. The Ronald McDonald House program in Miami supports low-income Latino families. Many of these families come from Latin America and you spend time with them, play games and serve them food. It's like a day of celebration. A full day where you talk to them and you give them gifts.
Many of these children saw the Nickelodeon series "Grachi" and were fans of the character in the story. It was very nice. I remember they looked at me and they were as stunned as if I were an idol. One of the things that I always spoke with them was that we are all the same. If I could do it, you can do it too and what you are going through will end because the light always comes out at the end of the tunnel and the that volunteer work was not for them. It is more for one. People think here when they are going to volunteer it is for them, and it is for oneself. My heart and my soul are filled with love. Thanks for asking this!

To finish, what have you learned during in this pandemic? 

Adaptation is the first word that comes to my mind right now. To adapt to all this in a way to get the most out of everything there is. From being a happy day by day knowing that anything can happen and that everything can be uncertain. The only power I have is my mental health is how I feel and what I am doing within my reach and if I'm proactive.
It has been several months. On March 15th, I think the industry stopped recording everything. And at first, it hit me hard because it was like nothing was happening. I think it's taking advantage of what there is. I think it's the greatest gift that the COVID-19 has given me of all this. And well, I also adopted a puppy. This is more unconditional and genuine love that I have after my grandfather and my mother have given me.
I invested a lot in me to make you honest, Arely. I did some reading and going out to the yard. Sometimes, I run on the beach when I can because sometimes they tell you that you cannot and do the best with what there is. I think as human beings, we have the ability to work and get the best out of what we have. If you have a piece of bread and a family of ten, you divide that piece of bread into ten. As that quote says "When life hands you lemons, make lemonade."

For people who want to know more about you, where can they find you?

I'm on Instagram, Twitter, and Facebook