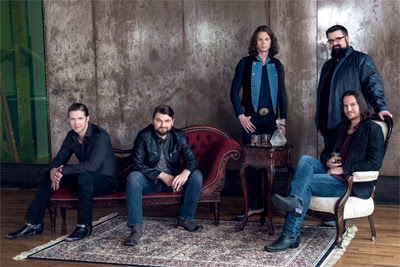 Champions of NBC's "The Sing-Off" and YouTube-famous a cappella ensemble Home Free is bringing country favorites, Nashville standards, and country-dipped pop hits to the Music Center at Strathmore on Friday, April 7 at 8 p.m. Columbia Records' five-man band has become a household name for their show-stopping performances that mix their signature no-instrument, all-vocal music with quick-witted humor. For more information or to purchase tickets, call (301) 581-5100 or visit www.strathmore.org.
Since being crowned NBC's "The Sing-Off" victors in 2013, Home Free has crashed the world music scene, selling more than 250,000 copies of their popular albums, embarking on four major national tours, and amassing over 100 million YouTube views. The release of their third studio album, Country Evolution (2015), has elevated the band "from auxiliary entertainment to headlining attraction" (Times Leader) and hit No. 4 on the Billboard Country chart. Produced by Darren Rust, the deluxe version includes five originals and nine new renditions of hit songs that showcase the band's extraordinary talents, tight harmonies, and intelligent arrangements that are uniquely their own. Home Free's breakout debut album, Crazy Life (2014), hit No. 1 on the iTunes Country chart.
Founded in 2000 during the band members' college years, the Minnesota ensemble has been perfecting their live show for nearly a decade, performing together for packed crowds at major fairs, colleges, and theaters. Their experiences on the road helped carry them to "The Sing-Off," build a loyal fan base, and bring their homegrown country style into the national spotlight.
Strathmore Presents
Home Free
Friday, April 7, 2017
8 p.m.
Tickets $31-$75
Music Center at Strathmore
5301 Tuckerman Lane
North Bethesda, MD 20852
For additional information or to purchase tickets, visit www.strathmore.org or call (301) 581-5100.