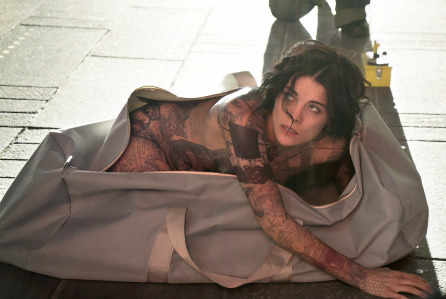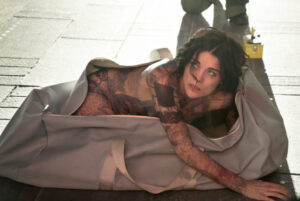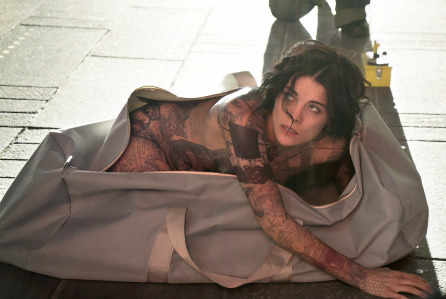 The show I was able to watch was Blindspot with Jaimie Alexander (Kyle XY, the Thor movies, Agents of S.H.I.E.L.D.) as Jane Doe, an amnesiac who is freshly tattooed and dropped off in Times Square in a duffel bag, and Sullivan Stapleton (300: Rise of the Empire and Strike Back) as Kurt Weller, an FBI agent who is brought from Kentucky to New York when his name is discovered tattooed on Jane Doe's back.
Watching this show, it was very hard not to look for comparisons Blacklist, the other major conspiracy thriller on NBC. I also found it hard to not compare this show to both Kyle XY and John Doe, both shows about an amnesiac involved in a major conspiracy which were both cancelled before their time.
Overall, I felt satisfied with the pilot. The only problem is that this type of satisfaction is not necessarily indicative of anything. I cannot count the number of times that I have loved a pilot, only to see the show go downhill quickly, particularly with this type of show, which requires a serious balance of question answering and mystery in order to sustain it for any decent length of time. I really hope that this show can maintain that balance, because it does look like a very interesting ride. By the end of the pilot, we have at least two threads in the overarching mystery about why Jane Doe is tattooed and why she has no memory and we have at least one future story relating to an FBI agent and a file.
Along with Weller and Jane Doe, you have a cast of supporting characters. There is a doctor who is helping Jane retrieve her memories, the FBI agent in charge of New York, two agents who Weller brings up to New York with him, a tech, and other assorted agents.
Honestly, when I watched the pilot, there were very true surprises in terms of twists I didn't see coming. There was nothing that grabbed my attention and screamed that this is a must see. That being said, I do hope that the show continues and really strengthens itself over time because I really want this show to work and keep going, mainly because I love the idea. My main concern is that people will abandon the show if it doesn't parcel out the secrets in a decent manner.
Check back next week for true review of the second episode!
Grade: B-