Black Violin Unity Tour
2 min read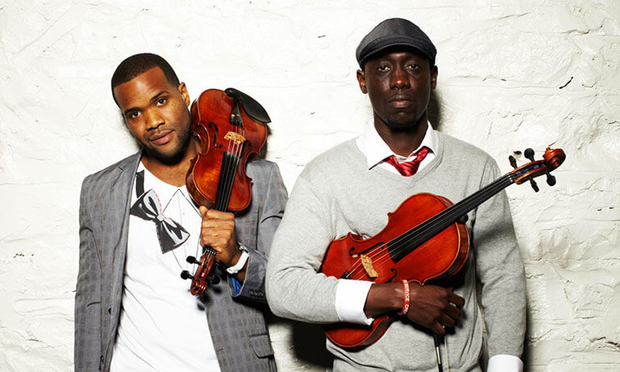 Kev Marcus and Wil B were at The Music Center at Strathmore on Saturday night for the Black Violin Unity Tour. Black Violin is a classically-trained violin hip-hop duo. Their latest album release titled "Stereotypes" says it all.
Well, Black Violin isn't really a violin duo more than they're a violin and viola duo. I know viola players get annoyed when you refer to their instrument as a violin. Kev Marcus plays violin and Wil B plays viola. They are also accompanied by DJ TK and drummer Jermaine 'Beatdown' McQueen. This isn't a quiet violin performance by any stretch of the imagination, Kev Marcus makes a point to emphasize that.  They're fully amplified and bring the forte to classical music.
A Black Violin performance is an enjoyable experience. There is a fusion of sound being played that you just don't come across every day. Now classical music and hip hop are nothing new. Take Rihanna's "Love On the Brain" for example or even 50 Cent and Young Buck "I'm A Soldier." Both songs make heavy use of classical elements. The difference with Black Violin is they showcase classical music alongside hip-hop. They don't just sample it in a few tracks but feature it in multiple tracks and albums. A good example is the Black Violin song "Brandenburg." I know the reference. We're not talking about Beethoven or Mozart here but the J.S. Bach Brandenburg Concertos. Casual classical music fans aren't even familiar with the Brandenburg Concertos. You have had to study classical music or at least follow it fairly well to be familiar with those works. It's no wonder Black Violin's second album is rightfully called "Classically Trained."
So they mix classical music with hip hop and they also mix hip hop with classical music. Usually, they cover different artist every show, tonight they covered Drake's "Controlla," and "Too Good." They were really good covers. It's amazing how natural "Controlla" sounds on violin. It made Drake sound like folk music.
They covered a lot of music but my favorite songs are Black Violin's classical influenced original works. Songs like "Dirty Orchestra," and "Brandenburg." Or "A-Flat," and "Stereotypes." Something about a hip-hop rhythm mixed with the violin is hard to ignore. Not to take away from the covers. Another really enjoyable part of the concert is their "freestyle" session. They do an impromptu jam session that features every musician. They can make an electric violin sound like an electric guitar and Jermaine "Beatdown" McQueen goes animal on the drums. DJ TK also keeps everything together nicely. He has a cool old school hip hop DJing technique with REAL RECORDS. That's cool because that's the style of DJing that requires the most skill.
This was a great concert. There was a lot of energy and Black Violin enjoys performing, you could just tell.