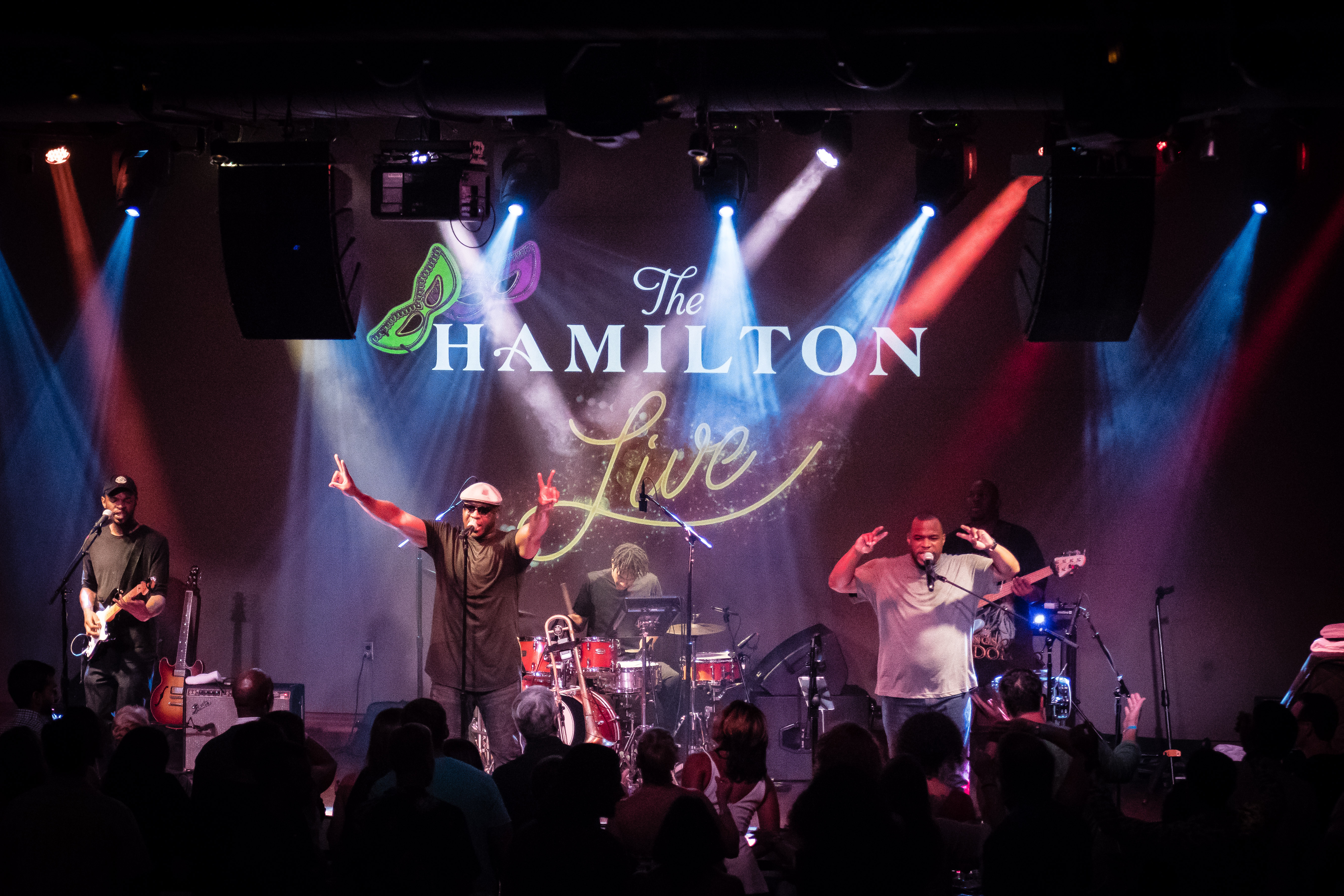 Photos by Ari Strauss
For those that have never had the pleasure of a real New Orleans live show, its not your "sit down and enjoy" type of event. I say event because that's exactly what it is, an Event! Performers from the Crescent City don't know how to do small. That in mind, on Saturday June 23rd the perfectly named "Big Sam's Funky Nation" showed up, and showed out.
Playing to a packed house, Big Sam's Funky Nation hit the stage with an energy that could only be described as "good gumbo". Sporting a unique sound that mixes a little bit of old school, and a little new. A little bit of that "down bottom" feel with a funk back drop. They bring it all together with an upbeat jazzy swing. We all know it don't mean a thing if it ain't… you see where I'm going.
As I scanned the room, I could see a lot of empty seats; this wasn't because of low ticket sales. Big Sam and his band pulled everyone out of their seats to the front of the stage from the very first note. Playing a few songs from their new album "Songs in the Key of Funk", Sam and his crew had everyone on their feet the entire show.
By the time they got to the lead single "Poke Chop", I had given up on standing in the back trying to look cool. The beat is undeniable. Drew Baham broke into a trumpet solo almost too cool to describe. Moving around the stage while holding a high note perfectly in key as Sam hyped up the crowd.
Drummer Alfred Jordan, held it down all night but most importantly when guitarist Keenan McRae and bass player Jerry Henderson teamed up with Sam for a flawless version of "Come Together" by The Beatles.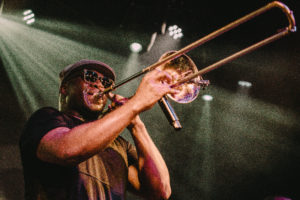 Half way through the set the band blessed the crowd with their own rendition of the classic "Hey Pock A-Way" by The Meters. Anyone that knows Mardi Gras songs, this is one of the best. Sam stepped down stage for a little call and response as the crowd began singing along with the band.
The set ended with Sam inviting some of the crowd on stage to dance along to their funk/hip hop version of Mystikal's "Shake it Fast". By the end of the show the crowd called for one more song. Having already left stage, Sam came back and led the band through one encore song to end the night.
I got the chance to sit down with Sam and the band for a few minutes after the show to talk origin and influence. With the majority of the band coming from New Orleans, I wasn't surprised to hear they all started playing their perspective instruments at a young age.
Cutting his teeth performing on the streets of New Orleans, Sam said he learned how to engage a crowd and keep them entertained. Now with the help of his band, they are able to bring that same raw experience to cities all across the U.S.
Being influenced by legends such as the great Dizzy Gillespie as well as funk pioneers Parliament Funkadelic, Sam and his crew have been able to fuse jazz, rock, and funk to create a style their own. Mixing in a little hip hop, they figured out a way to bring a sound you will be hard pressed to hear by any other band.
Sam told me the tight group of musicians have had to step up to the challenge of pushing their project without the help of a big label. This has forced them to work to ensure every time they hit the stage, they "tear it down".
I really enjoyed the way they kept the same energy throughout the show. Combined with the mix of their original music and a few cover songs, they put together a set anyone could enjoy. It won't be long before the world discovers this Nola band on the rise. I strongly suggest checking them out when they come through your city.
Grade: A