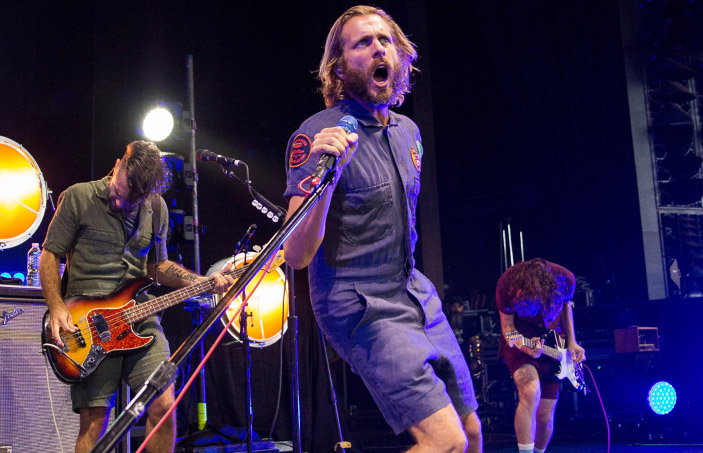 The Awolnation, Here Comes the Runts Tour transcended a Sold Out Fillmore in Silver Spring Saturday night for an evening of good ole fashioned hard rock. They are fresh off having just released the Here Comes the Runts album February 2nd on iTunes, CD, and Vinyl. They were joined by Nothing But Thieves and Irontom.
The opening acts were good. Irontom came out of nowhere like an iron fist and cold cocked you with some metal straight to your ear. Their sound was energetic and had a lively rhythm that left you begging for a beer. The song Be Bold Like Elijah is a theme song for fun loving reckless youth. It features a predominate chorus "BE BOLD LIKE ELIJAH" that drifts into a mystical bridge that puts you into a trance. The set was short but fun. Some other good songs by them are Live Like This and No Matter What.
The opening act for AWOLnation was Nothing But Thieves. Their Broken Machine Tour collided with the Here Comes the Runts tour like a cataclysmic abyss. Well, not really but it sounds better that way. I would describe Nothing But Thieves sound as soulful rock.
Singer Conor Mason has an uplifting voice. A powerful voice that you can hear the sound pressing from his sternum. There song Sorry is like a personal love letter. The lyrics sound like what I tell my girlfriend every other week. They closed out their set with what I feel are their two best songs, Sorry, and Amsterdam. Amsterdam was a positive note to leave on. It's a fun rambunctious tune with a bustling chorus that makes you want to move. It was a great tone setter for AWOLnation.
AWOLnation's sound is an anomaly of sorts. You could listen to two songs by them and think there by completely different bands. You have hard rock, rhythm, syncopation, you name it, it's there. It's like a klangfarbenmelodie of sound.
I was really excited about this tour because it features what I feel is their best album to date, Here Comes the Runts. I got to tell you it is so flipping refreshing to hear a good rock album these days. It's like an epiphany of sorts.
A story published by noisey.com revealed that an Australian scientific study has found that people who regularly attend concerts are happier with their lives overall than those who don't. Their words exactly are: "the communal element, the part where you feel joy among others feeling joy, and essentially experience the best bit of being human." That's how I would describe what it feels like to hear AWOLnation live.
They opened up their set with Here Comes the Runts. During the opening, I'll be damned if Aaron Bruno's voice didn't remind me of Roger Water's from Pink Floyd's The Wall. It then goes into a "Here Comes the Runts" chorus that fizzes with energy like a sugar rush jostling your brain. Another good song off the new album is Seven Sticks of Dynamite. The lyrics "lipstick like dynamite" is 80's hairband poetry to my ears.
My favorite song off of the new album is Handyman! I just whistle the chorus all day long. Hearing it live leaves you feeling euphoric. It makes you want to head for the coast. For an encore they played Run, Burn It Down, and closed out with Sail. Aaron's voice in Sail is so compelling. Hearing it live is an experience in its own. It exasperates your senses in a good way leaving you awestruck. He performed a rendition of this song with a full symphony and choir for Cinematic Pop that is absolutely fantastic! You can find it on YouTube.
This was a fantastic tour.
I would definitely recommend it.