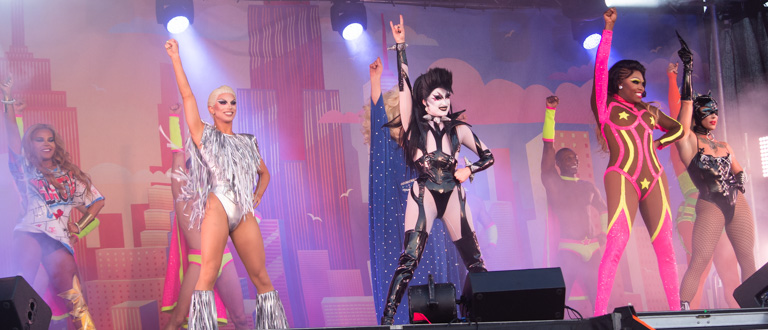 After over a year of being at home, Voss Events delivers some much-needed relief from the COVID-19 blues in the form of the Drive 'N Drag Saves 2021. Premiering just last year, the event travels across the country to bring the world some smiles and a fabulous seventy-five-minute show while sashaying across the stage.
This weekend, the Westfield Wheaton in Wheaton, MD played host to the drag superstars. Before the show began, one of the parking lots of the mall was transformed into a little slice of the In The Heights life, complete with a bodega and a hair salon that patrons can take pictures in and a couple of local food trucks providing the nourishments needed for the upcoming festivities.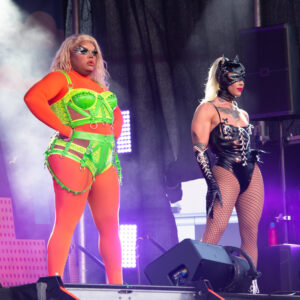 The DC Show welcomed RuPaul's Drag Race legends, including Aquaria, Kameron Michaels, Gottmik & Miss Vanjie! Drag Race alum Asia O'Hara played the MC throughout the program and she was thrilling. With her fast-paced quips and great interaction with the audience, she kept up in stitches. There was one more queen added to the mix and that was drag queen legend Lady Bunny who entertained with a couple of tunes that told the gossip of RuPaul and her "girls" to the tune of Madonna's Vogue. No matter who was your favorite queen to see, everyone who came to both sold-out shows Friday night had a good time!
The show is filled with comedy, lip syncs, shirtless men, killer looks, and incredible choreography, sure to make anyone watching forget the world we're currently living in. The best part is that you'll be able to enjoy the show from the safety of your vehicle, watching the stage, checking out Jumbotron screens, and listening to high-quality sound pumped through every car via FM radio.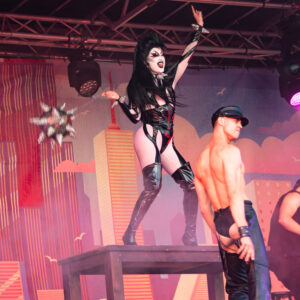 I had the dubious honor of talking to two of the queens Friday night, Season 13 alum Gottmik and Season 10 alum Vanjie and asked them "Was this their first time in the DMV?" Gottmik said "Heck yes, and I am living. I love it." Vanjie said" I have been here a few times. I was here when I was ten and eleven but this was my first time with the drive-in."
Next, I asked them about being partnered with the upcoming film "In the Heights" coming out soon. Gottmik chimed in first "Oh my god, it's so amazing. It's such an honor. I feel like there's so much culture and artistry. I am a musical theatre angel. I am living for the background and the artistry they have going on for us here. It's adding a little spice that we needed." Vanjie continued with "Go watch it caused Valentina (of Drag Race Season 9 and All-Stars fame) is in the movie."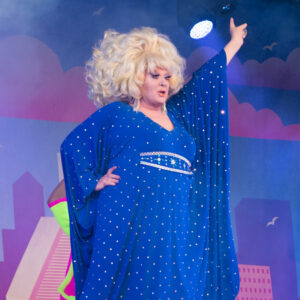 Finally, I asked them what they would like to say to the fans who are not out here but need to be at this event. "I would tell them to find a way to get in here because we are having the best of time of our lives because we are in a Macy's parking lot every f***ing week and we turn it like we are Wembley Stadium. We do not hold back. It is some of the best dolls I have known my life. I am so honored to be here" said Gottmik. Vanjie added "I would like to say to the people who are celebrating pride and can't be out here, it's ok. Find some way to celebrate. Go to either your family's house, if not your friends. There's a different celebration for everybody. Celebrate Pride, bitch. Have a cocktail. If you're not drinking, have a virgin drink."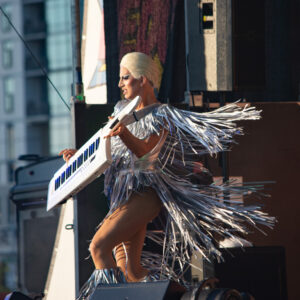 A few of the fans chimed in and talked about how much they enjoyed the show. Joanie stated "I feel this was amazing. This was the first event that we have gone out together like not having super great restrictions." When it came to the queens people wanted to see one fan who stated "Gottmik was cool. I was excited to see her because she was just on season thirteen and it was nice to see Kandy Muse as the surprise queen as well." Another fan stated that Aquaria was her favorite!
To find out if the Drive 'N Drag is coming to a city near you, go to https://vossevents.com/drive-n-drag/ and if you can't make the show, it's available digitally on April 21. You can sign up to pre-order the digital version now. Don't forget to check out the feel-good movie of the summer "In the Heights" coming to theatres and HBO Max – next Friday, June 11th from Warner Bros. Pictures