America The Game Show. F*ck Yeah!
2 min read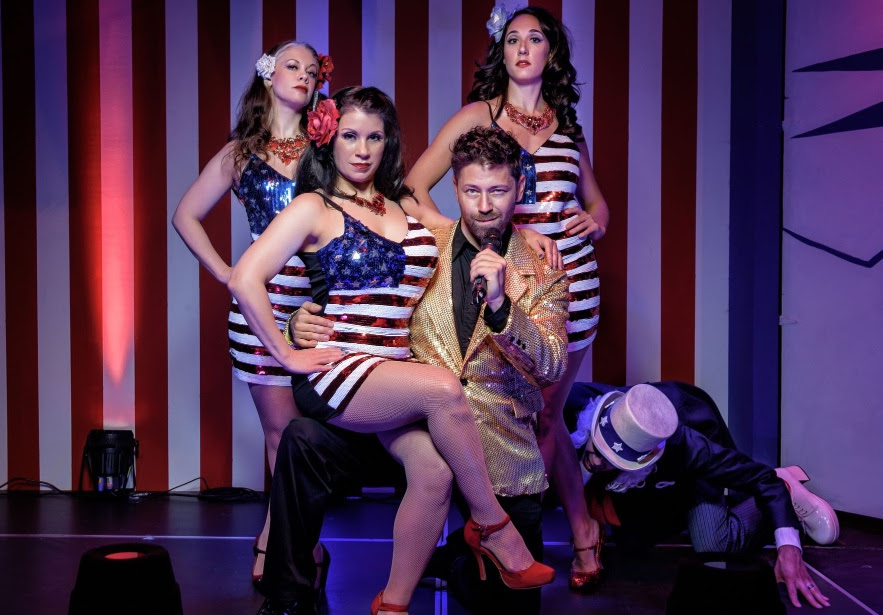 COME ON DOWN to celebrate, ridicule, and shake your head over America in this outlandish show where you could be the next contestant.  America the Game Show. F*ck Yeah!is a no-holds-barred production that's too risqué for the boob tube and real-er than "fake news." Audience members are contestants in rapid-fire wacky games inspired by cheesy TV game shows of yore. Plus, "Drunkle Sam" will fill in the gaps in America's public education with segments of "Naked Drunk History." Patriotism has never been so much fun!
America The Game Show. F*ck Yeah! Takes place at 9 pm on July 21 at Gala Hispanic Theatre. Tickets are $22 in advance.  The show gets a re-run at Creative Alliance in Baltimore on July 27 and 28th at 8 pm. More info and ticket links at astropopevents.com.

Accompanied by his bevy of "All-American Girls," besquined-suited host Carlos Bustamante — aka Carl Buster for those who prefer names to be less ethnic — will take the audience on a tongue-in-cheek trip across our 50 states filled with trivia, epic games, satire, and nudity.  For those seeking comedic catharsis, a chance for glory (because our "prizes" are pretty much meaningless), or just a straight up bawdy time wrapped in shining red, white, and blue…this show will not disappoint.
2018 marks the third annual production of America the Game Show. F*ck Yeah! Evolving from its first iteration in the halcyon, pre-election summer of 2016, when the Astro Pop team created innocent games like the GMO corn-inspired "Chuck 'n Shuck," the all-new and improved show builds on 2017 favorites like "Extreme Vetting" and "Grab. That. P**sy!" Expect even more hilarious insanity and more ways to play, including a special "all play" Bingo game throughout the show.
Featuring Lucrezia Blozia, Carlos Bustamante, Jim Dandy, Jared Davis, Patrick M. Doneghy, Kittie Glitter, Eleni Grove, Callie Pigeon, Candy Del Rio, Cherie Sweetbottom, and Andrew Wodzianski. Sound design by Mehdi Raoufi, lights by J. Brinke, sets by Jared Davis, choreography by Eleni Grove, and general direction by Kate Taylor Davis.
DC SHOW:
Saturday, July 21 @ 9 pm.
Gala Hispanic Theatre, 3333 14th Street NW, Washington, DC 20010
Tickets @ astropopevents.com
BALTIMORE SHOW:
Friday, July 27 and Saturday, July 28 @ 8 pm
Creative Alliance, 3134 Eastern Ave, Baltimore, MD 21224
Tickets @ Creativealliance.org or  410-276-1651