Alaska Thunderf*ck Announces New Music Group Alaska & Jerem
3 min read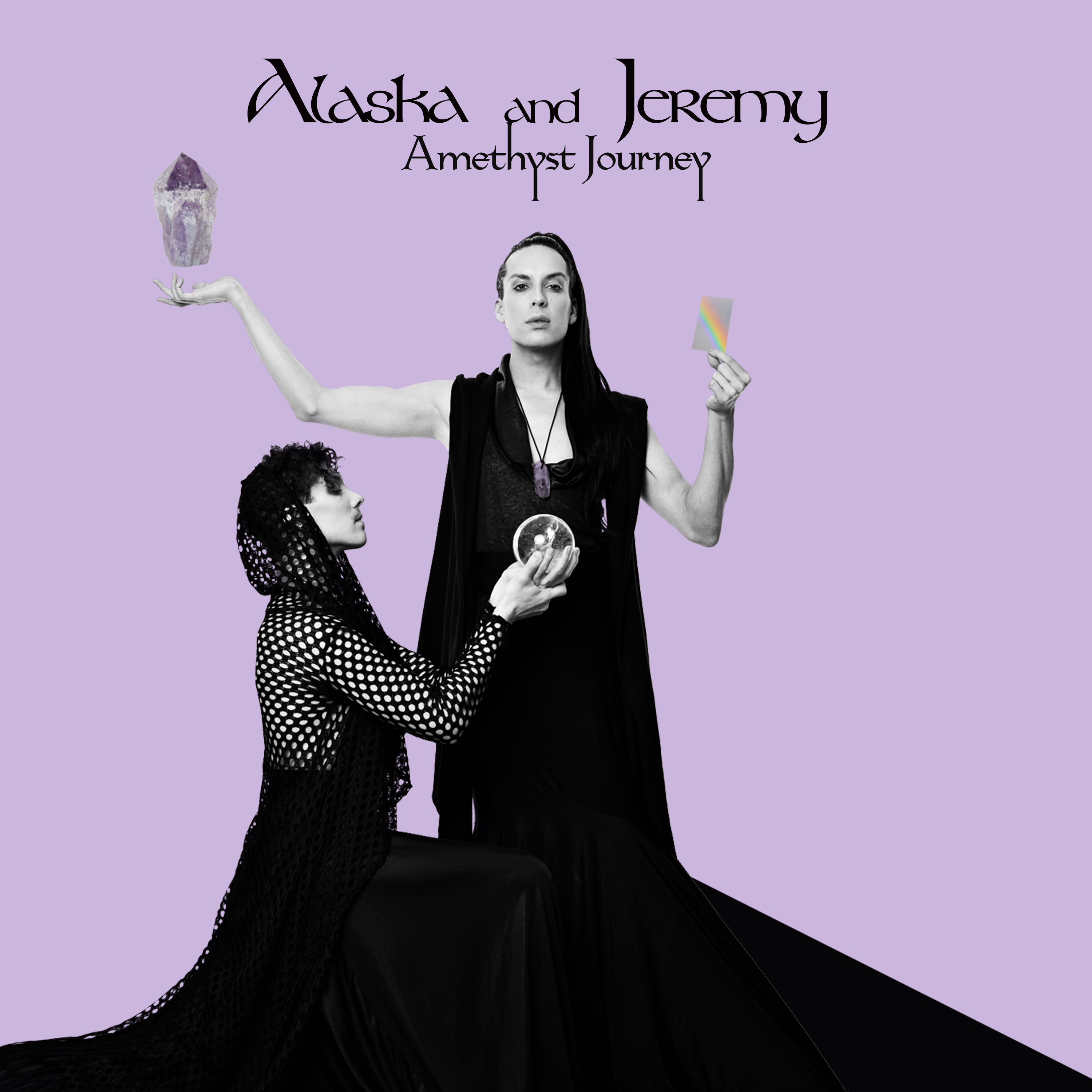 World Famous drag star Alaska Thunderf*ck has announced that her new musical group Alaska & Jeremy will release their debut album Amethyst Journey on August 17 via PEG Records, the LGBT-focused label of Producer Entertainment Group (PEG).  Alaska & Jeremy is the collaboration with her long-time musical partner Jeremy (Mikush).
Pre-orders begin Friday, August 10 via http://itunes.apple.com/album/id1420705736?ls=1&app=itunes.  All pre-order purchases will receive two instant grat tracks – "Aliens" and "Truth in The Light."
Amethyst Journey was meticulously crafted and molded with love and patience alongside producer Markaholic.  "Jeremy and I have been making music together for over 9 years. After taking a retreat into the woods of the Russian River Valley to write, reflect, and commune with nature and one another, Amethyst Journey was born.  
The album is a collection of songs that are a combination of our outlook and inspirations– a response to current issues and the state of our planet.  We believe the Queer community is a model for our global extended family, and together we have the power to create positive change for all of humanity.  
All of the songs were recorded in downtown Los Angeles with producer Markaholic.  We worked together along with Mark to craft and mold each track with love and patience." said Alaska.
The first single & video, "Aliens" is also set for release on August 17, premiering exclusively on VEVO.  "Aliens," the album's overture, is a folk music-based lullaby written for the people of Earth that asks the questions: What is the future we want?  Does the idea of extraterrestrial visitors come from a Savior complex… or an Armageddon complex?
Amethyst Journey will be available via all digital retailers as well as Alaska & Jeremy's website:  alaskaandjeremy.com
In addition, Alaska will continue touring throughout the world for the remainder of the year.  Tour Dates
Aug 11 2018

– Chicago, IL – Roscoes

Aug 18-19 2018

– London, UK – DragWorld

Aug 22 2018

– Nottingham, UK – Glee Club

Aug 23 2018

– Amsterdam, NL – Melkweg

Aug 24 2018

– Brighton, UK – Revenge

Aug 25 2018

– Leeds, UK – O2 Academy

Aug 27 2018

– Essex, UK – CTZN

Sep 06 2018

– Phoenix, AZ – Charlies

Sep 07 2018

– Ft. Lauderdale, FL – The Manor

Sep 08 2018

– Brooklyn, NY – Bushwig

Sep 09 2018

– San Francisco, CA – Beaux

Sep 14 2018

– Ann Arbor, MI – Necto

Sep 15 2018

– Champaign, IL – 51 Main

Sep 20 2018

– Canberra, Australia – Canberra Theatre

Sep 21 2018

– Sydney, Australia – Max Watts

Sep 22 2018

– Melbourne, Australia – Chasers

Sep 25 2018

– Auckland, New Zealand – Bruce Mason Centre

Sep 27 2018

– Brisbane, Australia – Family

Sep 28 2018

– Adelaide, Australia – Mary's Poppin

Sep 29 2018

– Perth, Australia – Connections

Oct 02 2018

– Singapore, Singapore – Shrine Auditorium

Oct 04 2018

– Toronto, Canada – Danforth Music Hall

Oct 05 2018

– Louisville, KY – Play

Oct 13 2018

– Atlanta, GA – The Deep End

Oct 14 2018

– Bogota, Colombia – Sutton Club

Oct 20 2018

– Las Vegas, NV – Charlies

Oct 23 2018

– Newcastle, UK – "Heels of Hell!"

Oct 24 2018

– Birmingham, UK – "Heels of Hell!"

Oct 25 2018

– London, UK – "Heels of Hell!"

Oct 28 2018

– Manchester, UK – "Heels of Hell!" 

Oct 29 2018

– Glasgow, UK – "Heels of Hell!"

Oct 30 2018

– Dublin, Ireland – "Heels of Hell!"

Nov 02 2018

– Melbourne, Australia – Chasers

Nov 03 2018

– Sydney, Australia – The Roundhouse

Nov 04 2018

– Brisbane, Australia – Eight
Facebook: https://www.facebook.com/AlaskaThunder/
Twitter: https://twitter.com/Alaska5000
Instagram: https://www.instagram.com/theonlyalaska5000/