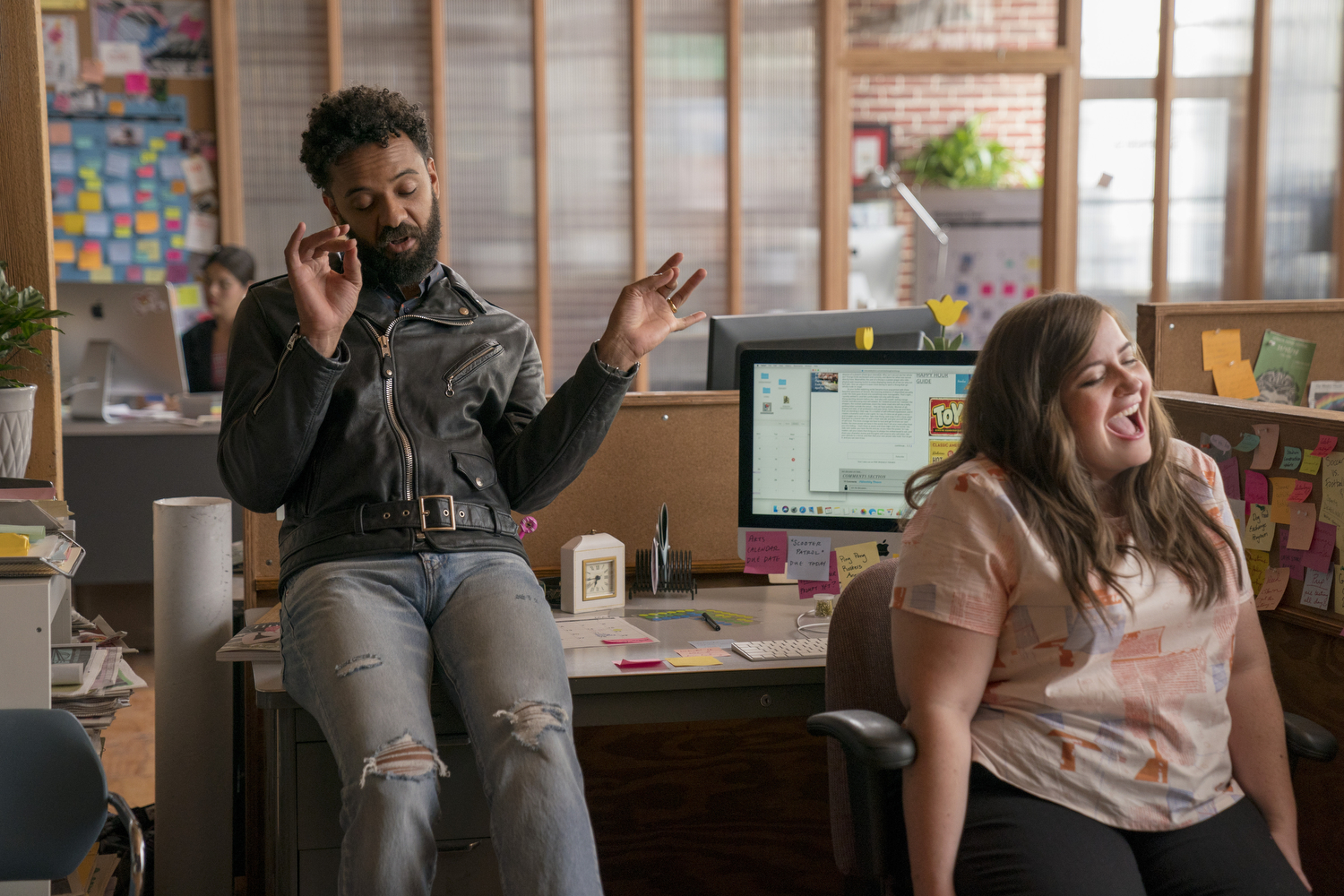 Fifteen seconds into Hulu's new series Shrill and we are already seeing skin. The woman is not sexualized, but instead she is shown in her bra, trying to figure out what to wear to work. This mundane event might not even be shown in most shows, however, the moment stands out for one reason– this woman is fat.
Shrill's plot is simple. A fat woman gets fed up with being nice and decides to stand up for herself and own her life with confidence. It's about the nuances of  her everyday life as a fat woman, the push back when she tries to live authentically and the comedy that stems from that.
We don't see many fat women doing everyday things onscreen. But, in Shrill we see Annie, SNL's Aidy Bryant, doing just that. She gets the morning after pill. She has a frustrating boss. She has a boyfriend. She eats like a normal person. She navigates relationships. She deals with her father's health issues. She isn't a side character to a thinner "attractive" lead. Her body isn't a before picture. Her butt isn't the butt of the joke like we've seen so many times before. She's a well rounded person. She's like me.
The pilot, written by Ali Rushfield, Aidy Bryant, and Lindy West, also wrote the memoir the show is based on, handles everyday situations with an honesty and bluntness bringing out a hilarious authenticity to an event. The dialogue is witty but accessible, combining relatable humor with biting sarcasm.
Bryant shines as an endearing Annie who gains the audience's sympathy. When you are portraying a demographic so stigmatized, this is crucial. Bryant's chemistry with every character is spot on and dynamic. From being needy with her best friend (brilliantly played by Lolly Adefope) and her boyfriend (Luka Jones), to having annoyed admiration with her mother and the anxious reverence she has for her boss, Bryant proves how authentically vital she is as Annie to the show.
This idea of the mundane everyday lives of the marginalized individual is also portrayed in the supporting character of Ruthie. It is worth noting that Ruthie is played by the ruthlessly funny comedian Patti Harrison, a transgender actor who is known for her comedy and not just her gender orientation. The show doesn't address this at all, instead shows her as an individual and not a relevant topic of conversation. Like Annie, Ruthie dates, is annoyed with her job, supports her friends, is funny. Ruthie is further proof that Shrill is a show about normalcy.
Showing marginalized individuals doing normal things not only humanizes them but also serves as an example for those marginalized peoples. It shows that their stories are worth seeing in a context beyond what makes them different, that their lives are funny. To paraphrase the late great Carrie Fisher, "If life weren't funny, it would just be true and that is unacceptable." If you couldn't find the humor in being fat, society's treatment of you would be unbearable. Shrill takes this concept and doesn't laugh at Annie's weight but finds the humor in literally not fitting in. This is why representation matters.
Shrill is available now on Hulu.
Grade: A