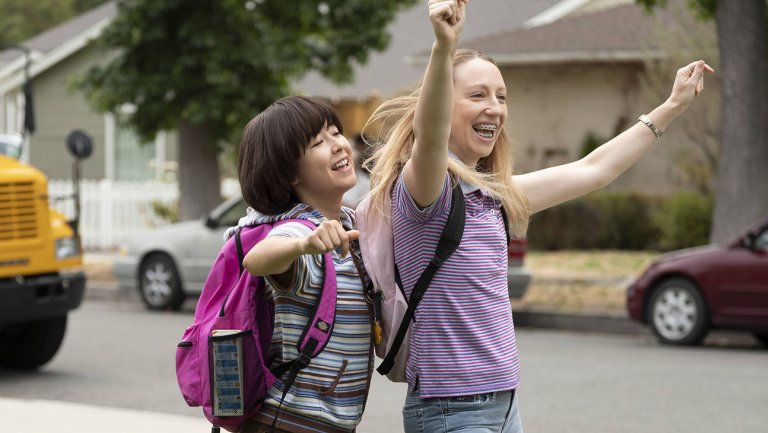 Bad haircuts. Questionable fashion choices. Changing bodies. Masturbation. Devastatingly awkward moments. I think it is safe to say that no one would voluntarily go back to middle school, but comedians Maya Erskine and Anna Konkle did revisit the most humbling time in a person's life and infused all the age's awkwardness and heart into the Hulu show Pen15. Premiering this Friday and produced by The Lonely Island, the show gives an honest depiction of 13-year-old girls trying to navigate the trials and tribulations of middle school and growing up. It's just that the leads are played by 30 somethings.
Erskine and Konkle, both 31, play the seventh-grade versions of themselves (also named Maya and Anna, respectively). Despite their age differences to the characters, the actor's play the parts straight. This isn't distracting, in fact in later episodes, there are a few moments where you forget they are not 13 years old living in 2000. Working with Erskine's real mom and real-life middle schoolers, Pen15 is like if the realism of Trailer Park Boys met the cringe and heart of last summer's Eighth Grade.
Like actual middle schoolers, the show pushes boundaries, comedic and otherwise. Everything from early 00's catfishing, to wanting to impress your dad, to divorce are covered in realistic cringe. You laugh because you've been there. (See the episode where Maya discovers masturbation and becomes freaked out when her mom innocently states that her deceased grandfather is always watching. You can only imagine the image of a disappointed old man hovering over her bed). Pen15 exposes the complex emotions and irrationality of being a middle school girl, in a way that is rarely afforded to the depiction of girls.
The pinnacle of the show's greatness is captured in the episode "Tolerance." Maya and Anna are working on a video project with a group of popular girls, each of them assigning themselves a Spice girl to be. Maya, who is Japanese American and the only girl of color in the group, is assigned Scary Spice and is forced into playing a servant. Wanting to fit in, but also not knowing how to handle micro-aggressions, both girls laugh and pass it off as joking around.
The episode navigates race and white privilege from a middle school angle rarely seen. To tell the story of a young woman's first experiences with racism is bold enough, but to contrast it with a privileged view, one that is discovering that this is the one experience that she will never fully understand or experience that her best friend has to, is heartbreaking. Wanting to support her friend, but also fumbling to so, causing more damage than helping, Anna starts to question the world around her and Maya struggles with the anger that comes from microaggressions and racial divides. Yes, the show is cringey and hilarious, but the relationship and love between the two girls are what makes this show work.
The love that Erskine and Konkle have for each other and for the awkwardness of that age, radiates through Maya and Anna. That is what is magical about Pen15. Throughout the awkward moments that make your skin crawl and the anguish of growing up, they have each other to laugh it off together. It's an ode to awkwardness and the friend(s) that get you through it.
Grade: A-