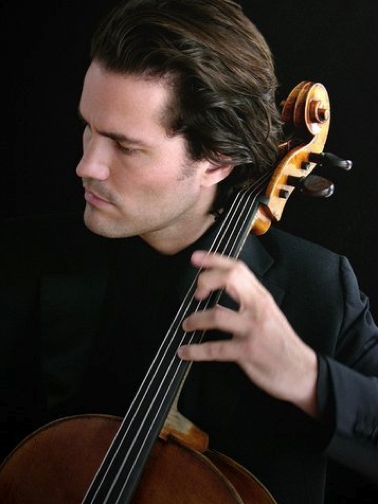 Cellist Zuill Bailey joined the National Philharmonic Orchestra and Chorale for a pair of weekend concerts at The Music Center at Strathmore. The program highlighted Vivaldi's Gloria with soloist Julie Keim, soprano and Magdalena Wór, mezzo-soprano. Cellist Zuill Bailey performed Variations on a Paganini Theme by Gregor Piatigorsky, Elegisher Gesang Op. 118 by Beethoven and Cello Concertos RV 417 and RV 413 by Vivaldi. They were conducted by Piotr Gajewski.
There was some time taken by conductor Gajewski to give us some insight into tonight's program. He noted the difficultly of Vivaldi's Cello Concertos and just how talented Vivaldi's all girl orphanage orchestra was. Conductor Gajewski and Zuill Bailey also noted the complexity of Gregor Piatigorsky's Variations on a Paganini Theme.
Zuill started the concert with Vivaldi's Cello Concerto RV417 and RV 413. This was a virtuosic performance, very cheerful. RV 413 has a fantastic finale. Beethoven's Elegischer Gesang Op. 118 was also performed. It was a comforting piece full of tranquility. Zuill played magnificently. He has to ability to captivate an audience with his cello playing.
Zuill Bailey's performance of Variations on a Paganini Theme was as captivating a musical performance as I have ever seen. Zuill Bailey's cello technique is utterly resounding! Witnessing such a phenomenal performance is exhilarating! The arrangement features a number of specialized bowing techniques that are astonishing to see performed. One technique required Zuill to tighten his elbow and shake his wrist in a spastic manner. Zuill himself described parts of the piece as "crazy." There were triplet staccatos and even a jazz style pizzicato. Even though the techniques were unconventional Zuill Bailey still had extraordinary control of his instrument. This theme was originally written in 1946 for pre-eminent cellist, Pablo Casals, Fritz Kreisler, and Misha Elman; so it's an extremely demanding. It was an awesome experience to hear!  It was one of the most rousing classical performances of the year.
After intermission the National Philharmonic Chorale filled in the tiers behind the stage. Julie Keim, soprano, and Magdalena Wór, mezzo-soprano appeared stage left in formal eveningwear. Vivaldi's Gloria is an outstanding chorale piece. The Chorale's singing was remarkable. The octave jumps and harmonic motion stirred your spirit. Sounds rained down in illustrious form. The sound of the Chorale was uplifting. It's always interesting hearing the contrast between male and female singers.  Magdalena Wór, and Julie Keim provided solos and duets. Their voices blended magnificently! Magdalena has the power in her voice to draw deep emotion, it's beautiful. The National Philharmonic played Gloria gloriously. Nights like tonight will leave you with the impression that music has the power to be beautifully amazing. An absolutely fantastic concert!