Yo-Yo Ma and the Baltimore Symphony Orchestra
3 min read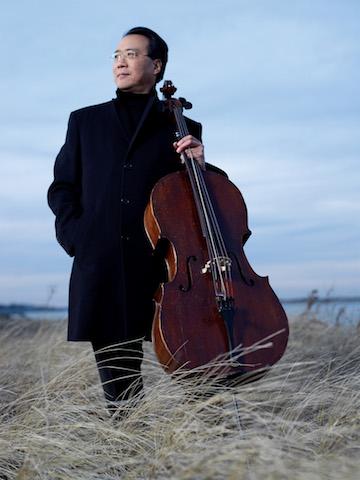 The Baltimore Symphony Orchestra conducted by Marin Alsop welcomed renowned cellist Yo-Yo Ma to Meyerhoff Symphony Hall Wednesday night in front of a capacity audience. They performed a pair of Antonin Dvořák's best orchestral works, Symphony No. 9 "From the new World," and Cello Concerto.
Yo-Yo Ma is this the most prolific cellist of the modern era. His prodigious resume includes over 90 albums with 18 Grammy winners along with a plethora of awards, prizes, and honors. Some of his recordings include Appalachia Waltz and Appalachia Journey with virtuoso violinist Mark O'Conner. Work with the Baltimore native composer Phillip Glass for his 2002 soundtrack Naqoyqatsi. Work with composer John Williams for the soundtracks to Seven Years in Tibet, and Memoirs of a Geisha. Mr. Ma worked with Italian composer Ennio Morricone for the Dollars Trilogy soundtracks. They included The Good, the Bad and the Ugly, Once Upon a Time in America, The Mission, and The Untouchables. He has also recently recorded with Emanuel Ax and Itzhak Perlman for Mendelssohn Trios. Yo-Yo Ma was recognized as a Kennedy Center honoree and has performed for eight American presidents. So say Yo-Yo Ma is highly accomplished is an understatement. He is one of this century's greatest musicians.
The BSO opened with Dvořák's Symphony No 9 "From the New World." To open with Symphony No. 9 really says something about the program we have in store. Marin Alsop really has a knack for opening concerts with a bang. A favorite among performers and audiences this symphony ranks as one of the greatest symphonies ever written. It's often performed as a finale to end the program, but on this special night, an exception was made. The BSO performed magnificently! Marin's whirling gestures conjured a sound that made you feel invincible. It was if the sanguine atmosphere boosted the performance. It was an expression of optimism, vitality and enthusiasm. Those types of emotions have a resounding effect with music. Music is a great vehicle for transcending our feelings into the real world and optimism and confidence are emotions that radiate profoundly. When you have such a great symphony with such a great orchestra it feels like everybody in the music hall is contributing to the performance. We are all feeding off a unified feeling. It gives you goosebumps! Absolute favorites were the Molto vivace and Allegro con Fuoco movements. They are showstoppers! They exalt feelings of pride, honor, and exuberance. They are exhilarating to hear performed. During a long ovation following the performance, Marin pointed out that Yo-Yo Ma was in the cello section. He was sort of hidden in the back and had been playing the whole time. This really scored a positive reaction from the audience. Usually, soloist only performs their solo piece and that's it. It speaks to the modest nature of Yo-Yo Ma. It really added to the performance.
After intermission, Dvořák's cello Concerto was performed. The moment Yo-Yo Ma slides his bow across the neck of the cello you know you are in for a treat! It gorgeous! The sound is so precise but with heartfelt variation. As if Yo-Yo Ma is calling to you and capturing your spirit and introducing it to his heart. I have learned from another cellist Zuill Bailey that the cello is different from any other instrument in that you play it up against your heart. You can feel the warm vibrations. That's what listening to Yo-Yo Ma is like. It's like he's transcribing his heart. You can see it with his expressions and you can feel it with the music. The Adagio ma non-troppo and Finale: Allegro moderato were incredible! Yo-Yo Ma's technique was excellent! I hate to use the term but he looked like a rock star. He commanded the cello and performed some really fantastic jaw-dropping solos. It shows his range from being able to contrast from a heartfelt beautiful solo to outstanding instrumentals with ornate techniques.  As an encore Yo-Yo ma performed with the Baltimore Youth Symphony lead by Nicholas Hersh.
This was a spectacular performance from beginning to end. The execution was masterful and the experience was memorable. A fine addition to the BSO's 100th-year celebration. An absolutely fantastic concert!