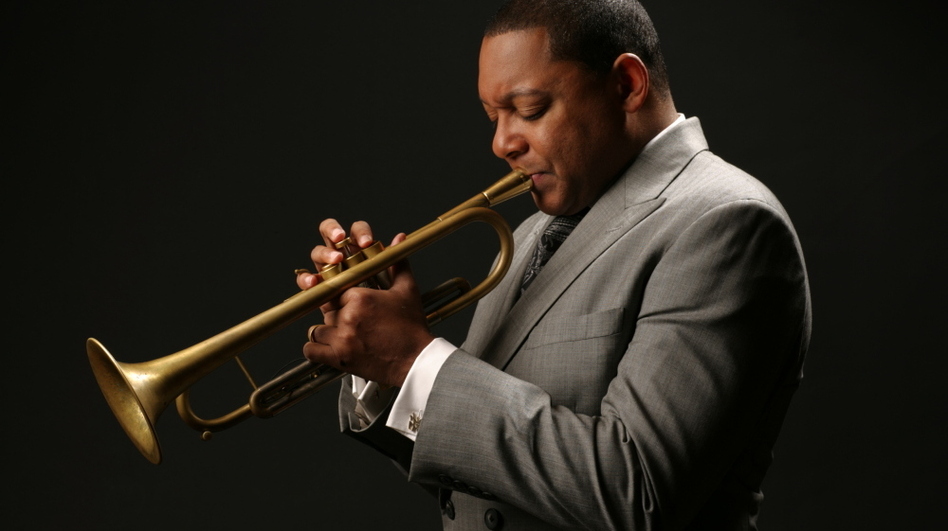 With Special appearance of The Wynton Marsalis Quintet in solo set
Performance is the culmination of a robust semester-long residency with the Shenandoah Conservatory Symphony Orchestra as part of Washington Performing Arts' The Art of the Orchestra Series
Early in the 2013-2014 performance season, internationally acclaimed musician, composer, bandleader, educator, and long-time Washington Performing Arts collaborator Wynton Marsalis approached the D.C.-based arts institution with a project of great personal and musical significance to him: his innovative Blues Symphony. Composed for a 100-piece symphony orchestra, this seven-movement work had been unveiled in part by the Atlanta Symphony Orchestra in 2010. But the newly revised and complete version of this major work from the Pulitzer-winning composer had yet to enjoy its world premiere—owing in part to the essential need for significant rehearsal time (often a luxury for a top-tier professional orchestra).
Intrigued and determined to realize the work's potential in concert, Washington Performing Arts initiated a robust semester-long residency program with Shenandoah Conservatory and its Symphony Orchestra as an element of the orchestra's curriculum. Over the course of several months of study and rehearsals in Fall 2014, Marsalis and the Shenandoah Orchestra, under the direction of Jan Wagner, held multiple working sessions to hear how the piece was coming together, fine-tune the music, and fully explore the intricate themes and musical styles.
The culmination of this residency is the world premiere of Blues Symphony at The Music Center at Strathmore on Wednesday, February 4, 2015, at 8pm. This performance is part of Washington Performing Arts' season-long celebration The Art of the Orchestra, designed to bring distinguished orchestras from around the world to the nation's capital. The premiere also serves as the centerpiece of Washington Performing Arts' contribution to Strathmore's 10th anniversary celebration in February 2015.
---
Who:                     Wynton Marsalis Quintet
Shenandoah Conservatory Symphony Orchestra
Jan Wagner, conductor

Where:                  The Music Center at Strathmore
When:                    Wednesday, February 4, 2015 at 8pm
Program:               Marsalis                Blues Symphony
Tickets:                  Start at $35, available at washingtonperformingarts.org or by calling (202) 785-9727.