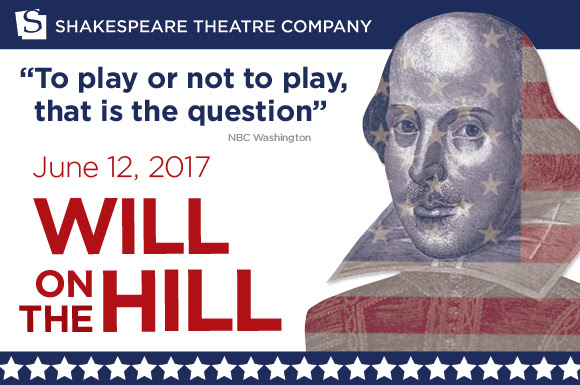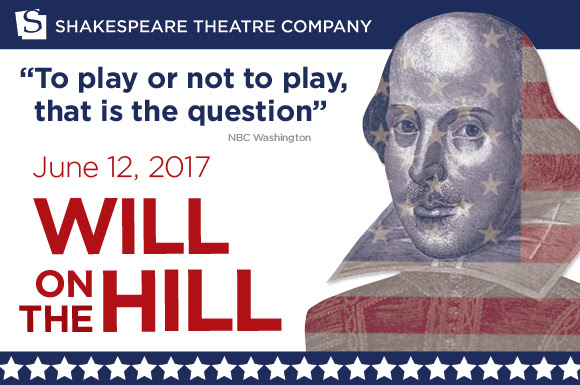 Shakespeare Theatre Company will once again welcome Members of Congress and distinguished Washington influencers onto its stage to perform in Will on the Hill, a lively show infused with comedic references to contemporary politics. Now in its fifteenth year, the much-loved bipartisan event for theatre and political fans alike will return to STC on Monday, June 12 at Sidney Harman Hall (610 F Street NW) at 7:30 p.m.
Written by Peter Byrne with assistance from D.C.'s West Wing Writers, the event will be directed by STC Associate Artistic Director Alan Paul and will star 47 Members of Congress and notable Washingtonians led by Maulik Pancholy, best known for playing Alec Baldwin's intrepid assistant Jonathan on the classic NBC comedy 30 Rock.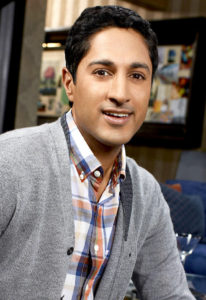 "We are grateful that some of the nation's well-known political faces are so willing to donate their time to help raise funds for our education and outreach programs. While these men and women tread the boards to showcase their acting skills and poke fun at the political landscape they are helping the theatre provide access to the arts for the entire D.C. community," said STC Artistic Director Michael Kahn.
Proceeds from this event support STC's many education, artistic and community engagement programs, including in-school workshops and educational resources that inspire new and diverse audiences and deepen the connection to classical theatre in learners of all ages.
About the Cast
The production will feature 30 Rock star Maulik Pancholy. The NBC show garnered 80 awards and 310 nominations. He is also widely recognized for playing Sanjay over six seasons of the Showtime hit series Weeds, created by Emmy Award-winner Jenji Kohan (Orange Is the New Black). He will soon appear on the upcoming CBS series Star Trek: Discovery, which will be the first Star Trek series to air since 2005. He played Katherina in STC's The Taming of The Shrew in 2016. Rounding out the cast are British Ambassador to the U.S. His Excellency Kim Darroch and many Members of Congress including Senator Chris Coons (D-DE) and Representatives Joyce Beatty (D-OH), Brendan Boyle (D-PA), Suzanne Bonamici (D-OR), Ted Deutch (D-FL), Debbie Dingell (D-MI), Daniel M. Donovan (R-NY), Jim Himes(D-CT), George Holding (R-NC), Hank Johnson (D-GA), Carolyn Maloney (D-NY), Eleanor Holmes Norton (D-DC), Jared Polis (D-CO), Jamie Raskin (D-MD), Darren Soto (D-FL), Thomas Suozzi (D-NY), Dina Titus (D-NV), Michael Turner (R-OH) and Peter Welch (D-VT). Other illustrious cast members include Wa'el Alzayat (Executive Director, EmergeUSA), Gregory Angelo (President, Log Cabin Republicans), Jess Bravin (Supreme Court correspondent, The Wall Street Journal), Linda Chavez (Chairman, Center for Equal Opportunity), Ron Christie (Political Strategist), Steve Clemons (Editor At Large, The Atlantic), Maggie Coons, Bob Cusack (Editor in Chief, The Hill), Jon Decker (White House Correspondent, Fox News), Johanna Derlega (Publisher, The Hill), Karen Dunn (Partner at Bois, Schiller, & Flexner LLP, consultant for House of Cards), Dr. Michael Eric Dyson (Georgetown University professor, host of The Raw Word, and author), Paula Fitzgerald (Executive Director, Ayuda), Taegan Goddard (Publisher, Political Wire), Richard Haass (President of the Council on Foreign Relations), Rick Klein (Political Director, ABC News), Maria Teresa Kumar (President, Voto Latino), Dana Milbank (Columnist, The Washington Post), Erica Moody (Deputy Editor, Washington Life), Grover Norquist (Americans for Tax Reform), Hilary Rosen (Partner and Managing Director, SKDKnickerbocker), Christina Sevilla (Deputy Assistant, USTR), Rina Shah (Political consultant at Run with Rina), Ari Shapiro (Host, NPR), Pamela Lynne Sorensen (Pamela's Punch), Kelly Jane Torrance (Deputy Managing Editor, The Weekly Standard), Crystal Wright (Communications consultant at Baker Wright Group), and Tim Young (Political Comedian).
* Cast members subject to change.
About Met by Moonlight:
Summer has come to Washington, and that can mean only one thing: Everyone's looking to get out of town for the season. The D.C. heat has everybody scrambling for the exits—politicians, bureaucrats, ambassadors and support staff are all headed for cooler climates. But when a series of closures shuts off all normal means of escape, the Washingtonians take to their feet, and head through the woods outside the city. Little do they expect that the Shakespearean fairy, Oberon and his trusty sprite, Puck, have decided to spend their summer in this same forest, and the King of Fairyland is none-too-pleased to find the woods crowded with mortals. What follows is a series of encounters between Washingtonians and supernatural beings with an impish sense of humor, and perhaps a lesson or two for both parties.
A select number of performance-only tickets to this popular event are available online at www.shakespearetheatre.org/support/special-events/will-on-the-hill/ for $50. VIP tickets are available for purchase, and include a pre-performance cocktail reception and a buffet dinner with the opportunity to meet and dine with members of the cast and event sponsors. VIP tickets can be purchased for $250 by emailing WillontheHill@ShakespeareTheatre.org.