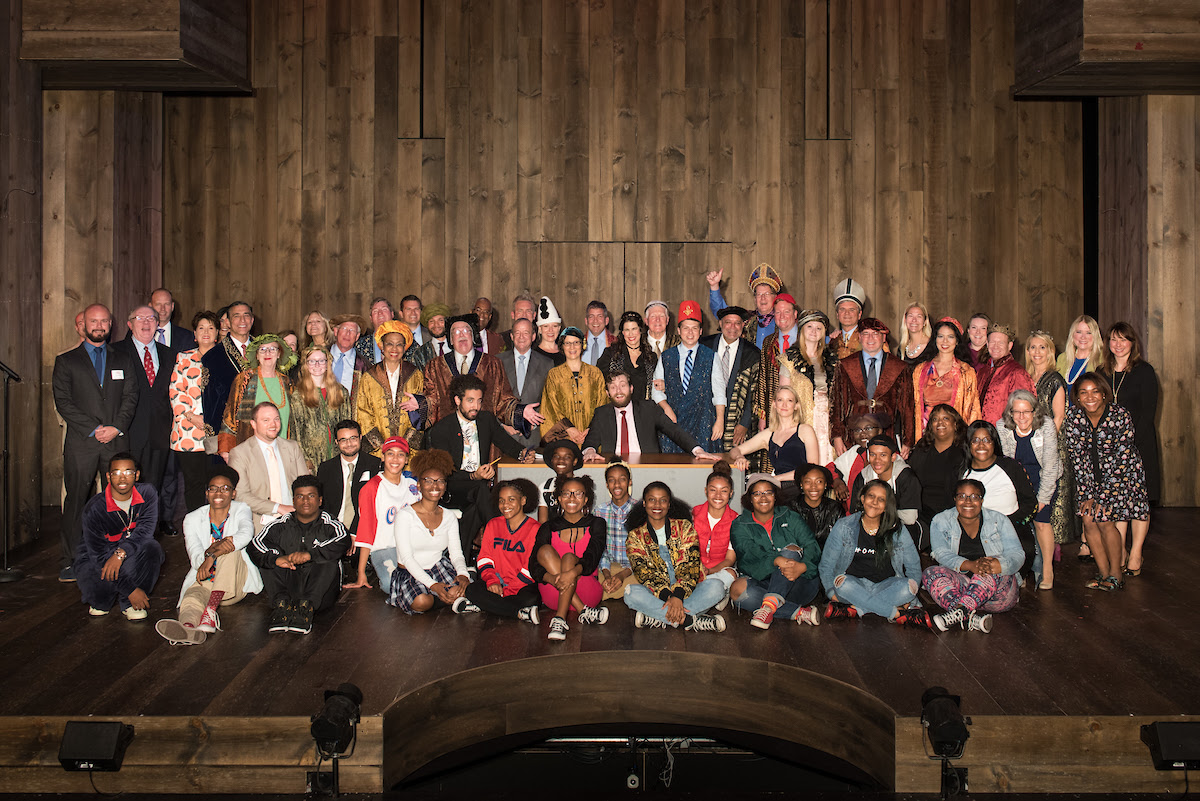 The cast of Will on the Hill 2018 joined by students from Charles Flowers High School, the Will on the Hill Committee, and supporters. Photo credit: Kevin Allen
The West Wing's Melissa Fitzgerald, Broadway actor Heath Saunders, Emery Battis Award-winner Victoria Frings and Ken Clark, currently playing King Arthur in Camelot at STC, recently joined Members of Congress and notable Washingtonians onto the stage at Sidney Harman Hall to perform in Will on the Hill. Now in its sixteenth year, the much-loved bipartisan event took place on June 11 and raised $500,000 for the theatre's education and community outreach programs.
Directed by STC Artistic Associate Craig Baldwin, My Kingdom for a Farce is an original script written by Michael Trottier with assistance from D.C.'s West Wing Writers. Inspired by the Bard's most famous lovers, tricksters, tragic heroes and dastardly villains, the story follows a mysterious but wealthy candidate who decides to run for office, but decides he wants his campaign staffed completely by Shakespeare characters.
To open the main show, students from Charles Flowers High School delivered a unique 1990s-themed performance from Shakespeare's Twelfth Night. The young actors are part of Text Alive!, one of STC's many educational, artistic and community engagement programs that inspire new and diverse audiences and deepen the connection to classical theatre in learners of all ages.
"The Text Alive! program is a perfect example of the programs supported by Will on the Hill's fundraising efforts," said STC Senior Director of Education Samantha Wyer Bello. "Our education work is made possible by Will on the Hill and its many generous supporters. We're incredibly grateful to everyone who participated and donated their time to help make this year's event a success."