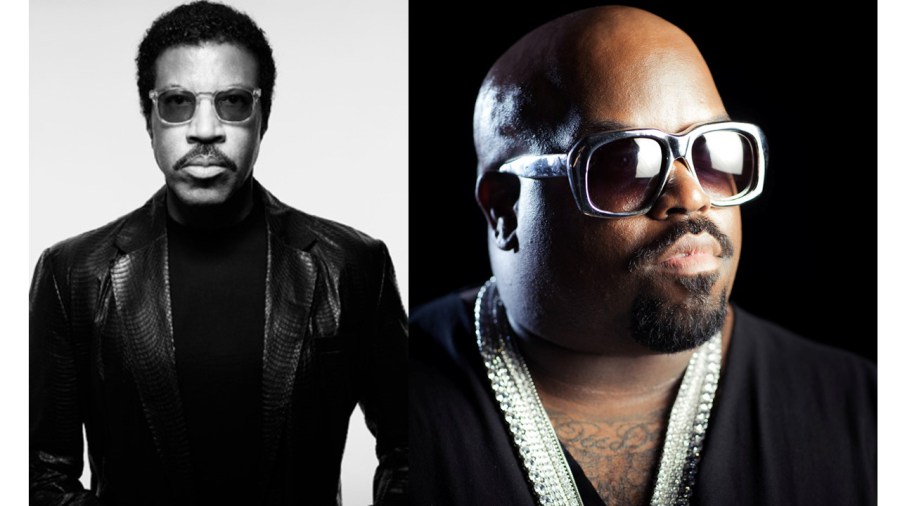 CeeLo Green and Lionel Richie are at Wolf Trap…literally, right now…get off your butt and get there! You won't be disappointed!
CeeLo opens the night and with that big toothy smile and we're getting excited for the night to come. His best known tunes are featured in an abbreviated, half-hour opener. But when you're opening for a legend like Lionel Richie, what else can you do?! His vocals are really utilized during "Satisfied", which is now a song that I love! Other songs featured include, "Bright Lights Bigger City", "Crazy", "Don't Cha", and of course, "F*** You" ("Forget You"). The night would not be complete without CeeLo's signature song. Every song is performed well and in the future, I predict that we'll be dancing on the ceiling with CeeLo and hits that are yet to be.
After an intermission, the night became electrified with the arrival of Lionel, himself. You could feel the excitement in the air and in a rock star type entrance, the stage lights up and we are on our way! Richie is a living legend, for sure, but more importantly is how he embraces a live show. This is a night filled with hit, after hit. Richie sharing anecdotes of how some were written and just seemingly having a great time onstage…and why shouldn't he? He's Lionel Richie!
Lionel Richie gives great vocals! Kudos also, to his Sound Engineers has to be given. I have been to many, many concerts and at every big concert, somewhere in the night, the performers vocals are always lost amidst a sea of instruments and back-up vocals. The performer's diction maybe great, but they inevitably get drowned out, but not Richie! Oh no, no, no…Lionel Richie is just as clear as if he is onstage with just his mic! The power that this man has is extraordinary. I have never seen anyone hold a mic so far from their lips and yet be so powerful and clear. His "whoas" are envious and as the night goes on, all I want to hear is more, "whoas"! So sexy…who knew that I think Lionel Richie is sexy…I never gave it thought…I have given it lots of thought now! More "whoas" please! Rich and deep!
The stage is a nice mix of giant screens and musicians. The screens are used with great effect with graphics and sometimes lyrics, but always Lionel's face, so that everyone can really see him close up. What a punim! The musicians are a talented gang. I especially liked the harmonica/sax/clarinet and God knows what else player! He is a very gifted musician. I also enjoyed the fact that he had more "costume" changes than Richie. Four hat changes throughout the night…not sure why he does it, but I like the quirkiness!
Do I need to go into detail about the songs performed on this tour? "Ballerina Girl", "Stuck on You", "Truly", and chart toppers from the Commodores, "Sail On", "Fire", and you can't talk Commodores without, "Brick House"! "Endless Love" is a particularly nice rendition. We got to hear the great "whoa" in, "Dancing on the Ceiling". "On My Way" and "Three Times a Lady" are soulful and heartfelt. His voice is just so pure! The hits keep rolling all night and "Hello" and "All Night Long" are the finishers.
The encore is unexpected, but definitely a winner…"We Are the World", which Richie co-wrote with the late, great Michael Jackson (Did I need to say that?). It's a time in the world when we need to rehear it and unlike some tributes, this is genuine and has always been a song that makes you think. It's a great way to leave the audience and I am grateful for the memories it evokes. Richie joked all night that his songs are often associated with a "what" or a "who", but this song really makes you think and not just about yourself.
This is a fabulous concert, from start to finish. Lionel Richie is one of those people that should be seen live. Don't miss out….They are performing again tonight and I believe that some seats are still available. Do yourself a favor and go dancing on the ceiling!
For tix for tonight's show, go to www.wolftrap.org (and for the rest of the summer season)
Make sure to tell your friends around the country, not to miss the "All the Hits, All Night Long Tour" and to go to www.ticketmaster.com or www.lionelrichie.com or www.ceelogreen.com