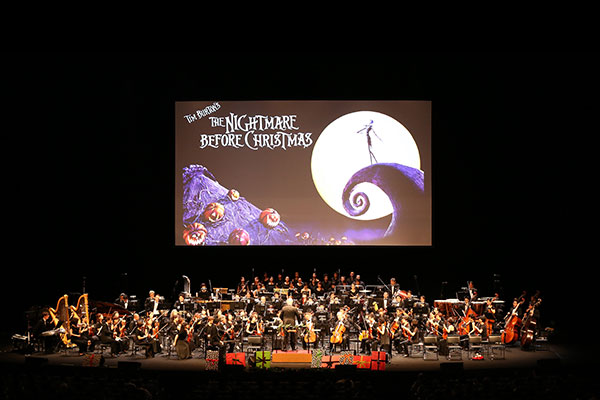 On the first Friday following Halloween the Baltimore Symphony Orchestra presented The Nightmare Before Christmas Live at Meyerhoff Symphony Hall. Tim Burton's Gothic Halloween Christmas classic was brought to life with a Movie and Music presentation.
The Nightmare Before Christmas is a wildly imaginative film with an unforgettable score by Danny Elfman. It was an instant classic when it was released in 1993 as a stop motion animation film. Even by today's standards with the advancements in computer generated graphics and 3-D animation, the visual effects still hold up.
I'm assuming everybody knows the plot. In short Jack the Pumpkin King, leader of Halloween Town takes over Christmas. He discovers Christmas Town wandering through the woods and decides he's going to kidnap Santa Clause and do his job for him. The residents of Halloween Town fail to comprehend Christmas and despite their best efforts turn Christmas into a morbid mess. It's interesting. This film was produced by Walt Disney Studios but was released through Touchstone Pictures because Disney thought it was too dark and spooky for kids.
The concert was conducted by Constantine Kitsopoulos. The film was presented on an extra-large HD screen with the BSO placed underneath. They performed the score synchronized with the film. There were not any singers and the soundtrack's lyrics were played over the speakers. It made the orchestra sound louder than usual, like they were amplified. The synchronization was fantastic! Every song and dance flowed seamlessly to the film. The presence of a live orchestra accentuates the film making the expressions feel more powerful. The song "What's This" made you feel full of glee and spirit. You could really feel the enthusiasm Jack the Pumpkin King felt when he discovered Christmas.  The song "This Is Halloween" was like a macabre rock ballad with dancing skeletons, ghouls, ghost, goblins, vampires, trolls and demons. Other favorites were "Kidnap The Sandy Claws," and "Making Christmas." It did feel like the orchestra had to play at a forte due both to the dynamics and the amplified singing.
Watching this presentation brought to life more than anything else the production scores. The music that's in the background throughout the entire film. The orchestra didn't just perform the musical soundtrack but all the background music as well throughout the film. It made what was once lesser moments of the film more entertaining. Every movement of the stop animation classic captured by the orchestra. It was creative how Tim Burton and Danny Elfman revisited the musical themes to transition the story. There was the use of orchestral instruments to make sound effects.
Watching this presentation made you laugh, it made you cry, it made you laugh and cry at the same time. It was fantastic fun and a great atmosphere filled with characters as colorful as the film.