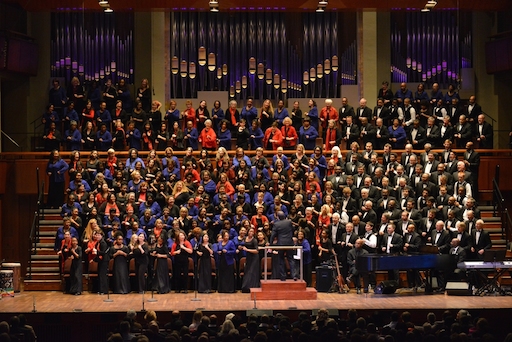 Annual choral tribute brings the combined force of more than 300 voices celebrating the power of music and the triumph of the human spirit; includes presentation of the 2015 Humanitarian Award to civil rights icon Rev. C.T. Vivian
In what has become a highly anticipated annual tradition in the nation's capital for more than 20 years, Washington Performing Arts and The Choral Arts Society of Washington once again join forces to honor the life and enduring legacy of Dr. Martin Luther King, Jr., through spirituals, gospels and hymns. The 300+ combined voices from the Washington Performing Arts' Men and Women of the Gospel and Children of the Gospel Choirs and the Choral Arts Chorus share the inspirational gift of traditional choral and gospel music to audiences throughout the D.C. region.  Says Washington Life on a recent performance of Living the Dream…Singing the Dream, "The pulsating rhythmic drive, rumbling basses and the soaring sopranos were a recipe for euphoric applause from the audience." This highlight of the D.C. choral season will be presented on Sunday, February 22, 2015, at 7pm in the Kennedy Center Concert Hall.
---
Who:   Choral Arts Chorus, Scott Tucker, Artistic Director & Conductor
Men and Women of the Gospel Choir, Stanley Thurston, Artistic Director & Conductor
Children of the Gospel Choir, Michele Fowlin, Conductor                     

Where:   Kennedy Center Concert Hall
When:   Sunday, February 22, 2015 at 7pm
Program:   Spirituals, gospels and hymns
Tickets:   From $25, available at washingtonperformingarts.org or (202) 785-9727.
The program opens with the combined choirs, under the direction of Stanley Thurston, performing Tremaine Hawkins' Excellent Lord, followed by individual pieces from each choir.  The choirs unite again for the remainder of the program, singing spirituals, gospels and hymns including My Faith Looks to Thee, Great Day, Steal Away, My God Is a Rock, Great Is Thy Faithfulness, The Battle of Jericho, and the traditional South African song Wamuhle Lomtwana.  The concert closes with A. Bazel Androzzo's powerful, internationally revered If I Can Help Somebody. The audience is invited to join in the singing of several of the program's selections, creating a truly magnificent, unforgettable experience for those who attend.