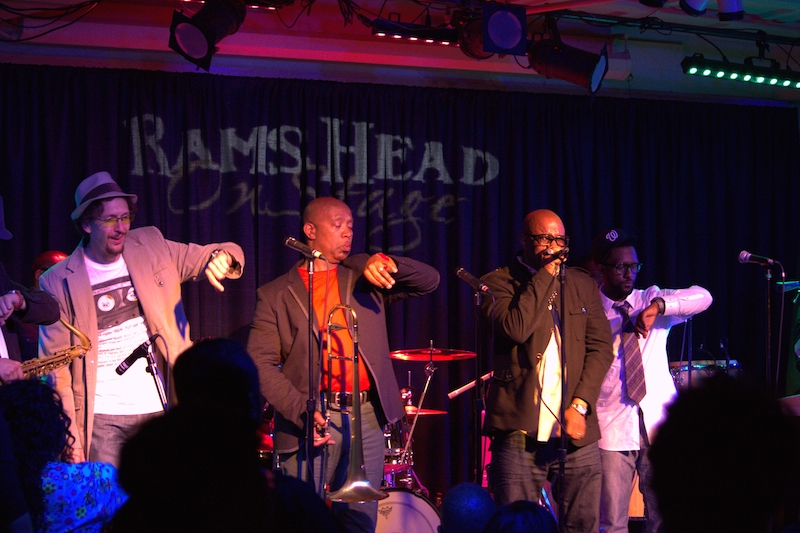 It's Friday night! What cha gone do? Let's go to the go-go and have a good time. A year and a day after the passing of music legend Chuck Brown the "Godfather of Go-Go," we are celebrating his legacy. Who can forget the man who undoubtedly forever changed music in D.C. and left an impression in the hearts of millions. Tonight at Rams Head On Stage The Chuck Brown All Star Go-Go Tribute Band will feature Chuck's daughter KK, The Horny Horns, Sweet Cherie, Frank "Scooby" Sirius from Familiar Faces, Mighty Moe Hagans, Karlston "Ice" Ross, Marcus Young, D Floyd, White Boy and Sugar Bear from EU with even a few surprises. With all these legends of go-go sharing the stage it's hard not to imagine a raucous atmosphere, the type where you pay for a seat but you're not going to need it.
Outside the main entrance to Rams Head On Stage a line was forming. It was eight 'o' clock and it was time to get this party started! The music began playing and everyone still waiting outside (myself included) started to frantically bum rush the door man. He had to step in and assure us it would only take a second. We were individually wristbanded and let in one by one. Upon entering I was greeted to the scene of women running in high heels weaving in between tables to make their way to the dance floor. It made me wish I'd ditched my camera at the will call desk so I could join in. On stage was Jas Funk; he had the mic and was hyping up the crowd; getting people off their butts talking about how it's going to go down up in here. He would have people from D.C. compete with people from Annapolis by virtue of noise. Everybody had a little hitch in their step; even the waitresses were shrugging their shoulders as they brought out drinks. They played classics like "It Don't Mean a Thing (If It Ain't Got That Go-Go Swing)" and "Bustin' Loose".
The Horny Horns really conveyed that old school Chuck Brown sound. They sounded like a jazzed out Soul Searchers. Accompanying them on guitars and vocals was Frank "Scooby" Sirius. His singing was smooth and fluent; a show stopper really. Some of the excitement paused momentarily just to capture his performance. There was no break in the music and go-go legends were paraded on and off stage. Some even traded their instruments for a mic like Sweet Cherie who stepped in from behind the keyboards to rap. The scene was spectacular, just like a hot jazz supper club on a Friday night. All the motion made taking photography that much more difficult but I didn't care; I was dancing as I shot photos. I would much rather enjoy an awesome experience at the cost of a few photos than get perfect photography and the event be a snooze fest.
Mighty Moe Hagans keep the beat on the congas going strong all night and with Karlston "Ice" Ross they made for an excellent drum and bass combination. This concert wasn't heavy on congas; it was heavier on the horns. It would have been cool to get some more conga solos in there. All night they continued to play classics like "Overnight Scenario", Sugar Bear came out and you know he did his thing singing songs like "Da Butt". There was so much going on it was hard to get all the details, especially with all the distractions walking around. They sounded great from top to bottom, no glitches.
Another one of the rappers to make her way on stage was Chuck's daughter KK. She was going hard! Hyping up the crowd singing lyrics like "you know Chuck's daughter don't give a f*ck". She had a very powerful stage presence.
Like I said; this was a party! It was great to shoot photos and all but I much rather had been there drinking and dancing. They played for two hours strong, non-stop. Which might be a little on the light side for a go-go but compared to most any other concert was phenomenal. There was no encore, they left it all on stage; got to love their style. If whenever you have the chance to see a Chuck Brown All Star Tribute concert DON'T SLEEP. This event was a collaboration of all the best go-go musicians in the DMV. Everybody on stage looked like a pro and handled themselves like one. This event was as classy as you could imagine while having a good time.