Video Games Live, Symphonic Rock!
3 min read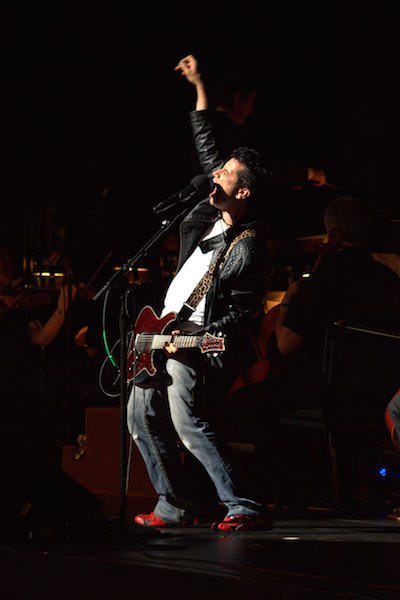 It's another round of the acclaimed symphonic tribute to both classic and modern video game scores. Since its 2005 debut, Video Games Live (VGL) has continued to grow in popularity and success. It's hosted by Tommy Tollarico, one of the most prominent figures in video game music history. Tonight at the Filene Center at Wolf Trap our senses will be enthralled with nostalgic bliss as we recount our favorite video game memories on giant HD screens with the accompaniment of The National Symphony Orchestra.
 Video Games Live prides itself on being a fully immersive experience. Attendees are encouraged to clap, shout, cheer and interact with the experience at any given time; it's quite the contrary to your typical orchestral performance.  At first thought, this was a little dispelling. I would hate for a beautiful segment of music to be interrupted by somebody yelling; YEAH! But for the most part the audience was just as taken in by the gorgeous graphics, synchronized lighting effects and alluring sound that the most precious moments of the concert went virtually uninterrupted.
The National Symphony Orchestra was conducted by VGL principal conductor Emmanuel Fratianni. He's an expert when it comes to synchronized multi-media conducting. It takes precision and focus in order to maintain the distribution of harmony amongst all the video and lighting distractions. A fantastic segment he composed was the opening sequence to "Shadow of the Colossus" a Playstation 2 classic written by Kow Otani.
Tommy Tollarico was at the forefront of all the action in between segments and songs that required guitar. One of which was a multi-segmented rendition of the soundtrack from Earthworm Jim, a Super Nintendo classic he composed and stated was his favorite game to work on.  It was a rock n' roll orchestration set to the sights of a "groovy" earthworm leaping around side scrolling platform paradise. The electric guitar didn't drown out the orchestra and it fit nicely; like a video game Trans-Siberian Orchestra. I noticed the majority of the songs Tommy had guitar parts in where old school classics, Mega Man, Castlevania, Street Fighter II, it was if he replaced the blips and bleeps from the chiptunes era with rocking guitar solos. This methodology worked really well for the Street Fighter II segment; hearing the Ryu, Ken and Guile themes on electric guitar sounded good!
As always one of the highlights of VGL has got to be the extremely talented Laura Intravia. She's a vocalist, composer, flute soloist and electronic wind instrumentalist. Her Zelda medley was of virtuosic elegance. Notes fluttered, seamlessly accommodating clips of Zelda fan art. A new piece they added to the program was a game Laura referred to as her personal favorite. The Super Nintendo classic Donkey Kong Country, written by David Wise. She played it with an electronic wind instrument. It was a solo instrumental played over the original digital score. There were songs such as "Aquatic Ambience" and "Jungle Groove", it sounded as if she was playing an electric saxophone. It was really unique and cool!
Another song they played was the Grammy Award winning soundtrack to "Journey" which was visually stunning and a pleasantry of immense magnitude (Austin Wintory, the original composer, stepped in as guest conductor.) They also included an operatic version of "Tetris", a magnificent rendition of the opening theme to "Final Fantasy 8" and a "Skyrim" suite. The concert was really well conceived, there were new scores from both the new and classic era. The flow, in which the concert moved, was a little choppy. I like uninterrupted music with minimal dialog in between. The constant introductions and assortments of contest done throughout the program made it seem like we were watching a T.V. show at times rather than a concert. More segments could have been added in place but what was performed sounded and looked incredible. A very great concert!