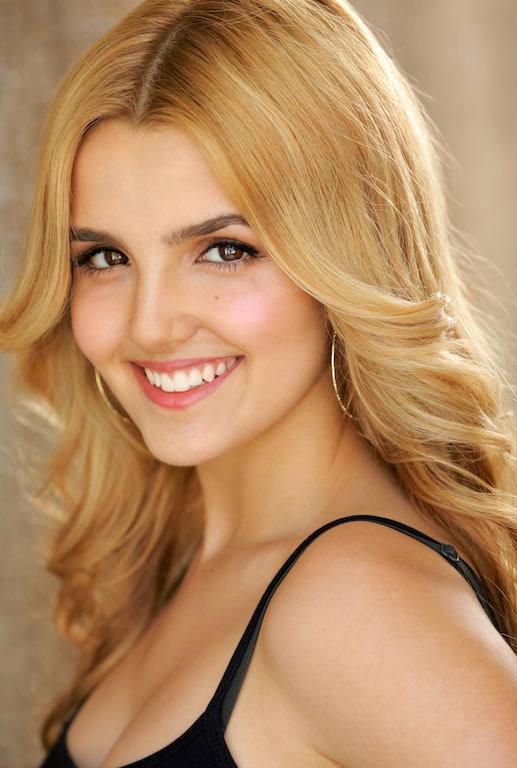 Today, "Project Mc2" begins its second season on Netflix! Project Mc2 revolves around the adventures of McKeyla McAlister and her friends, who work for an organization called NOV8 (pronounced "innovate"), a highly secretive group of female operatives that are trying to protect the world. On this edition of INTERVUE, Lauren Cash interviews actress Victoria Vida. She plays culinary chemist Adrienne Attoms on the series.
A new exciting season of Project MC2 is coming Friday, August 12, 2016. How did you become involved with this inspiring show in the first place
As the brilliant filmmaker Woody Allen said " 80% of success is showing up.", and that was the case with my audition for Project Mc2.  At first, when I received the audition, I was puzzled because the physical description was totally different from mine. The audition called for a tall blond when I was a short brunette. I almost didn't go, but I had a gut feeling that I had to. No matter how low the probability, I believe that we should take every opportunity we get to showcase who we are, so  I ended up showing up, and after showing up a couple more times I got my part. Later on, I heard that one of the reasons I got the part was the Latin flavor I added to a single word, vanilla (baunilha)
What can we expect from your character Adrienne Attoms in the upcoming season?
Viewers will definitely get to see even more of that Latina fire in this super spy. This culinary chemist will be whipping up some DELICIOSAS surprises, and watch out for her wicked nunchucks with a culinary twist.
With such an empowering message involving girls and STEM, what other messages would you like to spread when it comes to girl power? 
My message to all the chicas AND chicos out there is  to be proud of what makes you different, because WHAT MAKES YOU DIFFERENT IS WHAT MAKES YOU UNIQUE , and makes you the AMAZING person that YOU ARE. My motto is, Don't erase yourself, EMBRACE YOURSELF!"
What similarities can you draw between yourself and your character, Adrienne Attoms? 
Both of us are VERRRRRY proud of our Latino background and are not afraid to stand up for a friend when in need of help. As Adri would say, I would NEVER trade my pair of high heels for flats. Don't get me wrong, I think flats are very cute, but there's just something about those tacones altísimos(high heels). Cooking is also a hobby of mine. I not only find it  amazing how a few ingredients can make something SO DELICIOSO, but how it can bring together familia and friends to share a special moment together.
Like Adrienne, you seem to hold much passion for people. Your song "Shining Star" along with the video has truly warmed my heart. What made you want to focus on the issues of bullying and self perception? 
As Adrienne Attoms and I believe, EVERYONE should be RESPECTED no matter their shape, color, size, ethnicity, or sexual orientation. What makes us different, makes us UNIQUE. I have been bullied in the past, and as many others do, I felt like an outsider, like I didn't belong anywhere… With my mom's help I was able to overcome it, but I know that not everyone has someone they can talk to or count on,  so  that's why I wrote Shining Star and produced an anti-bullying music video. I wanted to reach out to these people , let them know they were not alone, and help them see that  "Shining Star" inside themselves.
If Adrienne Attoms recorded a song, what issue would she center it around? What would she title it? 
It would certainly be about EMPOWERMENT, but I still need to work on the Title 🙂
Adrienne Attoms, along with the rest of the wonderful secret spy organization (NOV8), will have to complete new missions this upcoming season.  Any insight on the new missions and how they will help the girls moving forward? 
All I can say is that you guys are up for a big surprise, and I don't want to spoil it… But I have a VERRRY IMPORTANT MISSION for you, NOV8 Agents: Check out Project Mc2 Season 2!!!!
Thank you Victoria Vida for the wonderful interview! The new season of "Project MC2" premieres TODAY on Netflix