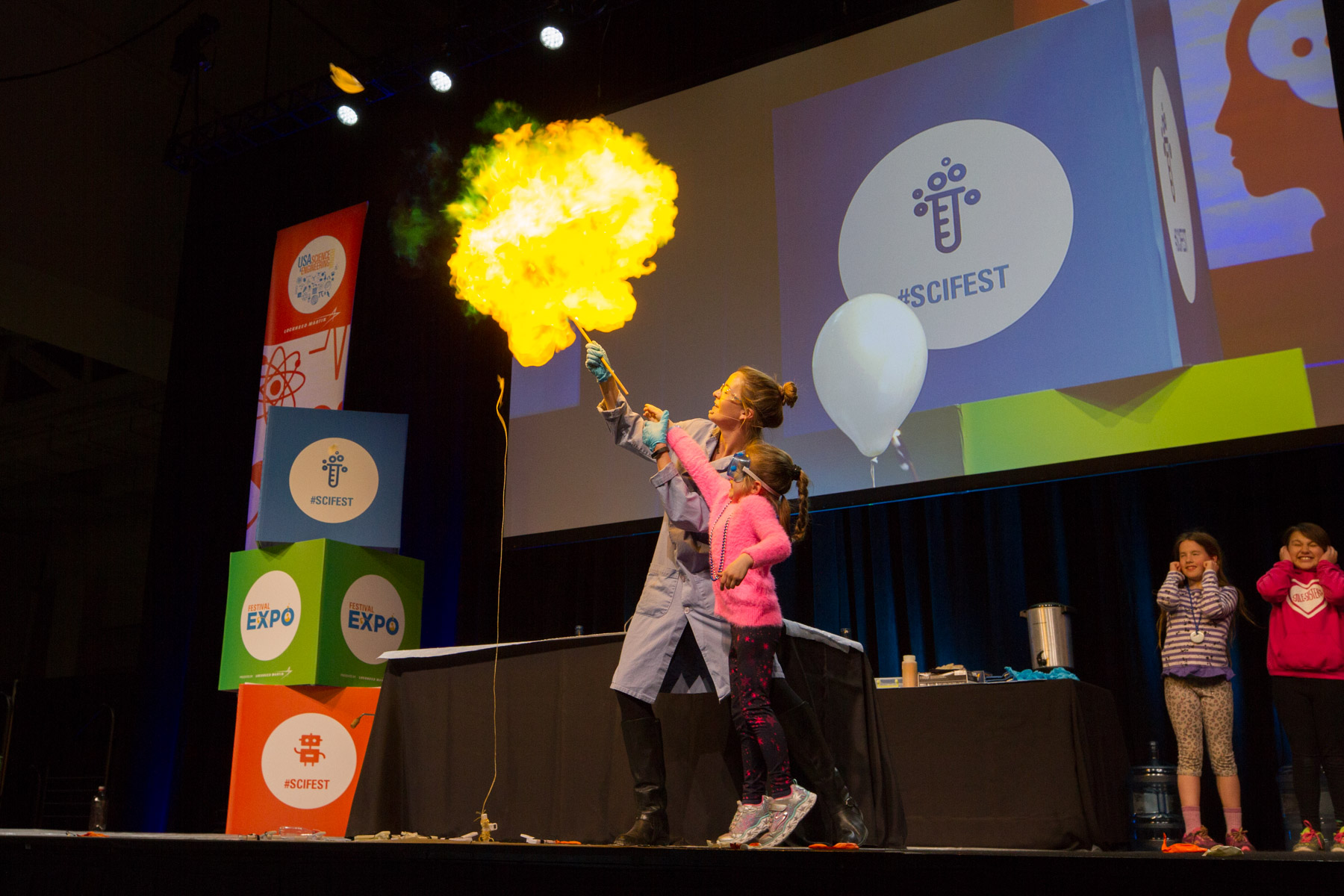 The USA Science & Engineering Festival Expo is returning to Washington, DC to ignite interest in STEM.  Designed to inspire the next generation of inventors, creators, and innovators, the biennial Festival is a family-friendly expo that allows kids and adults to participate in thousands of exhibits, experiments, and stage shows. New this year, attendees must have a ticket for entrance and adults now pay a nominal fee.  The Festival Expo remains free for kids as well as those in college.
"Celebrating its 10th anniversary, the most compelling, exciting, and educational Festival in the world is back. This one-of-a-kind STEM opportunity captures the imaginations of our future workforce.  Encouraging more kids to explore STEM careers is critical to helping our nation remain competitive," explained Marc Schulman, Festival Executive. "To help support the event and maintain the Festival quality, we are charging adults this year but kids still attend for free.  All must have a ticket though."
The Festival Expo, which takes place at the Walter E. Washington Convention Center in DC on April 25th from 10am-6pm and 26th from 10am-4pm, is the grand finale of the Festival's year-long science celebration.  Taking over most of the convention center, the Festival Expo draws several hundred thousand people and has over 1,000 hands-on activities and has important support from the DoD, Lockheed Martin, and NEI. The event features explorers, astronauts, physicists, inventors, experts in fields like oceanography, climatology, robotics, medical research, neuroscience, space exploration, artificial intelligence, and science celebrities such as Kate the Chemist (Dr. Kate Biberdorf) and America's Science Teacher Steve Spangler.
By requiring tickets, attendees will be able to spend more quality time at each booth exploring hands-on activities and interacting with sponsors and exhibitors. There is a small fee for adults but children and college students remain free.  Here are ticket details:
Kids 18 and under are FREE but will be required to obtain a free ticket and present the ticket at the Expo to allow entry. A ticketed adult must accompany children under the age of 13.
Current college and university students, with a valid student ID, are FREE but will be required to obtain a free ticket and present a valid student ID to enter the Expo.
Single-day tickets for adults ages 19+ are $15 and $20 on-site (while supplies last).
Two-day passes for adults ages 19+ are $25.
Tickets are available at www.USAScienceFestival.org.
Again this year, the X-STEM Extreme STEM Symposium kicks off the Festival and takes place on April 23 at the convention center. The "TED-style" event geared toward middle and high school students features interactive talks by six of the nation's most noted STEM professionals representing top universities, corporations, non-profits, and governmental agencies.  Space is limited to the first 1,200 registrants and costs $20 per person. Schools and individuals interested in attending should sign up on the Festival website.
Also in the weeks leading up to the Festival Expo, STEM superstars will be visiting area schools through the Festival's Nifty Fifty program to bring the excitement of STEM directly to the classroom.  The day before the Expo, field trips from local schools and military families will get early access during the Festival's Sneak Peek.
Founded by serial entrepreneur Larry Bock to address the severe shortage in science and tech talent, the USA Science & Engineering Festival is the nation's largest science festival and was developed to spur youth interest in pursuing careers in science and engineering.
To learn more, visit www.USAScienceFestival.org.