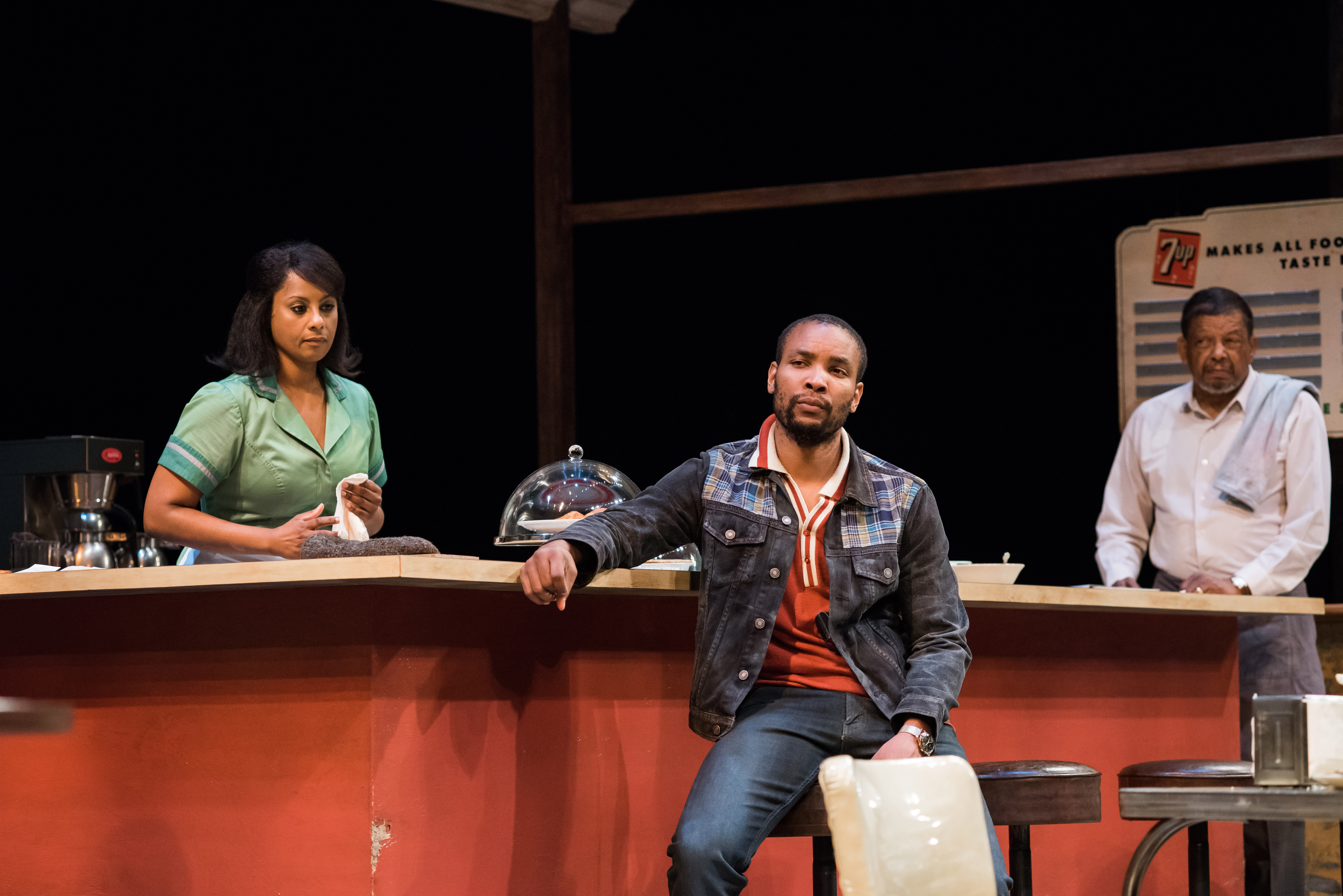 August Wilson's masterpiece drama on the civil rights movement, Two Trains Running, will receive an additional five performances during its run at Arena Stage at the Mead Center for American Theater. Under the direction of Juliette Carrillo and in a co-production with Seattle Repertory Theatre, Two Trains Running now plays through May 6, 2018 on the Fichandler Stage.
The cast includes Eugene Lee (Broadway's Gem of the Ocean and Arena Stage's every tongue confess) as Memphis Lee, Carlton Byrd (Woolly Mammoth's Antebellum) as Sterling, William Hall Jr. (Seattle Shakespeare Company's Othello) as West, Reginald Andre Jackson (Seattle Repertory's Well) as Wolf, Nicole Lewis (Broadway's Hair) as Risa, Frank Riley III (Arena Stage's A Raisin in the Sun) as Hambone and David Emerson Toney (Broadway's Juan Darién and Arena Stage's The Piano Lesson) as Holloway.
Tickets may be purchased online at arenastage.org, by phone at 202-488-3300 or at the Sales Office at 1101 Sixth St., SW, D.C.
Critical acclaim for Two Trains Running:
"When justice is being done to a play by August Wilson, a serenity takes hold in the auditorium. The assurance that hardship and wisdom, pain and poetry, are going to meet and mingle on the stage with the required quantities of talent and insight puts a spectator at blissful ease. The brow unknits as the emotions engage. This sense of well-being envelopes an audience all the way through Arena Stage's outstanding revival of Two Trains Running." –Washington Post
"The ensemble cast is outstanding, each actor creating a character that is believable and memorable." –Woman Around Town
"The entire cast of Two Trains Running is a top-flight ensemble of strong, seasoned actors who give dynamite performances of the first order…storytelling at its finest…outrageously funny…a must-see theatrical production." –DC Metro Theater Arts
"Animated, humorous, and buoyed by strong performances from the ensemble…a first-rate production typical of Wilson's best work." –DC Theatre Scene