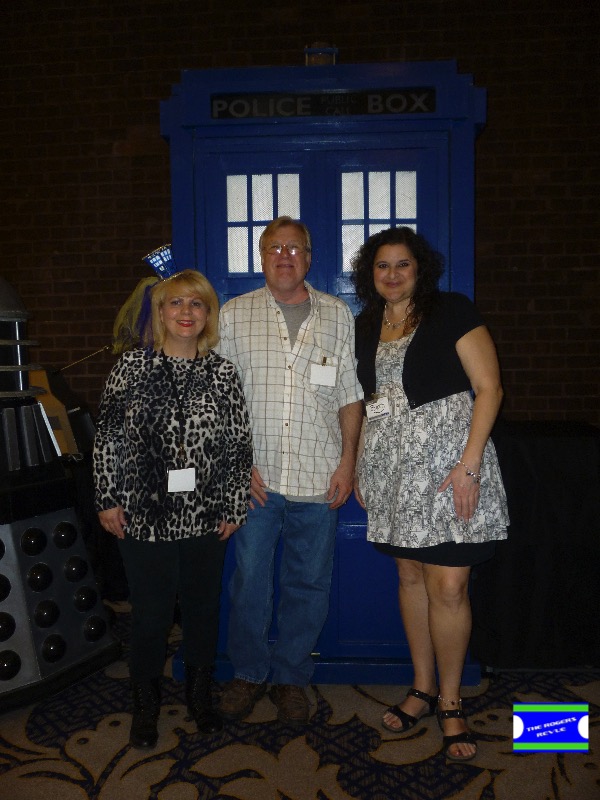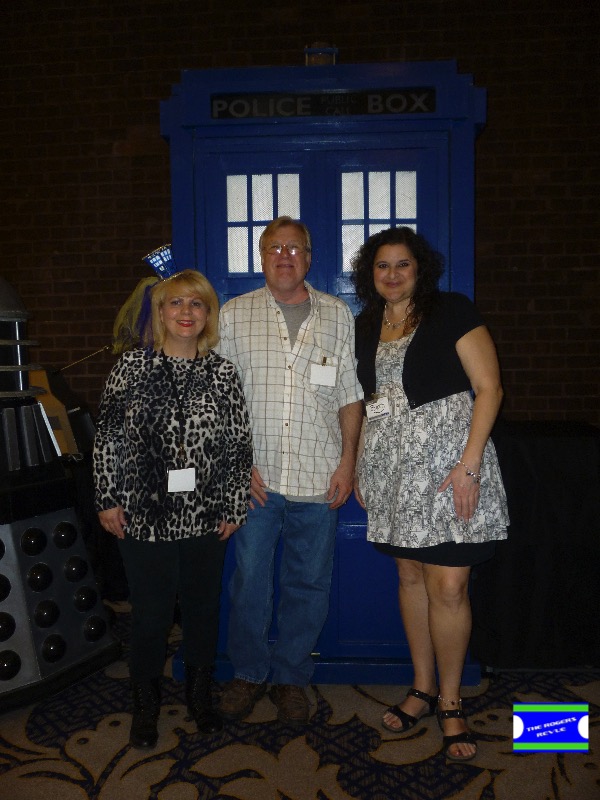 Having enjoyed last years (Re) Generation Who Doctor Convention, I was eager to once again put my "con-noisseur" skills to work. This year's convention occurred March 18-20, 2016 in Hunt Valley, MD. As an avid convention attendee, having attended many Doctor Who Conventions over the years including Awesome Con, Chicago TARDIS, Gallifrey One and Visions (Among others), I was eager to compare this years (Re) Generation Who to last years festive event. This year did not disappoint.
I was greeted by many familiar faces. Despite the staff having a multitude of attendees to assist, many recognized me and greeted me like an old friend. Even some of the guests such as Nicola Bryant (who played Peri with the 5th & 6th Doctor) and Nick Briggs (who produces for Big Finish and is the voice of Daleks and Cybermen) gave me a big hug to welcome me.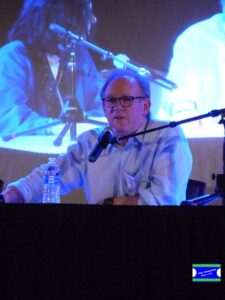 Other guests included Peter Davison (the 5th Doctor), Colin Baker ( the 6th Doctor) and Sophie Aldred (Ace). This year the convention was themed around a tribute to the Second Doctor, Patrick Troughton. Guests from that era included; Anneke Wills (Polly), Frazer Hines, (Jamie), Wendy Padbury (Zoe) and Deborah Watling (Victoria). I very much enjoyed seeing Michael Troughton at the convention ass well. He told some lovely stories of his father, Patrick Troughton.
I was able to ask Michael Troughton what he thought of the (Re) Generation Who convention. He said, "I think that generally if it's an exclusive Doctor Who convention it feels more like a family. You go to the large conventions and they can be not like a group of friends. They're fun, but not as intimate, and whenever you come to these Doctor Who medium [sized] conventions, you've got a Whovian family. It's the same in the U.K. There's a Whovian family that collects together and it's more like a party rather than a job or work. This convention is so well organized."
This year the convention had a more familiar feel. I had convinced some of my convention friends who often attend other conventions with me to come to this one. As a first time attendee at this convention, Nadine Leto said, "I really enjoyed the convention. The guests were spectacular and they were easy to get to because it was a small convention. There was a lot of entertainment at night and everyone was really friendly. I met a lot of new friends and can't wait to go back next year."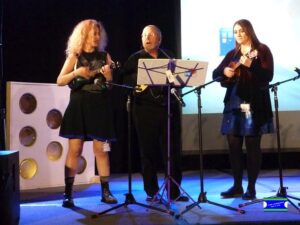 Nadine was certainly right. There was a lot to do. We were able to watch "Antipode", the belly dance troop perform in Dalek and Cybermen outfits. We also enjoyed comedian Hannah Harkness and ukulele performer Cat Smith. On the second night they had the Davros Variety Show which featured Terry Malloy (who plays Davros) joining Cat Smith in a ukulele performance. I happily purchased one of Cat Smith's CD's.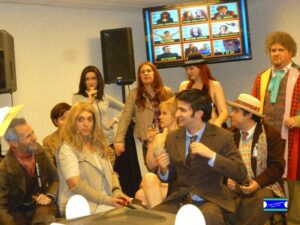 Each evening featured many rooms of things to do. In comparison to other conventions that only provide one room of activities, this convention had something for everyone. There were discussion panels such as "Hitchhiker's Guide to the Fourth Doctor", and "Sex on Doctor Who", and an "Introduction to Who for Parents and Kids". There was a Kids Programming Room which had crafts and activities running throughout the day. There was meetups for Cosplayers. The Dance Party lasted from 11pm to 2am. My favorite of course was Gallifrey Squares where I was able to become a contestant and finally win!
In addition to hanging out with friends from last year's (Re) Generation Who convention, and friends I've know from other conventions, I additionally was able to make new friends. Everyone at this convention was very welcoming and friendly. I asked one of my new friends what she thought of the convention. Marie Markey said "As a new Who enthusiast, the conventions helped excite me, and promote the desire to see the episodes of the guests I enjoyed, that it was not over crowded, and that the vendor area had many unique and homemade items. The convention offered something for everyone, even mental health seminars for people who may find expos challenging. My FEZ is off to the organizers for a well ran event."
I also once again enjoyed the dealer's room. There were of course many vendors with collectibles. However, I thoroughly enjoyed the many crafted items, creations and art works. One of my favorites this year was "Dark Rain Design" that creates Clockwork Critters by refurbishing mechanical toys into steampunk animal artwork. They were quite innovative.
The convention once again finished with a "How Did we Do" panel in which many attendees stayed to contribute. It is great that Oni Hartstein and her team take people's suggestions seriously so that they can make next year's convention even better. I would highly recommend this convention to anyone, as it is well organized, and provides something for everyone.