Trans-Siberian Orchestra's Highly-Anticipated Letters From The Labrynth To Be Releases Nov. 13
3 min read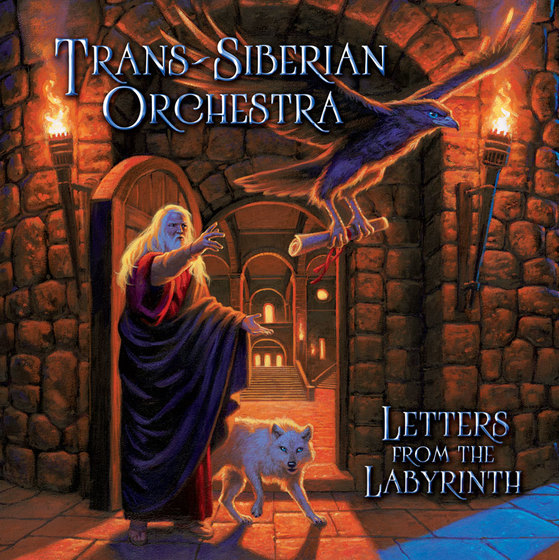 Critically-acclaimed progressive rock band Trans-Siberian Orchestra will release its highly-anticipated new studio album, Letters From The Labyrinth, on Nov. 13 through Lava Records/Republic Records. Known for elaborate production and thematic CDs, with Letters From The Labyrinth, TSO has crafted a bold, conceptually provocative album that pushes the proverbial envelope once again — this time with what TSO creator, lyricist and composer Paul O'Neill calls TSO's "first hybrid album." In addition to being available at brick and mortar and online retailers, each 2015 Winter Tour concert ticket sold online will come with a digital copy of Letters From The Labyrinth.
Letters from the Labyrinth, TSO's first full-length album since 2009's Night Castle, is a major change for the way Trans-Siberian Orchestra creates new works. It is the first album not built around a completed story. Instead it is a collection of completed songs, which have left the safety of the studio where they were born, and the story will emerge from their combined journeys. The overall concept is based on Night Castle and a dialogue between the wisdom of the past and the hopes for the future, via a correspondence between a child and an old friend of the child's grandfather.
Letters From The Labyrinth deals with subjects as broad as humanity's journey through the ages ("Time & Distance (The Dash)"), and as specific as the fall of the Berlin Wall ("Prometheus"), the world banking controversies ("Not Dead Yet") and bullying ("Not The Same"), which O'Neill co-wrote with his daughter. Produced by O'Neill at his Night Castle Studio in Tampa, FL, the forthcoming album also features Halestorm vocalist and frontwoman Lzzy Hale on the stirring "Forget About The Blame (Moon Version)."
Collectively, TSO has sold nearly 10 million albums throughout its illustrious career. Night Castledebuted at No. 5 on the Billboard Top 200 chart and is now certified platinum. Christmas Eve and Other Stories (1996), boasted the smash hit "Christmas Eve Sarajevo 12/24" and was certified triple platinum with over 3.4 million records sold. The Christmas Attic (1998) earned certified platinum status with over 1.8 million records sold. The Lost Christmas Eve (2004), featuring hit single "Wizards in Winter," was certified double platinum with 2.3 million records sold. Beethoven's Last Night (2000), TSO's first non-holiday rock opera, was certified gold with more than 650,000 units sold.
LETTERS FROM THE LABYRINTH: TRACK LISTING 
1. "TIME & DISTANCE (THE DASH)"
2. "MADNESS OF MEN"
3. "PROMETHEUS"
4. "MOUNTAIN LABYRINTH"
5. "KING RURIK"
6. "PRINCE IGOR"
7. "THE NIGHT CONCEIVES"
8. "FORGET ABOUT THE BLAME (SUN VERSION)"
9. "NOT DEAD YET"
10. "PAST TOMORROW"
11. "STAY"
12. "NOT THE SAME"
13. "WHO I AM"
14. "LULLABY NIGHT"
15. FORGET ABOUT THE BLAME (MOON VERSION)" FEAT. LZZY HALE**– BONUS TRACK
Since its formation, TSO has been a touring juggernaut, leaving crowds of all ages speechless after being introduced to the wonder of the group's music and on-stage spectacle year after year. To date, TSO has played an excess of 1,600 shows for more than 12 million fans, cementing itself as one of the world's biggest rock arena acts. TSO will hit the road again next month for its Winter Tour, based on the group's cherished Yuletide story "The Ghosts of Christmas Eve," featuring such lasting crowd-pleasers as "Christmas Eve Sarajevo 12/24," "O' Come All Ye Faithful," "Good King Joy," "Christmas Canon," "Music Box Blues," "Promises To Keep," and "This Christmas Day." Starting on Nov. 18, TSO will take the 2015 Winter Tour to 60 cities across North America to perform 100 shows before ending on Dec. 30. TSO is constantly striving to provide new experiences and audiences can be assured the best is yet to come in 2015.
As in all previous years, a portion of all ticket sales will go to benefit select national and local charities.  To date, TSO has donated approximately $12 million to charities.
Visit www.trans-siberian.com for more details.