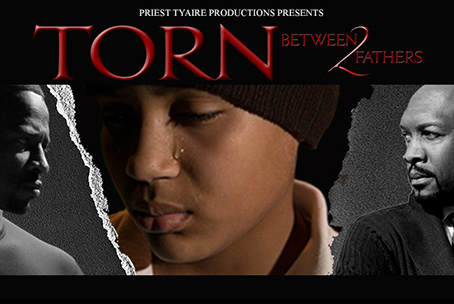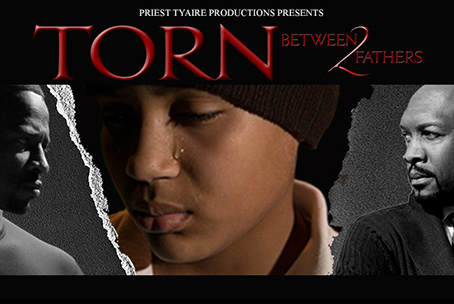 Priest Tyaire's Highly Acclaimed Inspirational Stage Play "Torn Between 2 Fathers", Brings A Message of Hope and Forgiveness By Destroying the Cycle of Absentee Fathers will be in DC – February 12TH– 15TH, 2015 at the Warner Theatre (Valentine's Weekend)
 This powerful production – based on a true story – features soul stirring performances by renowned artists Debbi Morgan, Clifton Powell, Angela Winbush, Keith Washington, Tony Grant and Teisha Lott Brown
Priest Tyaire today announced the release of his latest inspirational, musical stage play Torn Between 2 Fathers starring  Emmy award winner Debbi Morgan, American Film Festival award winner Clifton Powell, platinum recording artist Angela Winbush, R&B sensation Keith Washington, Grammy nominated performer Tony Grant, the dynamic songstress Teisha Lott Brown and award winning playwright, director and actor Priest Tyaire. This highly anticipated production – based on a true story – leaves audiences on the edge of their seats captivated by the intense drama, and moved by the emotional impact of destroying the negative influences of absentee fathers, while embracing the positive attributes of men who have real relationships with their sons.
Torn Between 2 Fathers, allows audiences to explore how a family can be impacted when a son lives his whole life thinking that one man is his father, only to later discover that his real father has been missing from his life all along….
Will he be able to overcome the hurt, pain and anger he feels?
But, what about the lies and deceptions that he's been told?
Can he forgive the father who was never there, while still accepting the father who was always there?
"I am so moved and honored to be able to bring this powerful performance to DC this Spring. Statistics show that out of 24 million children in America, one out of every three live in a home without their biological father. This issue is so impactful that it's shown to be connected to almost all of the social ills we face in our communities," said playwright Priest Tyaire. "This play is also very close to my heart because I know firsthand what it's like to live without knowing my real father for many years. But through compassion, I was able to reconnect with him and get to know him before he passed away. While this play reflects an important social issue that many can relate to, I deliver it in an inspirational and entertaining way that resonates with people from all walks of life".
In Torn Between 2 Fathers, Alisha gives birth to a beautiful baby boy named CJ, making Chase the happiest father in the world. But, what Chase doesn't realize is that he's only a part of an elaborate plan to ensure a good life for a son who he thinks is his own. The conflict intensifies, as Christian (the biological father) is released from prison now wanting to connect with his son CJ. Hearts are broken, trust and relationships are destroyed when the devastation of 16 years of lies and deceit finally comes to the surface. But, will two men from two different walks of life be able to come together and raise one son? 
In addition, Priest's personal struggle on his journey of success is highly compelling. It was his mother's battle with cancer which initially led him to becoming a playwright in 2007. Moreover, he was faced with fighting to keep his dream alive after the painful experience of losing his mother just two weeks before she was able to see his first play that was dedicated to her life. And, finally the journey Priest had to personally endure when he discovered that the man who raised him was not his real dad, and, that his real father had been missing from his life all along. However, through faith and forgiveness, he was able to have a relationship with his father before he passed away.
For more information on "Torn Between 2 Fathers" click here http://www.tornbetween2fathers.com/
To buy tickets click here http://www.tornbetween2fathers.com/#!buy-tickets/cee5
For group sales of 10 or more, call 1.866.653.6918 or email judy.fraine@yahoo.com
For more information on Priest Tyaire click here http://www.tornbetween2fathers.com/#!priest-tyaire/cfvg