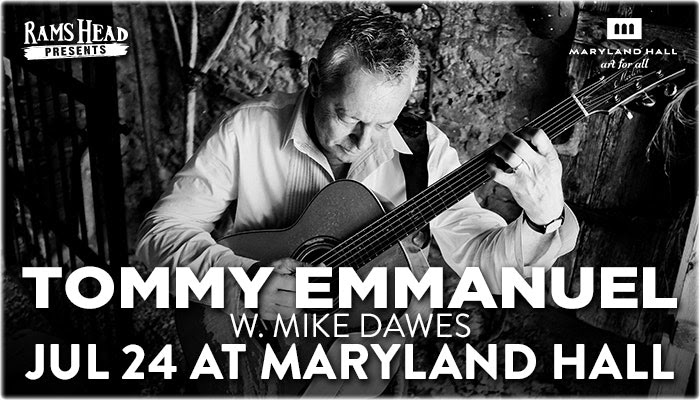 Two-time Grammy nominee Tommy Emmanuel is one of Australia's most respected musicians. The legendary guitarist has a professional career that spans more than five decades and continues to intersect with some of the finest musicians throughout the world. Tommy will be performing at the Maryland Hall for the Creative Arts on Jul 24th 2019.

Influenced by the Merle Travis/Chet Atkins fingerstyle of guitar picking, Tommy developed a style of solo guitar playing that encompasses the range of a whole band– covering drums, bass, rhythm and lead guitar and a vocal melody simultaneously. No loop pedals, no overdubs, just one man and ten fingers.
Accomplice One, an album of collaborations with some of the finest artists today – a list including Jason Isbell, Mark Knopfler, Rodney Crowell, Jerry Douglas, Amanda Shires, Ricky Skaggs, J.D. Simo, David Grisman, Bryan Sutton, Suzy Bogguss and many more was released in 2018.
"If you like guitar playing, it simply doesn't get any better than Tommy." – Jason Isbell
Rams Head Presents
Tommy Emmanuel at Maryland Hall for the Creative Arts w. Mike Dawes
Doors: 7:00 PM / Show: 8:00 PM 
$48.00 – $70.00