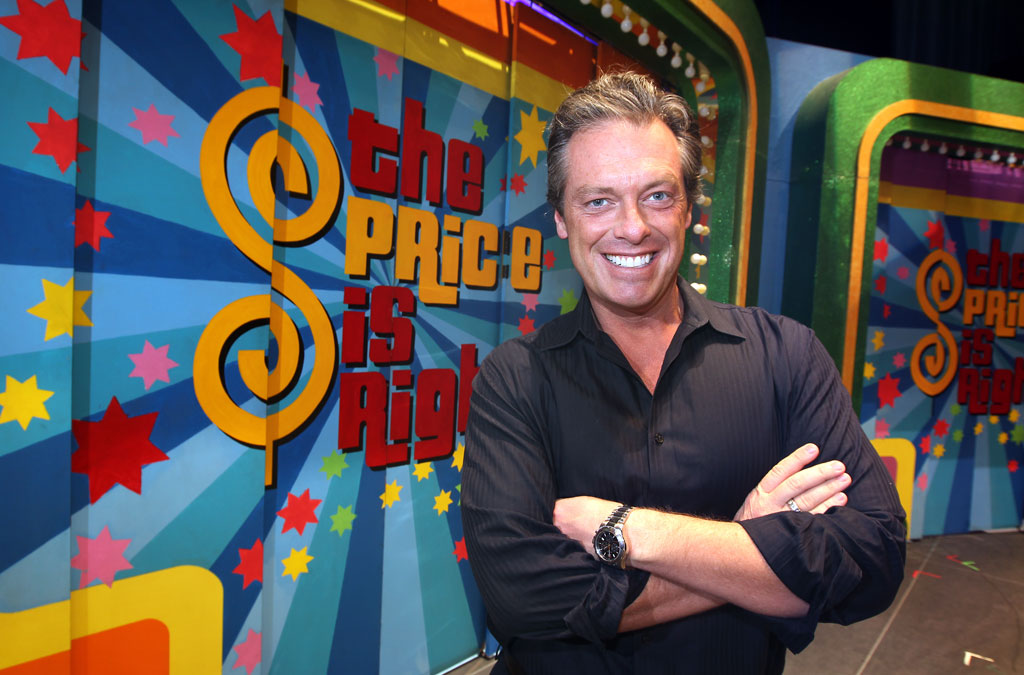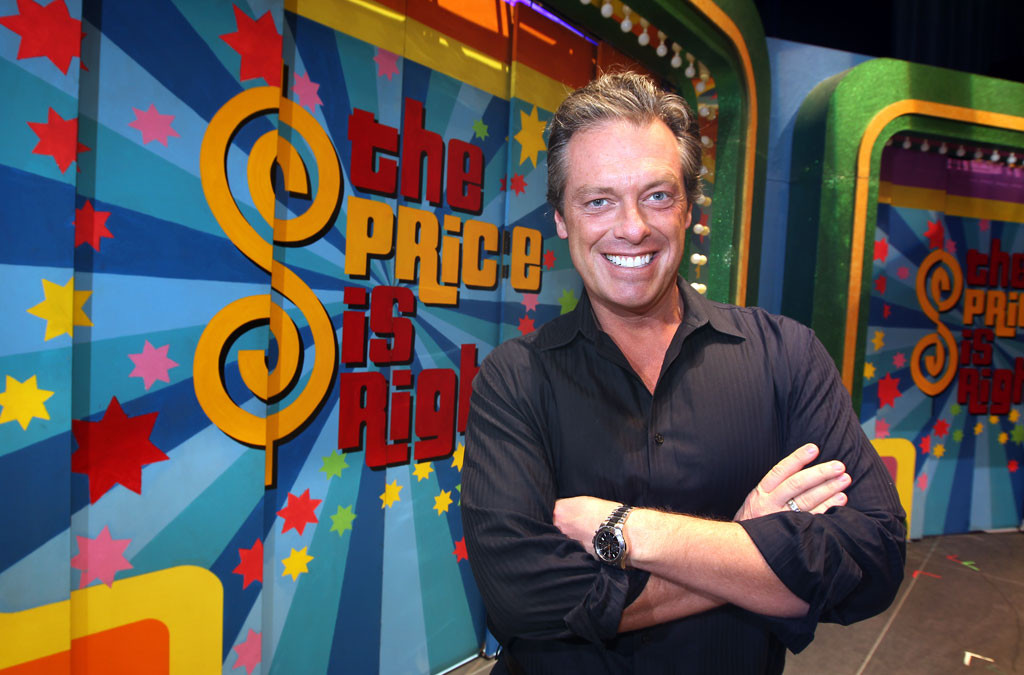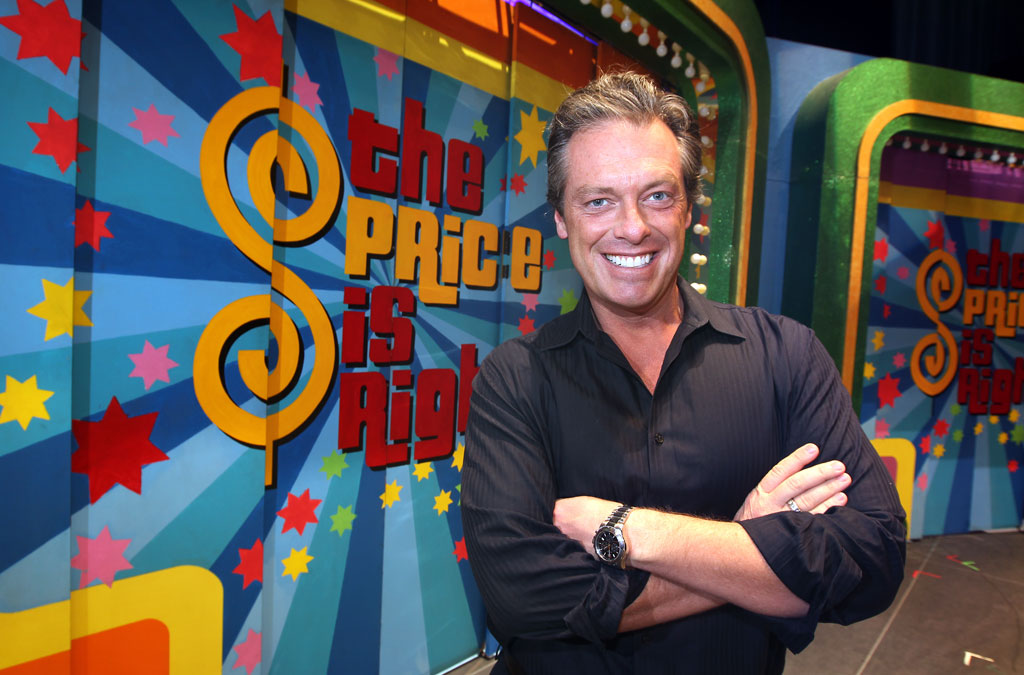 Hollywood Showdown. Whammy, the All New Press Your Luck. Family Game Night. Emmy-Award Winner for Outstanding Game Host. Todd Newton is the Man when it comes to making dreams come true. Ever since he was young, he wanted to be a game show host. For this edition of INTERVUE, Todd and I talked about life and game shows. Todd will making your dreams come true as he ask you to "Come on Down" to the Lyric Opera House on Tuesday, April 21st as he host "The Price is Right Live!"
Since we had seen each other at The Price Is Right Live! over the years, how many years has it been?
Well we started this show twelve years ago. When we started, it was in a tiny little theatre, more like a lounge than a theatre, in Reno Nevada. I think that theatre held about 125-150 people on a really good night and we loved it. We were scheduled to do two to three weeks. Then from Reno, we went to Atlantic City where the theatre got a little bigger. Then from Atlantic City out to Las Vegas where it got a little bigger still. We enjoyed a wonderful six-year residency at Bally's Casino in Las Vegas.
After the success in Vegas, the producers of the show thought they could roll the dice and take it out on tour. We've been touring ever since; playing to beautiful packed houses in these incredible large ornate theaters across North America. It's just been an incredible journey and the show continues to grow in the industry. To be part of something that last this long and its still growing and evolving, it's a special experience that we're all grateful for.
Since TPIR is 42 years strong. I like to know from your personal opinion, why do feel Price has lasted this long. I could see this show going on fifty, sixty years. 
I think there are a couple of reasons. Number 1, the familiarity of the show has become a family member to people. I meet people all the time who tell me that they watched, as I did, with their grandparents and through college. It's become a part of their lives, an additional family member. It was really the first example of daytime appointment television. For a lot of people, it was the Price with Bob during the day and Johnny during the night.
The consistency and the continued energy from the show have continued to attract new audiences throughout the years and hopefully people will pass on the tradition to their families. When you have such a familiar show to be able to experience it live, it's just a bonus to have a little Hollywood come to your town. No matter where we are whether its California or somewhere in Kansas or Baltimore. It's like a long-lost family member coming home again. That's why the live shows are so successful.
In addition to the familiarity, I think it's a fact that it is a solid show. It is everything a game show should be. The various games in a one-hour not just your basic trivia, not just 40-plus minutes. It's one game after another that viewers can play vicariously through the contestants on stage. In fact, it does a wonderful job of capturing your attention and keeping you intrigued.
No doubt about it. You have hosted Price Live! over the past 12 years, in fact you were in DC back in the fall of 2012, is this your first time performing in Baltimore?
That's right, this will be our first time performing in Baltimore but certainly not my first time. In fact, I got family in Baltimore and DC. It's one of my favorite parts of the country. I am exciting to see family and friends. To play the Lyric Opera House is a big thrill. Those are the type of places that we go see shows ourselves.
I would like for you to give a shout-out to our fellow Baltimoreans and tell them why they need to go see TPIR Live!
As you know Dean, our show is created by the same people who do The Price is Right Show. Because of that, everybody who works on the show is a game show fan first. Since that is the case, authenticity is utmost importance to us. We want to put forth the best show we can and we know what people are expecting when they come to the show and we want to make sure we give that to them. I tell people that the difference between the live show and the TV show are few. but one of the few differences, which are very important, is that all of the contestants are chosen completely at random. When you walk thru the doors of the Lyric, everyone that night has an equal shot to get up on stage. Another difference is the fact that we're not on television. We're not limited to sixty minutes. Our show can go 75, 90 minutes even longer. And no 2 shows are the same because no two audiences are the same. We're expected to blowout that night in Baltimore. I have a feeling it will be the first of many returns.
I have to admit that you have been a game show idol and a mentor to me since I host game shows at sci-fi conventions. When was the defining moment that you knew you wanted to be a game show host.
Well thank you for the kind words. I knew from a very young age that I wanted to be a television host. I didn't know that there was a term for it. I didn't know that you could make a career of it but I remember first seeing Johnny Carson on television. Seeing Johnny entertain millions of people. Although, I had no grasp of it, I was just a teenager, but I knew Johnny loved what he was doing. I knew that Johnny was entertaining people by just being himself. He was speaking to people in a conversational way. He was making his little comments. It felt like you knew who Johnny was. Then, I saw Dick Clark was doing the same thing. Then I saw Bob Barker. I thought these are the guys I want to join that club. Whatever that club, whatever the cost of admission. Whatever the dues are, I'll pay them. The more I started to study it, the more I saw people like Gene Rayburn and Richard Dawson come along.
When I started my career in radio, I would start the path. When I was E!, I really started to find my hosting persona. I found out what kind of host I would like to be. When I auditioned for Hollywood Showdown in 1999 and stepped on that stage, went through all the beats and interacted with the contestants, experiencing a live format with no second takes, no do-overs.
When I shared that first win with the contestant and then to award this money that they really needed or a prize that they weren't able to afford. That's when I knew that this was for me. That's when I felt everything clicking. I knew at that point, I wanted to give everything I had to being the best game show host that I could be. In this industry, you never know where things are going to lead. Its not a straight path it's a windy, curvy path but you get to experience and learn things along the way that you never anticipated. I would never shortsighted and say that I would only do game shows. There are too many great things in this show business to be part of. Game shows are most certainly a priority. When you find that one clear path that marks your destiny, you distinctly follow it. Since 1999, Game shows have been a part of my life and I would not have it any other way. I enjoy it too much. I love it too much. I respect it as a craft. I want to pursue it full throttle.
You have pursue it well. You hosted many game shows since and won an Emmy for Family Game Night, which I was very happy. If anyone deserves an Emmy for Outstanding Game Show Host, its definitely you. 
Well thank you. That was very special night and it says a lot to the people who worked at FGN because we were most certainly the little show that could. We were not the most broadcast show to be nominated. It shows that quality and the hard work really do get noticed on occasion. I have a new show coming up called "Monopoly Millionaires Club" It's hosted by Billy Gravel of "Mike & Molly" and I'm the co-host. Its in conjunction with the state lotteries association and the MD & DC Lotteries are big supporters. We shot seven episodes already and we had some great DC & MD winners. I hope people tune in for that.
Monopoly Millionaires Club was shot at the Rio in Las Vegas. Is that correct?
That's correct. The big beautiful stage. Certainly, the biggest stage that I ever been on. Lots of money. Without question, one of the most awarding, prize filled shows ever. People really seem to be enjoying it.
Since you also been a life Coach, What's the best piece of advice you would give to someone who wants to be successful in life? You have made your dreams come true for the past 25 years by being a Radio DJ to hosting game shows then being a life coach. 
Well you've just said it. They have to go out and make their dreams come true. Make being the verb, being the action word. Your dreams don't just happen. They take extreme amounts of dedication, sacrifice, and passion. You know, you cant be a person who sleeps 10-12 hours at night and expect things to happen. Life doesn't work that way. A plant won't grow if you don't water it and pay attention to it. Your children won't grow into the people they want to be if you don't nurture them, love them, provide them with food, school, protection and encouragement.
Everything that worth anything in this life takes hard work but to find that you are on the right path is when you go see it as hard work. It's all part of the big picture. The main piece of advice is to get out there and work the hustle. Work a little harder than everybody else. Stay up a little later, get up a little earlier & love very single second of it because it flies by.
I thank the wonderful Todd Newton for the wonderful interview and something tells me that our paths will cross again!
The Price is Right Live! will be at the Lyric Opera House on Tuesday, April 21, 2015 at 7:30pm for ONE NIGHT ONLY. Tickets are available thru the box office and thru TicketMaster. For more information on The Price is Right Live! or to see if TPIR Live is coming to a theatre near YOU – go to: http://priceisrightlive.com and visit Todd Newton's website at http://toddnewtononline.com