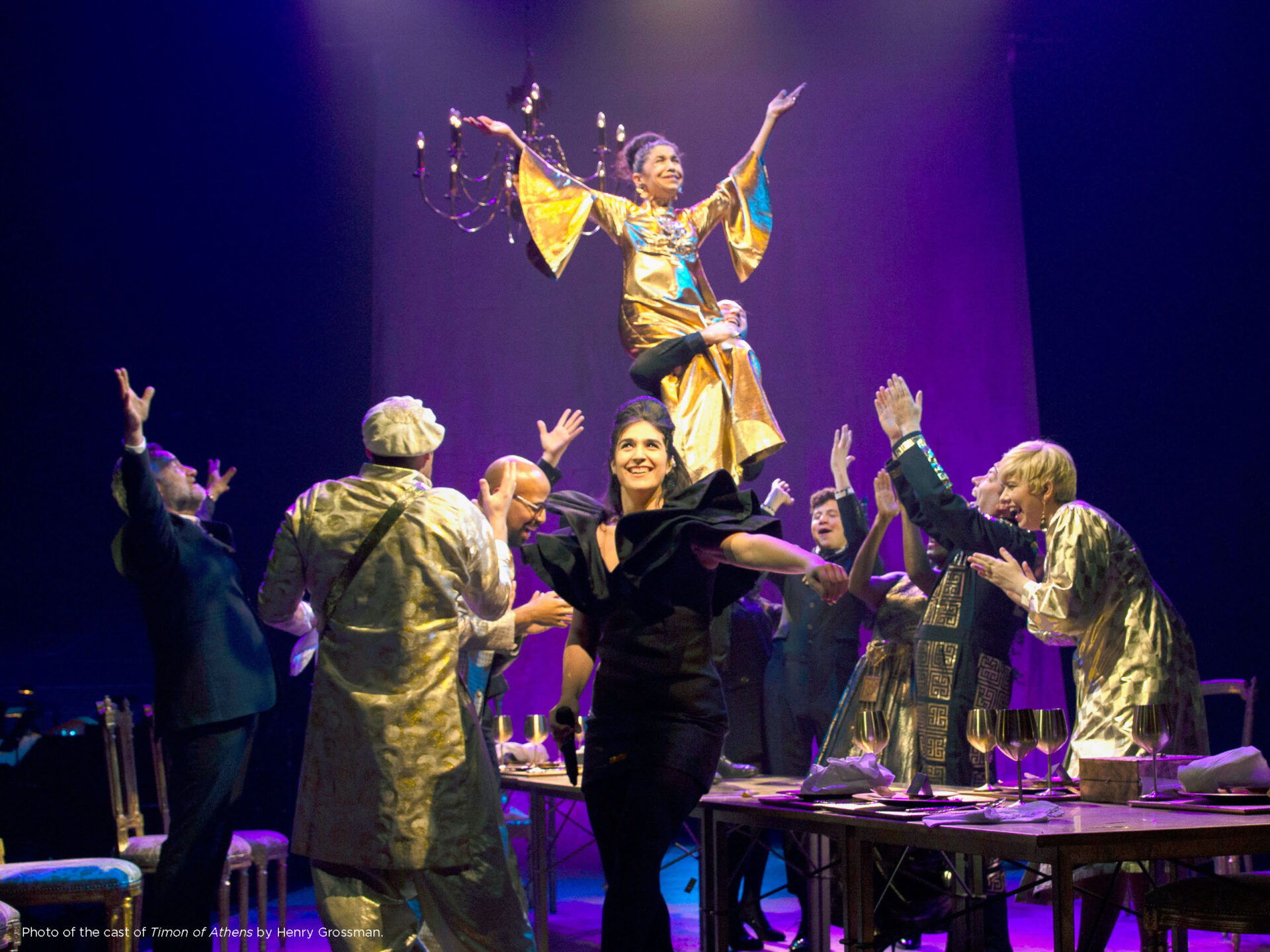 A well-loved member of the Athenian peerage, Lady Timon, finds her downfall in her own generosity. Having spent her large fortune throwing elaborate parties and bequeathing generous gifts upon her "friends," Timon finds herself bankrupt without any of those same "friends" willing to come to her aid. Lady Timon seeks refuge in the forest, giving up all trappings of society and gold, which she refers to as a "yellow slave." 
Timon of Athens is one of Shakespeare's lesser known plays, written in collaboration with Thomas Middleton. This play may have never been performed live during Shakespeare's time, and only lives on because of its record in certain copies of the first Folio. 
Timon of Athens is billed as a "tragicomedy." The comedy part is obvious, erring on bawdy, which isn't my favorite (the number of bodily function jokes I find funny is very small). The tragedy component is harder to discern. Lady Timon isn't a tragedy herself, perhaps cynical, but not a tragedy. While taken advantage of in the first half, by the second, Timon has come to her senses and created a capitalism-free life for herself. [Spoilers] Even Timon's death makes her into a martyr and rescues Athens from imminent bloodshed. Instead, perhaps society is the tragic character of this play, its citizens so caught up in a desire for that "yellow slave" at the expense of human connection and community.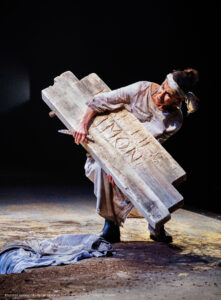 This production is Artistic Director Simon Godwin's directorial debut with the Shakespeare Theatre Company after Michael Klein's retirement last spring. Godwin made many stylistic changes to Timon of Athens, the most obvious being the selection of a female Lady Timon instead of the written Lord Timon. Kathryn Hunter as Lady Timon is transcendent; a small package herself, Hunter's presence filled the theater and Timon's struggles still stick with me days later. Hunter was the first British woman to play King Lear in 1997, and her credentials include Richard III and Cyrano.
Acting aside, I struggled with understanding the motivations behind Lady Timon's actions. We are introduced to Lady Timon who is an excessively generous member of the Athenian peerage. Given that mostly everyone surrounding Timon is selfish and greedy, it's unclear how Timon came to her status as a genuinely well-loved icon. Is she kind and benevolent like a grandmother, or is she overly charitable out of a desire to be well-liked?
Better understanding this initial motivation would make Timon's descent into misanthropy more comprehensible. Timon's betrayal by her supposed "friends" is the catalyst for her transition to a recluse eschewing all money, but Timon's desires for revenge and martyrdom seem a little extreme if her generosity came from a place of selflessness. (Also, as a wealthy Lady, how does Timon suddenly have the skills to survive in the forest, and not die from hypothermia or starvation?) 
Last time I was at the Shakespeare Theatre was for the Free for All production of Hamlet. In addition to that great annual opportunity to see live performances for free, the Shakespeare Theatre Company provides the following great ways around the year to see their productions at more accessible prices:
Senior citizens (60+) and current members of the military both receive discounted tickets.

For people under 35, the Young Prose program offers deeply discounted tickets and a post-show reception with the cast, including complimentary drinks!

Occasional free tickets, for example, during the last government shutdown to furloughed employees.
Timon of Athens will be performed at the Michael R. Klein Theatre at the Lansburgh through Sunday, March 22. Tickets range from $35 to $120. Premium seating is also available for weekend performances. Contact the Box Office at 202.547.1122 or visit ShakespeareTheatre.org for more information.
Run time: Approximately 2 hours and 30 minutes with a 15 minute intermission. 
Final Grade: A-