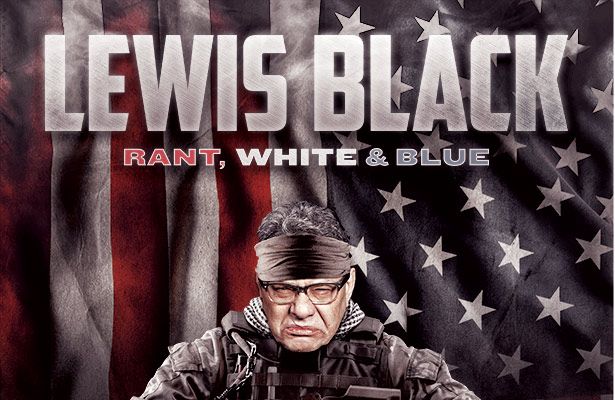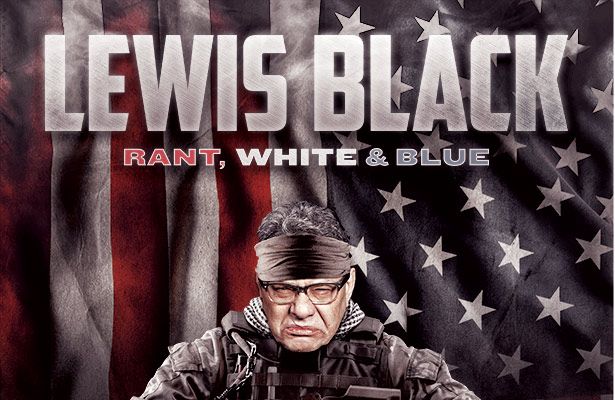 People were laughing their butts off at the Hippodrome last night during Lewis Black's "Rant, White and Blue" Tour. From start to finish, I cannot remember a time where both the warm-up comedian and the headliner kept us and the audience rolling down the aisles.
The three-hour plus show was pure comedy gold that's much needed for these dark times. Opening act was John Bowman, who hails from Michigan. John came out wearing a shoulder-length blonde wig which reminded me of the cartoon He-Man. Thankfully, the wig made much more sense later on in the show. He started his set by telling us the story of their recent stop on the tour: Montgomery, AL. He went give us his review on the Hank Williams Museum he visited. In regards to the crowd of the magnificent theatre they performed, he joked that they had walked from Selma to see the show.
Like most of the us, he was hoping that Hillary Clinton would win the election. So, he invested in the HRC wig but with a twist of the wig, he went from HRC to DJT! For a comedian who doesn't watch the news, he truly nailed Trump with his tiny hand gestures and the uuuusee of the word "Legally". He stated that "Up until recently, comedy doesn't write itself" and it's so true. If you watched SNL recently, you have a very good idea of what he really means. The proof was with last year's presidential debates which John coined the "Yo mama so fat debates".  If you remember or try not to remember that our supreme overload as a Presidential candidate degrade and disrespected his fellow republicans to the point where it truly felt like something you watch on MTV's "Yo Mamma".
Bowman also touched on how his home state of Michigan has dealt with the current Secretary of Education and well-known non know-it-all Betsy DeVos before our dear country did. There was a joke he told that bears repeating. He stated "Let's say you're lactose intolerant. Doesn't it make more sense to try almond milk or soy milk before you dump gasoline on your Wheaties?"
Bowman added some music to the evening by performing a couple songs that involving Gwyneth Paltrow's spa treatment that involved steaming a vagina to the tune of John Denver's Danny's Song to a tune where he a man from Macon was listening to on his new Airbuds. Hands down, Bowman's thirty-five-minute set was one of the best opening acts we ever witnessed.
Then at 9:08pm, Lewis Black comes out to greet the audience and kills the music with a flick of the hand. With his 60-plus minute sessions, he tackled everything from mental illness to his parents take on Election Night. At the beginning, he mentioned that he stated that "It's nice to be back at home & I'm glad that I'm leaving tomorrow". The Marylanders, like me, cheered when he mentioned that he's from Silver Spring which he quickly informed us not to applaud for Silver Spring – "the largest unincorporated freakin' city in the whole universe" but we cannot help it.
Black didn't hold back when he talks about the Trump administration – taking perfect shots at both KellyAnne Conway being a certain type of person to having a conversation, Ben Carson style. He gave praise to fellow comedienne Melissa McCarthy for her Sean Spicer impression on SNL. Black even gave us a deep thought by saying that "We are now living in the intersection of satire and reality.
For his closing, "The Rant is Due" Live was performed via Facebook live. Last night, over 3,400 people watch him give his rants on Canadian & U.S. campaigns, Uber, selfies & Grilled Cheese Sandwiches to our delight. If you haven't heard this segment, I HIGHLY recommend it!
To say that Lewis & Bowman entertained us last night is an understatement. They both killed. They slay us. They got us laughing 'til its hurts! So, three cheers for the "Rant, White & Blue". The mission to make us laugh was accomplished!
To find out if Mr. Angry Face is coming to your town, check out LewisBlack.com