We Will Rock You DC!
4 min read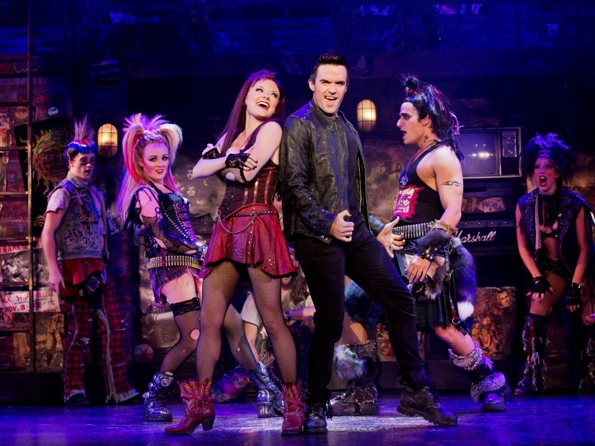 DC, Are you ready to rock but have no place to go? Do you need Somebody to Love? Has the work week put you Under Pressure and you want to Break Free? Something tells me that you are in need of a Queen fix. Well, you are in for a treat as the Warner Theatre combines the classic hits of the legendary band with the musical talents of a stellar cast that includes Brian Justin Crum and Ruby Lewis in the touring production "We Will Rock You."
The musical, written by Ben Elton,  takes place sometime in the distant future. In a world…. where the GlobalSoft Corporation is in control and all the kids listen to computer-generated music, wear the same clothes and hold the same thought. This is "iPlanet," which is so bad that every person has a domain name.
A young man named Galileo Figaro (Brian Justin Crum) has dreams and hears strange phrases in his head, which are long-forgotten song lyrics from the past. Refusing to conform to society, Galileo wants to make music but music is considered illegal. He is soon captured by Khashoggi (P.J. Grffith), the Commander of GlobalSoft's police force who looks like a smooth Sonny Crockett of the future.  Khashoggi captures another outcast, a young lady soon to be named Scaramouche (Ruby Lewis) who wants her own style and not the style of her classmates who mock her.
Together, Galileo and Scaramouche realized that they are feared by society and must flee from the world they know. In the streets, we meet Bohemians Oz (Erica Peck) and Brit (Jared Zirelli). They hang with the other rebels at a base at the ruins of a Hard Rock Cafe. They want to fight and reclaim what was once theirs — free will and the heart and soul of Rock 'n' Roll. Brit believes there is a special person known as the Dreamer who will fulfill the prophecy of a musical instrument hidden on the iPlanet in the place of living rock and a bright star will show them the way. The one person doesn't want the prophecy to come true is the Killer Queen (Jacqueline Arnold). KQ wants the Bohemian spirit crushed so she can continue to bask in her unlimited power.
We Will Rock You is a show Not-to-Be MISSED! For a little over two hours, you feel like you are in a rock concert and easily forget that you're watching a theatre production. Despite the minor technical difficulty in Act I, the show prevailed. From the touching tribute to the musicians who left us, "No One but You (Only the Good Die Young)" to the amazing rendition of "Under Pressure," the spirit of Freddie Mercury runs deep in this musical.
When it comes to powerhouse vocals, We Will Rock You nails it! Brian Justin Crum and Ruby Lewis bring a lot of passion to their respective roles. They brought down the house with their renditions of "You're My Best Friend" and "Who Wants to Live Forever."
Jacqueline Arnold's performance as the Killer Queen reminds me Tina Turner's Acid Queen in Tommy with a pinch of pizzazz. Arnold's take on "Fat-Bottomed Girls" and "Killer Queen" captures the audience's attention with her devilish charms. Overall, the Killer Queen made being evil look good. Ryan Knowles as the aging hipster Buddy added some good comic relief. His performance reminds me of Cheech and Chong guiding us through history.
I have to give praise to writer Ben Elton for creating a wonderful story that touches on living life online, autotunes and fulfilling your destinies. He added a number of pop culture references to the character's dialogue and I cannot remember a time I laughed so hard at a reference that make me think. One of the lines that I remember to this day was when Galileo mentioned he had a lot of questions on his mind including "Why Do Fools Fall in Love?" and "Who Let the Dogs Out?"
After the last song, "We Are the Champions," please stick around or you will miss out on a great rendition of the epic "Bohemian Rhapsody."
Somewhere up there the late Freddie Mercury is raising his fist in the air saying "Now I'm Here" and indeed he is! We Will Rock You delivers that kind of magic that everyone expects in a musical – great songs we can sing along to, powerhouse performances that will move you and the celebration of not only Queen's music but the ongoing spirit of music!
Show runs through June 8th at Warner Theatre
2 hours and 40 minutes, including a 15 minute intermission
Tickets from $53 to $73 on www.livenation.com or at 202-783-4000