The Wiggles Are Coming to DC
2 min read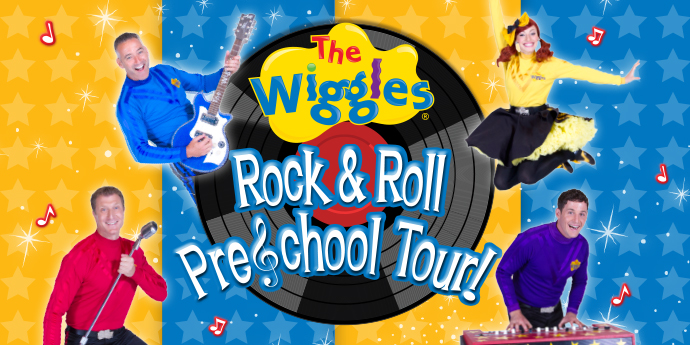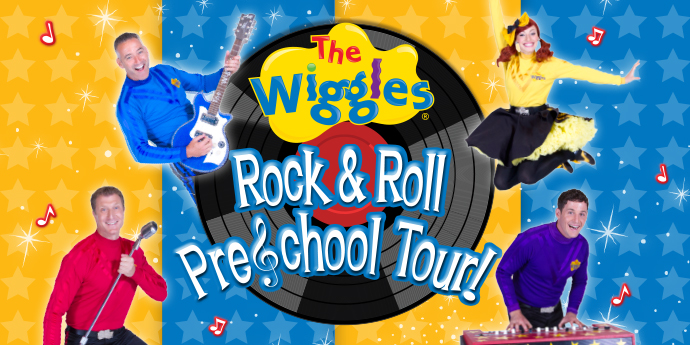 Coming off a smash hit Australian tour of 145 sell-out shows and more than 100,000 tickets sold, the world's most popular children's entertainment group, The Wiggles, will return to the U.S. this fall for their "Rock & Roll Preschool" tour. They will play at the Warner Theatre on September 26th
Ready to once again delight families across the country with their incomparable brand of preschool entertainment, The Wiggles will be touring in support of their brand new CD and DVD, Rock & Roll Preschool, as well as a new season of their hit TV series airing on Hulu in the U.S. and Treehouse in Canada.  For a preview of Rock & Roll Preschool click 
here.
Joined on stage by their lovable friends Dorothy the Dinosaur, Captain Feathersword, Wags the Dog and Henry the Octopus, founding member Anthony Field (Blue Wiggle), Emma Watkins (Yellow Wiggle), Simon Pryce (Red Wiggle) and Lachlan Gillespie (Purple Wiggle) can't wait to deliver a rocking good time for their audiences!
"This tour will get you all shook up," laughed Emma. "Of course we'll play our classic wiggly favorites like 'Rock-a-Bye Your Bear', 'Fruit Salad' and 'Do the Propeller!' affirmed Lachy. Simon added excitedly, "With this new tour, we've got everything from Irish dancing, ballerinas, and a couple of hip shaking Elvises!" "We can't wait for our friends in the USA to see this new show!" enthused Anthony.
"The Rock & Roll Preschool" tour will include new music from the Rock & Roll Preschool album. 
Kids will shake to "That's the Sound of Rock & Roll", rise and shine with "Wake Up!", and be the coolest kid in preschool with "I Want a Leather Jacket".
After more than 24 years of performing,
The Wiggles are the world's #1 Children's entertainment group. With 23 million DVDs, 8 million books and 7 million albums sold. The Wiggles have performed to millions of fans worldwide, and count amongst their fans such high-profile celebrities  as Johnny Depp, Robert De Niro, Jerry Seinfeld, Cate Blanchett, Chris Rock, Shaquille O'Neal and Harry Styles.
Major Wiggles brand partnerships include Wicked Cool Toys, Hulu TV, Treehouse TV, SiriusXM Radio and Corus Entertainment in Canada.
United States Tour Dates:
Thursday, 9/17

                   Rutland, VT                                        Paramount Theatre
Friday, 9/18

                        Wallingford, CT                                  Toyota Oakdale Theatre
Saturday, 9/19

                    Concord, NH                                      Capitol Centre for the Arts
Sunday, 9/20

                      Boston, MA                                       Orpheum Theatre
Tuesday, 9/22

                    Worcester, MA                                   Hanover Theatre
Wednesday, 9/23

                Wilmington, DE                                  The Grand Opera Theatre
Friday, 9/25

                        Westbury, NY                                    NYCB Theatre at Westbury
Saturday, 9/26

                    Washington, D.C.                               The Warner Theatre
Sunday, 9/27

                      Englewood, NJ                                   Bergen Performing Arts Centre
Tuesday, 9/29

                    Stamford, CT                                     The Palace Theatre
Sunday, 10/11

                    Detroit, MI                                          Fox Theatre
Saturday, 10/17

                  Joliet, IL                                             Rialto Square Theatre
Sunday, 10/18

                    Madison, WI                                       Overture Centre for the Arts
For a complete list of tour dates and ticket information for the "Rock & Roll Preschool" tour, please visit:  
www.thewiggles.com

.
Fans can follow the gang on Twitter via Twitter.com/TheWiggles and become a fan of their official Facebook page at Facebook.com/TheWiggles.