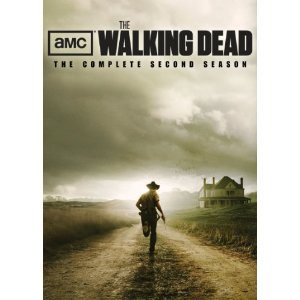 Do you need a fresher course of AMC's The Walking Dead before the Season Premiere on Sunday, Oct. 14th 9/8c. We have the giveaway for YOU as TRR has one copy of AMC's The Walking Dead Season 2 on DVD (Anchor Bay Entertainment). If you're ready, then you must click here for details.
When the world is ravaged by a zombie apocalypse, police officer Rick Grimes (Andrew Lincoln) and a small group of others struggle to stay alive as 'the dead' stalk them at every turn. Can Rick and the others hold onto their humanity as they fight to live in this terrifying new world? And, amidst dire conditions and personal rivalries, will they ultimately survive one another?
Based on Robert Kirkman's hugely successful and popular comic book series, AMC's original series "The Walking Dead" is an epic, edge-of-your-seat drama where personal struggles are magnified against a backdrop of moment-to-moment crisis. A survivalist story at its core, the series explores how the living are changed by the overwhelming realization that those who survive can be far more dangerous than the mindless walkers roaming the earth. They themselves have become the walking dead.
Special Features
Audio Commentaries
Webisodes
Deleted Scenes
Featurettes
For this contest – there are no questions – no research – no worries. All you have to is input your name, address, and email. Send the information to [email protected] (subject line "Zombie") by SEPTEMBER 14th 9:00 AM EST for your chance to win this DVD
The winner's name will be posted on SATURDAY, SEPTEMBER 15th
Check back to see if you have won. Good luck readers!