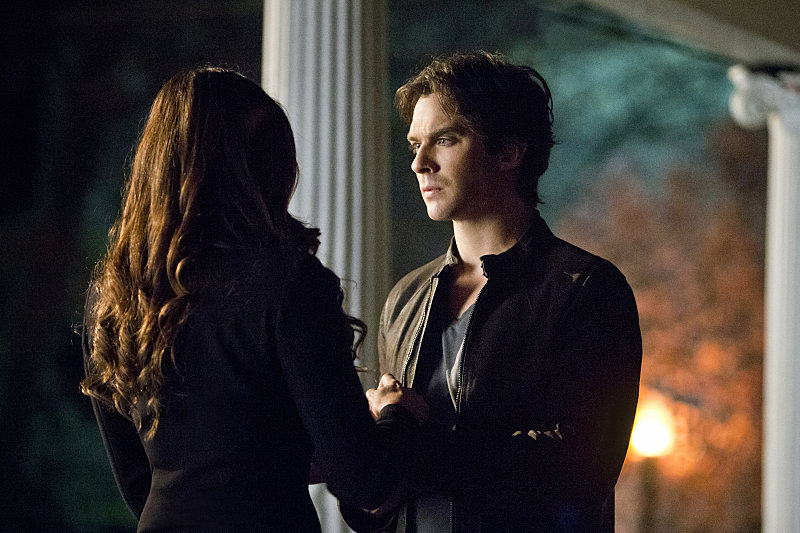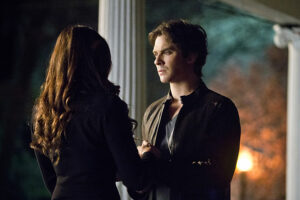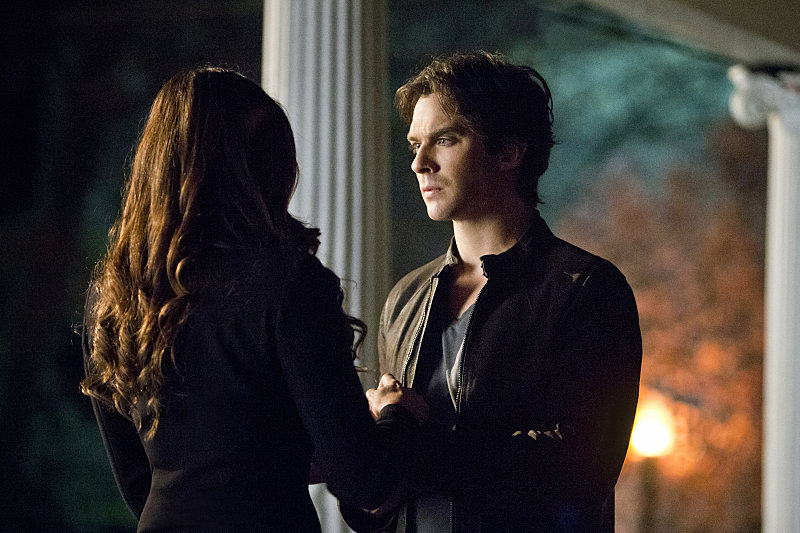 Elena and Damon talk about their future, Lily continues her Ripper ways, Jo and Alaric get parties thrown for them, Matt wallows, and someone returns in the last few seconds….
Well, Elena has taken the cure.  Honestly, I figured that she would take it in the season finale, but I guess taking it now makes a certain amount of sense.  Now they have the next couple of episodes torturing us about whether or not Damon will drink her blood to be cured.  Honestly, I am glad that she is forcing him to stop and think about it.  Damon's impulsivity is one of his defining traits as is his complete and utter fear of being alone or left behind.  Now that Elena is human, he had no way of knowing for sure that she wouldn't leave, so he decided that he had to take the cure.  By making him take the time to actually think about it (rather than just do it reflexively), Elena is doing the right thing.  Can he make it as a human?  Somehow I doubt it.  He enjoys being a vampire too much to just give it up, although Elena would be the one reason he would probably be able to give humanity a go.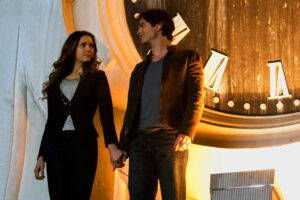 I have to say that I loved the opening.  Knowing that this week was going to be the bachelor/bachelorette parties, it was pretty obvious that Alaric was in no danger and that the "cop" was really a stripper.  The look on Jo's face when she realized what was going on was truly priceless.  She was so embarrassed at first, but then just got into it.  And Alaric just had a look of resignation on his face that was equally priceless.  He was obviously accepting that the party was going to take place, but he wasn't terribly enthusiastic about the whole thing.  I wonder who thought it would be a great idea to have a ton of co-eds at the bachelor party.
Matt was a big downer.  All he did was drink and mope about how horrible his life is.  I get that he is not happy about the direction his life is headed at the moment, but trying to provoke Tyler into a fight and then trying to talk Alaric into leaving was just downright depressing.  If I thought he was actually trying to help Tyler, than I could have accepted his attempted provocation.  But it was so much more about his lashing out at what was going on in his life than helping Tyler.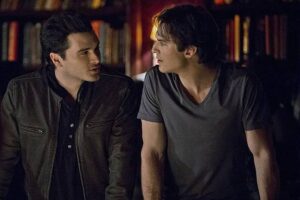 Then there is Enzo.  Telling Stefan about Damon's having the cure was completely predictable.  All he does is try and hurt Stefan and Damon.  He can wrap himself in the rhetoric of truthfulness all he wants, all he is trying to do is cause drama.  Yawn.
I was enjoying watching Lily.  She has been trying so hard to stay on the straight and narrow, but her sons haven't exactly helped her.  Ironically enough, Damon had planned on actually helping her until Jo told him about the Heretics.  Now that Lily is being a Ripper again and going after Elena, the Salvatore finally took steps and imprisoned her.  Watching her threaten Stefan at the end was interesting, especially when we saw that Kai apparently has discovered a new way back to our world.  I do wonder how exactly he plans on getting back without an Ascendant or Bennet blood.  It is possible that as the leader of the Gemini Coven, he could have the power to cross between worlds on his own.  If he does, I will love the next couple of episode because Kai is an awesome villain.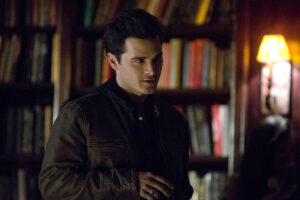 Jo has twins in the oven.  That cannot be a good thing.  Between Kai coming back, Lily on the loose, and her Coven looking to displace Kai, her kids are in for a rough time.  Will she and Alaric run?  In a way, I hope so, but somehow I don't see it happening.
Next week, I will be gone on vacation, so my review will be out on Sunday or Monday.  Until then!