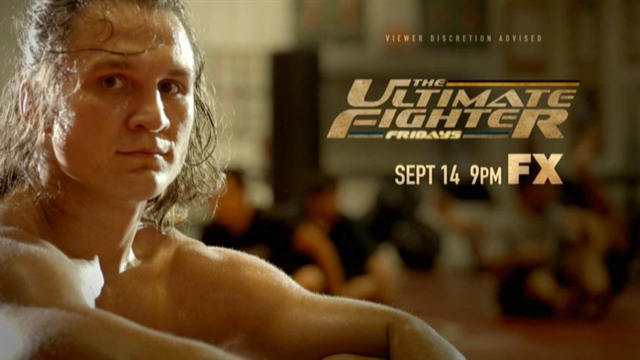 The Ultimate Fighter Fridays premiered without a hitch; 32 contenders vying for a six figure UFC contract and a custom Harley Davidson Motor Cycle. Heavy weight champion Shane Carwin and heavy weight contender Roy "Big Country" Nelson were selected as this seasons team coaches and compete against each other to see who will lead the winning team. These two coaches are extremely competitive and want nothing more than to win; I'm sure it doesn't hurt that the winning coach wins a custom Harley as well.

Pretty much the season premier was 16 three round elimination bouts with the winner of each bout advancing to the next round to be selected to represent either team Nelson or team Carwin. Amongst the 32 contenders was sprinkled in some real enthusiastic talent. Right off the break Dominic Waters had an impressive showing knocking out Kevin Nowaczyk two minutes into the first round. Dominic would later be selected second overall to team Nelson. I really enjoyed the flow of the program. Not many interruptions just elimination bouts. It was real engaging; I even like how they edited out some of the dull grappling sequences and more boring rounds. Dana White provided commentary and he preached aggressive exciting fights.
Another stand out performer was Sam Alvey who also tallied a first round knock out against Leo Kuntz with a quick jab. He was later selected first overall by Shane Carwin. I personally feel Sam is a favorite to win the whole competition. He's big and has a lot of size for only weighing 170lbs. and coupled with a viciously quick jab I can see him going pro.
Not amongst the 16 contenders that did advance were the 16 that were eliminated. There were a few disappointments; fighters I suspected to contend like local talent Frank Camacho out of Camp Springs, Maryland. He aggressively came out of the first round landing a number of punches and winning the round unanimously only to tire and run out of gas the second and third round and lose by decision to Nail Magny. Max Griffin was another fighter who was quick and aggressive and won the majority of his rounds but lost by submission to Matt Secor. That is one of the more interesting elements to UFC. No matter how bad you are being beaten you can always submit your opponent and still win the bout. It was kind of funny, Dana White was busting Roy Nelson's chops saying that just winning isn't enough that you want to win aggressively and decisively while Roy Nelson on the other hand was preaching just winning the fight. I wonder how many fighters game plan was altered by Dana by maybe coming out more aggressively than necessary and not being able to have enough stamina to finish the fight.
After the 16 bouts Roy Nelson and Shane Carwin flipped a coin for the first overall pick and they selected their teams. I feel Shane selected the stronger team with stand outs like Sam Alvey, Bristol Marunde, and Nail Magny. It's hard to tell; Roy also has a solid team some of his stand outs included Dominic Waters, and Corton Smith. In the next episode they will go into training and all bunk together in a house. I'm sure this will lead to a lot of drama as was made evident with a preview they aired following the conclusion to the season premier.
I'm really looking forward to a lot of good fights this season. The team element really adds life to the plot and it should make for some really good television. The next few episodes look to be really interesting and intense.