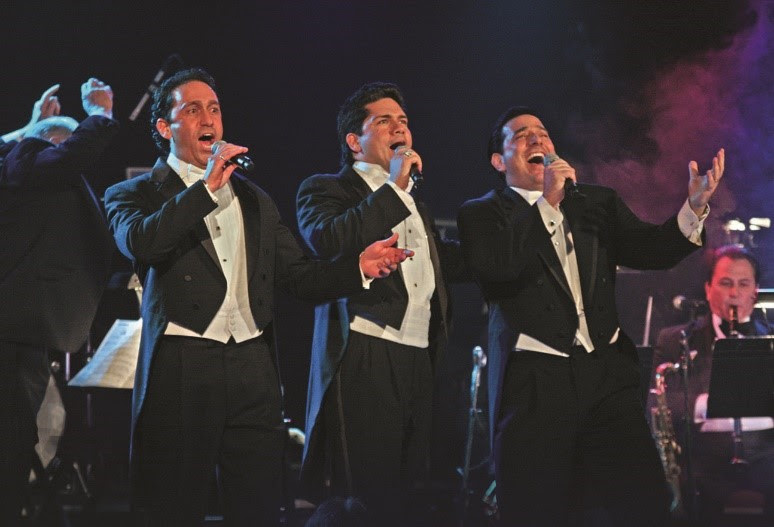 The Sicilian Tenors, the international singing sensations who blend classic opera with Rat Pack shenanigans, will be recording their first television special on Sunday, November 25 at 3 p.m. at the historic Weinberg Theater in Frederick, MD.
"We sing all throughout the country, but I'm really looking forward to doing this very special show at the Weinberg Center, in Frederick MD," said Sicilian Tenor Sam Vitale. "Not only is Frederick my hometown, but it's a very special, beautiful city, and the Weinberg Center is one of those classic theatres that only exists in special places throughout this country."
For the production of the Special, The Sicilian Tenors have teamed with the Emmy Award-winning 3 Roads Communications, Inc. of Frederick, MD. 3 Roads has extensive experience producing content for Public TV and currently has three Pledge Specials in distribution on Public TV.
"For the past 25 years, 3 Roads has brought a wide variety of compelling stories and performances to life through media," said Russ Hodge, president of 3 Roads. "We are thrilled to team up with The Sicilian Tenors and bring their vision, talent and art to audiences across the country. With such an eclectic mix of familiar songs, and even a few surprises, this show is perfect for those of varying ages and musical tastes."
At the concert, The Sicilian Tenors will perform traditional Italian classics such as O Sole Mio, Funiculi Funicula, among others, along with songs from The Rat Pack, Phantom of the Opera, and a Tribute to Service.
"We are going to give our all, and present a great show accompanied by our Music Director Vito DiSalvo, who will be conducting The Sicilian Tenors Orchestra on music from Italy, to Broadway and all places in between," said Vitale. "We are all very excited about sharing this with Public TV audiences across the country!"
The Special will air beginning in May 2019 on Public TV stations across the country as part of Pledge Month.
For ticket information, please contact the Weinberg Center at 301-600-2828 or on their website at 
www.weinbergcenter.com
.