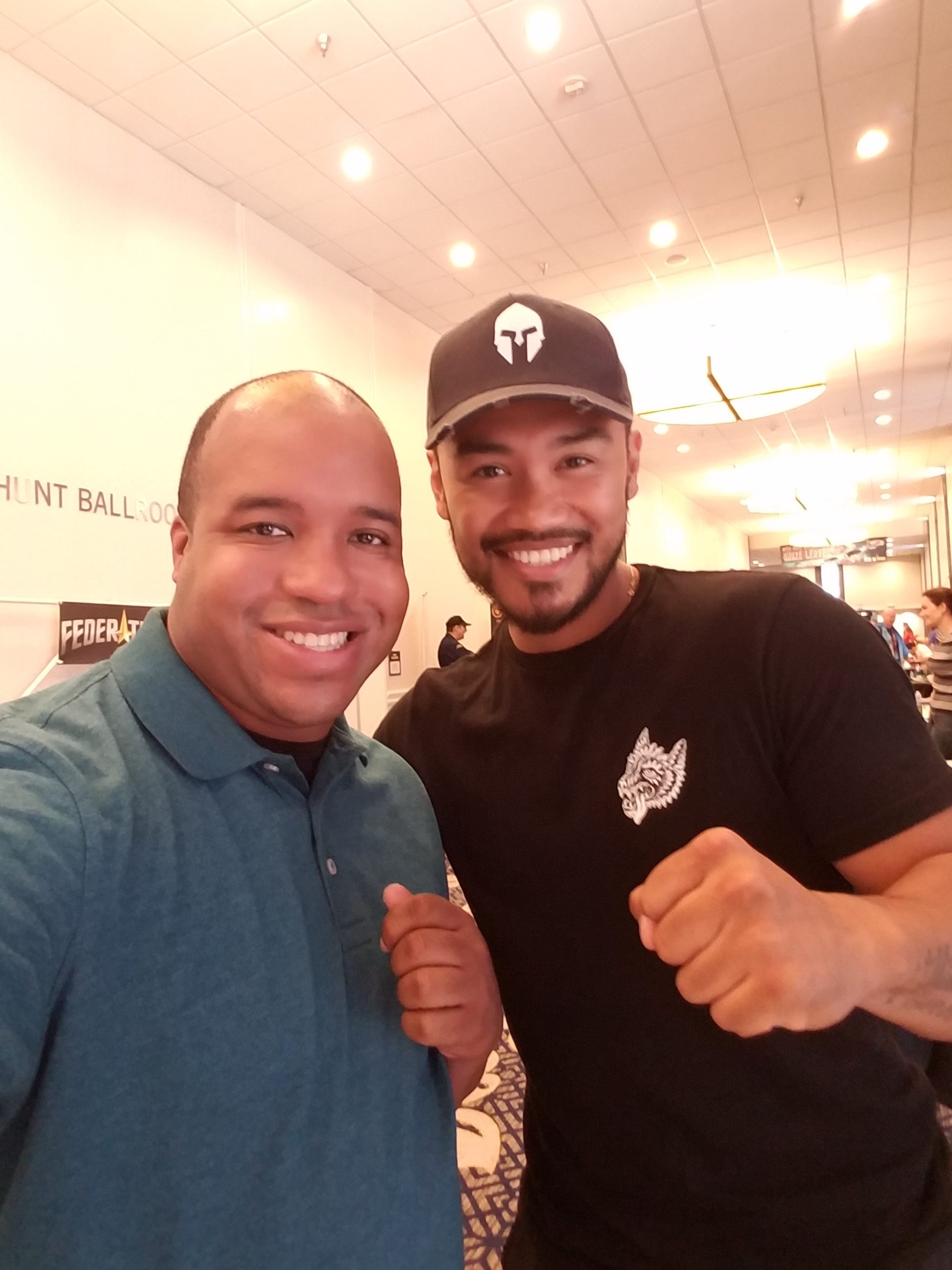 This weekend, Shore Leave, the longest-running fan-run convention celebrated its forty-first year with its annual gathering of family, friends and fandom! This year's convention is no shortage of amazing guests like Star Trek Discovery's Anson Mount & Ethan Peck, Smallville's Erica Durance & Laura Vandervoort, and Star Trek's own Nichelle Nichols. Nichols is making her final run of conventions before she retires in March 2020. The DMV is so honored to have her at the annual convention. As with our custom, we interviewed some of the actors who participate in Shore Leave. In our first of three interviews, I talked to the man who plays Four/Ryo Tetsuda/Ryo Ishida in the Syfy television series Dark Matter. Now its time to get his take on conventions, for your reading pleasure, I present Alex Mallari Jr.
So Alex, is this your very first Shore Leave?
This is my very first Shore Leave, and I hope it's not my last. It's a very good time out here, man.
Oh yes, a very good time. Summer weather is great. So, we're going to talk a little about Dark Matter, Number 4. What do you miss about playing him?
The action scenes. Naturally, the action scenes. I'm a very physical person and getting to do those stunts and those fight sequences were definitely my favorite part of the show, outside of working with the people. So, definitely that, man.
You do miss working with the cast and the crew?
Oh, a hundred percent. That's—see, when the show got canceled, that was the main thing that I kind of lingered on. And the fact that these people became my family, I won't wake up to them anymore, and then spend an entire day with them and then say, "see you tomorrow." That was an incredible part of it all because we created this incredible bond. I'm sure you've heard multiple times how crew and casts made such a strong bond and became family by the end of it all. It falls true for Dark Matter, and that was it, so, yeah. We became so close to that show.
So, what are you doing nowadays?
Nowadays, well, on Cinemax, there's a series called Jet people can check out. Later this year, a game called Ghost Recon.
I'm playing the main character on that opposite of John Bernthal and Patricia Sommerset, who plays Zelda and great cast member named Rodney Mullett, the godfather of street skateboarding. He's on there. It's a wicked cast. And, I'm also working on a couple of Netflix series right now this summer.
Excellent, because I've been binging on Netflix for the past few weeks now! (laughs)
Good, man. Good, but this time I'm finally falling into some comedy and I'm excited about it. It's some good material.
Excellent. So, is this your first time being in the DMV—the D.C., Baltimore, Northern Virginia, Maryland area?
Does Washington, D.C. count?
Yeah, it does! (laughs)
Yeah, it does! I've been to Washington a couple of times for some basketball tournaments. Apart from that, I've not explored Baltimore. We came straight from New York for it, so I've yet to explore it.
So, what do you like about going to the conventions and meeting your fans from the different works you've done over the past several years?
I was actually just talking about this in my panel talk. I was saying gratitude is a big thing to me. So to come to these conventions, it's really giving me the opportunity to look them in the eyes and thank them for spending time with me and the family that we created as the Dark Matter crew, and showing them that your time you spent with us was not taken for granted. The hard work was there, and here we are right now, saying thank you for watching. So, it's all about the fans.
So, right now we're in the summer season, I'm going to do an off the wall question. What is your favorite summer activity? Your favorite one?
Spending time in nature with some beer.
Oh yeah?
That's been my latest thing, yeah.
So, is there a certain type of beer you like to spend time with?
Nah, you know what? They haven't been sponsoring me yet, so I'm going to wait for that.
(laughs)
I'm waiting for some boxes to show up at my place and we'll take it from there. Yeah, throw a nice party for my friends or something.
What would you like to say to all the fans who are watching and listening? What would you like to say to them?
Thank you, and it's Raza crew forever!
Raza crew forever. Thank you, Alex and we're looking forward to your Netflix series, Jet, Ghost Recon, looking forward to all of that. Thank you so much!
Thank you, man.
Alright.
Stay Tuned for more interviews from Shore Leave 41 with Aaron Ashmore & John Glover in the next few days! See you… out there!