The Shore Leave 41 Interviews: Aaron Ashmore
7 min read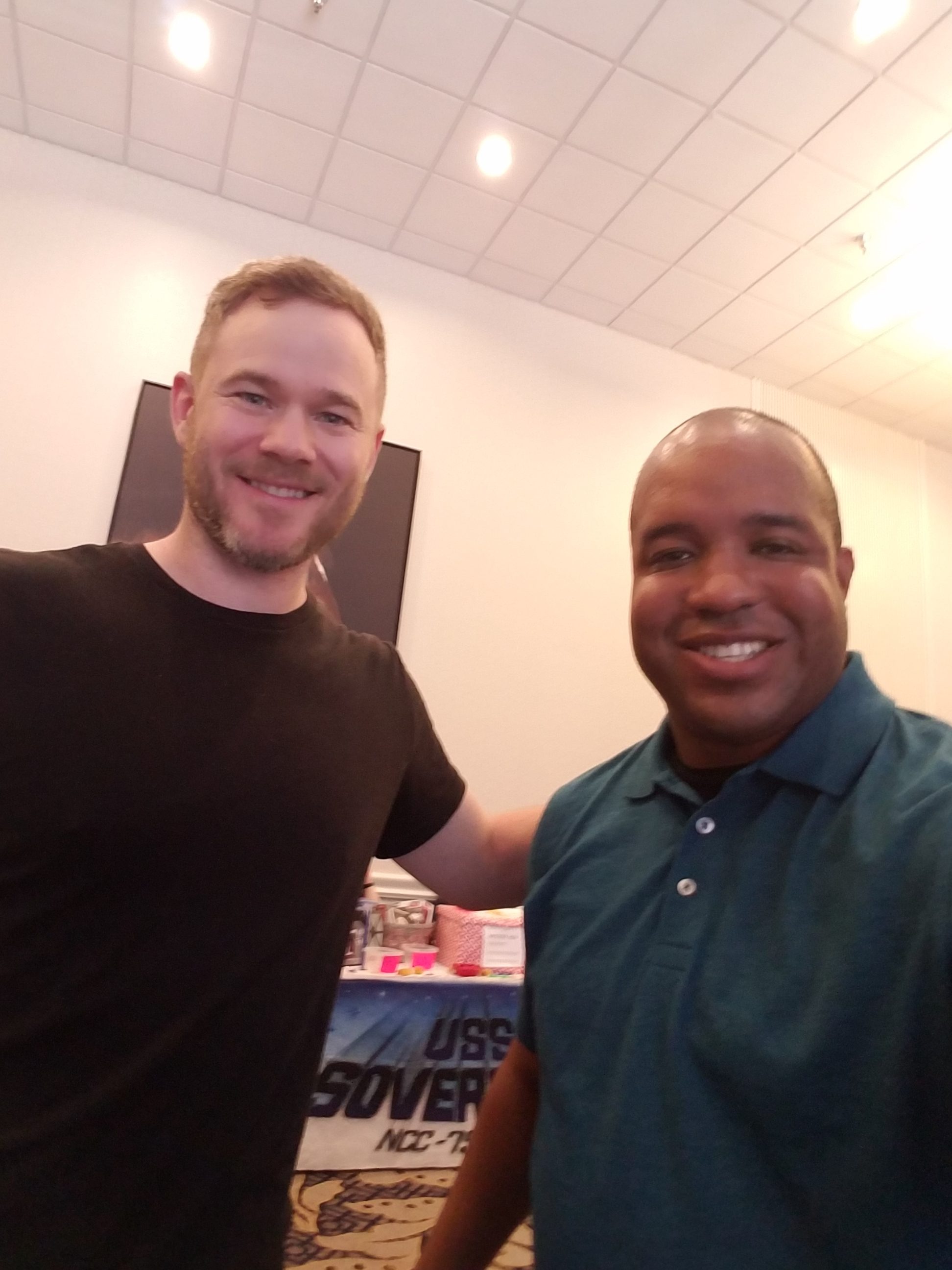 In our second of three interviews at Shore Leave 41 in Hunt Valley, MD, I got the chance to talk with actor Aaron Ashmore. You have seen him at Jimmy Olsen in the WB series Smallville, Steve Jenks on Syfy's Warehouse 13 and most recently in Killjoys. He's also the brother of Shawn Ashmore, whom I have the honor of interviewing at Shore Leave 40 last year. For the first time visiting the DMV, we welcome Aaron with open arms!
What was it like to play an iconic character such as Jimmy Olsen, especially in the Superman universe?
It was amazing. It was really cool to know you're playing a role that other people had played before you, and other people will play after you. So, you just feel part of something that's big. So, it was exciting and I was a comic book fan growing up, so getting a chance to play in that world was awesome. Yeah.
Especially since you play a couple more iconic characters in Warehouse 13, Steve Jenks, and I want to know what was one of your fondest memories of playing him?
You know, honestly? It was working with the people I got to work with. The whole cast and crew were amazing, made some really good friends and yeah, just the people. There are really, really special people on that one, and the character itself was great. I loved playing the character. I thought it was a very interesting role to play, but it's the people. It's always the people that make something special.
That's great. Is this your first time in the DMV—the District, Maryland and Virginia?
Yes, it is!
Get outta here!
Yes, it is.
So, did you do anything fun in relation to the DMV yet?
No, I was supposed to come in on Thursday and then have a little bit of extra time here, but there was a terrible thunderstorm so I didn't make it in until Saturday morning. And obviously, the convention goes all weekend, but I'm going to try and go for crab cakes tonight. Somebody was like, "you've got to go for crab cakes if you're in Maryland." I'm going to do that tonight, but not too much sightseeing. Although, I did meet some people from NASA and the Hubble Telescope, so maybe next time I come, I'm going to try and do some of that stuff. I don't know. That'd be kind of interesting to me.
Well, if you were to visit Washington, D.C. or Baltimore, what would be your top three things that you must see before you leave?
Well, I think the better question to ask you since you're from the area—I don't know what would be the best three things to see, what do you think?
Well, I would recommend the Smithsonian, downtown Washington, D.C. There are so many museums I would recommend. Choose one, go within two days. If you go to one museum, you cannot go within one day, For Baltimore, The National Aquarium or the Inner Harbor. And then there's the Naval Academy in Annapolis, and Annapolis has some of the best seafood in the area.
See? I should've talked to you before I came! You could've been my tour guide.
Absolutely. What got you into acting in the first place?
My brother and I were twins and somebody approached my mom and said, "Would your kids like to maybe try out for some toy commercials?" She asked us and we said, "Yeah, let's give it a go," and I ended up booking the first one. We continued to do them, and away we go, we just kind of fell into to it, to be honest with you.
Absolutely. I'm going to ask this daring question. Is there a role of your brother's acting career that you had would love to play?
Yeah! Obviously, the Iceman role was awesome in the X-Men movies. I would have—that's a dream role, getting to be a superhero. I also really loved what my brother did in the show called The Following. That was a great role. It turned into a really great role. I think at the start it was kind of, whatever. But, he—they wrote for him, I think. And they gave him some really cool stuff to do and he did awesome work, so I think those two roles were—there were a lot of meaty stuff to play so I'm going to go with those two. There's probably more, but those are the kind of two that popped to my mind.
Since we're into summertime, what is your favorite go-to summer activity?
Well, this year I started doing a little gardening.
Nice!
I haven't really been into gardening that much, but we moved to a new house and Anna just wanted to make things look nice, so lots of flowers and stuff. Also, in Canada now, it's legal to grow and consume marijuana.
(laughs)
So, I've started to do that too. It's legal. I know it's not legal down here.
It's not legal in Maryland, unfortunately, sorry. (laughs)
So, I started growing a few of those. Those are some of the new things I'm trying this year. Do a little gardening. Getting out there, try the ol' green thumb.
What would be the three best things I should do if I ever come back to Canada? I have been to Ontario and Quebec.
Well, it depends on where you are. If you're coming back to Ontario, where I live, I can tell you obviously, Niagara Falls is one of the great wonders of the world and it is incredibly beautiful. So, I would say Niagara Falls. Toronto, as a city is amazing. There are so many concerts and sporting events that happen in the summer, so there's always something happening in Toronto, so like whatever concerts, festivals, all that kind of stuff. Also, in the Niagara Falls area there are beautiful vineyards, so if you like a glass of wine—
Oh yes! You had to say wine, and I'm there.
There's beautiful, beautiful vineyards and places to stay, like bed and breakfasts. So, if you're already in Niagara Falls, you can just drive up a little way. Oh, and there's also something called the Shaw Festival, which is a great theater festival that happens in the summer in Niagara on the lake, which is in the Niagara area. So, basically, if you're in Niagara Falls, there's tons of stuff to do.
I should've asked you about Ontario before the interview. What is it like to come to a convention and meet all the fans from the Smallville days, all the way up to your Killjoys and Warehouse 13 days?
Great! To be honest with you, one of the nicest things—(laughs) I've got a friend over here who's—
Oh yeah, she's cracking up.
She's making me laugh over here. Yeah, it's amazing. You work hard and you do all these shows and you don't know if people are going to like them or appreciate the or whatever. And coming to a con and getting to talk to people who—you know, sometimes you've really impacted them, or the show has in positive ways and that feels really, really good to get a chance to come and chit chat with with people and meet people that appreciate what you do and support what you do, is…what a great weekend you're going to have, you know?
Absolutely, what is next for you? 
I just wrapped—the show Killjoys I've been working on, the final seasons starts airing next week, July 19th. So that's the final season.
Ohh! I remember talking to Nora about that last year, and she was a great person to talk to. She talked about the show, she was like, "I'm going to miss the show when it slowly comes to an end."
Yeah, and we're in the final run now, so it's going to be great. I think everybody'll be happy with the last season, and what else? I just did a season of a show, a few episode of a show called Lock and Key, which is a Netflix show. It will air sometime in 2020, I don't know. They haven't announced that. That's it for now. Back to the drawing board. Gotta get that next job.
What do you miss about working with Killjoys, especially with such an amazing cast?
Oh, it's the people. You know, I love the world that was created and I loved the character, but it's getting a chance to go to work with your friends, basically. That's what you miss.
Where can people find you on social media?
I'm on Twitter and Instagram. I don't remember my handles exactly, but if you search Aaron Ashmore, I've got a blue check beside both of those things so you know it's actually me, and yeah, you can find me on there.
Well, Aaron, thank you so much.
Thanks, Dean.
Check out our previous interviews with Alex Malleri Jr. of Killjoys and Maryland native John Glover!