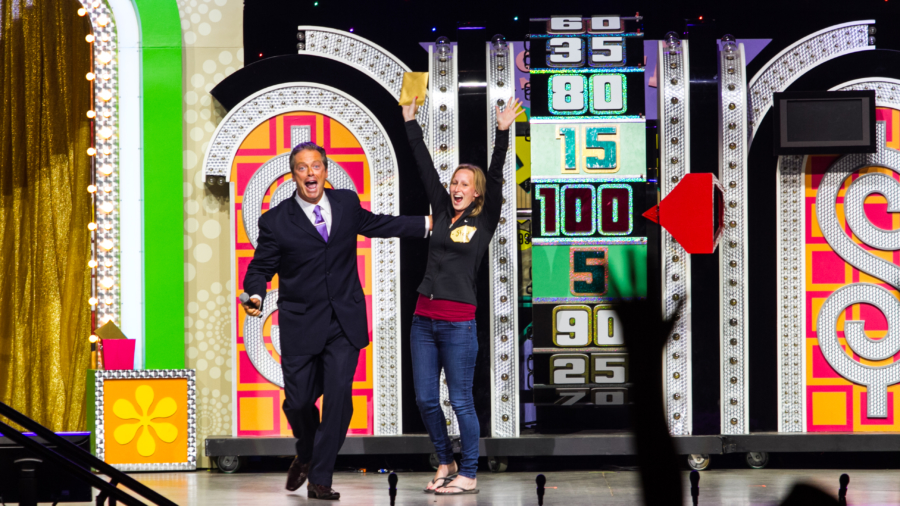 Washingtonians, Marylanders and Virginians have descended on to the Theatre at MGM National Harbor this weekend to hear those three magical words in the game show world… COME ON DOWN for they could be the next contestants on The Price is Right Live! A touring stage show of America's favorite one-hour long extravaganza of great pricing games and fantastic prizes!
It was September 2003 when The Price Is Right Live first toured our nation bringing the sights and sounds of the famous Pricing Games, the Big Wheel and the fabulous Showcases to every town America. Now in its fifteenth year, this amazing live experience shows no signs of slowing down. Fans of America's longest running gameshow came to the MGM National Harbor this weekend in hopes to live out their fantasy – to scream our prices to contestants, to come up on stage and play a pricing game or the ultimate goal – to spin The Big Wheel!
Announcer Randy West helped warm-up the crowd by giving them some tips on how to come on down to contestants' row by showing them clips from the TPIR archive and letting them know what kind of energy that they need to have. Judging by the sold out crowd on Friday night, they were all ready for their moment in the sun. Then the moment, we all been waiting for… Emmy-winning host Todd Newton walked through those familiar doors to greet the crowd and get them ready for a show. Did I say show? I meant to say an experience that they will never forget. When West and Newton are doing TPIR Live, get ready for you have the best gameshow duo making gameshow magic one city at a time!
For those who have never seen The Price is Right Live, and why haven't you, here's the breakdown of what to expect. Everyone in the audience has a chance to Come on Down to contestants' row to bid on an item like an electric guitar, coffee makers, designer shoes and more. Whoever bids the closest without going over will win the prize and come up on stage to play a Pricing Game for more cash and prizes. It's pretty much like the show we watch on CBS every day for the past forty-six years. The big difference in the live stage show is instead of nine contestants play for the entire show every pricing game, spin at the big wheel and even the Showcase will have different contestants which means more people can win! In addition, if you don't make it to contestants' row, don't fret. By being in the audience, people selected at random will have a chance to win gift cards worth $25 or even tickets to an upcoming show at the venue.
The Pricing Games played at the Theatre included Cliff Hangers, Barker's first Pricing Game Any Number and the all-time favorite PLINKO! Friday night's show has no shortage of amazing and intense moments. The contestant who played Any Number was one number away from winning either a Trip to Hollywood, a Drone or the Piggy Bank. She called her final number and won the Piggy Bank. You had to feel for the contestant's painful loss. She walked away with $100 for her gallant efforts. An upcoming school teacher named Madi played "Check-Out" with her two grandfathers which host Todd brought up to the stage to play along with her. Thanks to their amazing pricing intuition, Madi won a trip to HAWAII!!
The big highlight of the night happened during the spinning of The Big Wheel in which not one but TWO players named Shannon and Michael hit the $1.00 mark on their first spin and won $100. Then the bonus spin came for the chance to win a possible $5,000. The bad news is they didn't hit the $1.00 on their bonus spin but they manage to hit $.25 on their bonus spin. A third spin came and Michael managed to beat Shannon by $.05 – the final score Shannon ($.05) and Michael ($0.10). It maybe the narrowest way to win but it helped Michael earned a total of $350 for an evening's work!
At the grand finale of the show, both players overbid on the Showcase and leave empty-handed. However, a random member of the audience won a trip to New Orleans just by being there. I love the twist to the long running live show. I hope they keep it in for future shows. Finally, you can spin the Big Wheel when you purchase the VIP experience. I saw a long line of people waiting to spin the Big Wheel after the show and believe me, it's a great feeling to live out a gameshow dream.
I sat down with host Todd Newton to gather his thoughts of being with the live show fifteen years. He's proud that he gets to work again with gameshow announcer Randy West while in DC. The two first worked together on the GSN staple Hollywood Showdown for two seasons. Newton says "it's a comfortable feeling to be working with Randy on Live again. He and I worked while we're in Atlantic City, Baltimore and other numerous stops along the tour. He's a wonderful man that I had the pleasure knowing and working with almost twenty years now." He adds about being part of TPIR Live that "It feels like home every single night, being onstage and meeting new friends and seeing old ones from all walks of life. The people get to see the magic that this wonderful show has brought to us for forty-six years now." When it came to performing at the Theatre, Todd says it's "a beautiful casino and they welcomed us with open arms." For people who haven't experienced TPIR Live, Newton in closing says that "There's no time like the present". I could not agree more!
What can I say about TPIR Live that I haven't said before? If you love watching The Price is Right at home, this is your chance to see the show when it comes to your town. The famous theme, the bells and buzzers, the authenticity of the set and the excitement when you hear the announcer telling you to "Come on Down" is all there – true to life! It's the show you DO NOT want to miss! For the DMV, you helped sold out all four shows this weekend, WAY TO GO!
TPIR Live is touring across the country heading to Virginia Beach – Nov. 5th, Spartanburg SC – Nov 7th, Greenville TN – Nov 8th and more cities through the rest of 2018. For more information on The Price is Right Live! or to see if TPIR Live is coming to a theatre near YOU – go to: http://priceisrightlive.com
Follow on Social Media