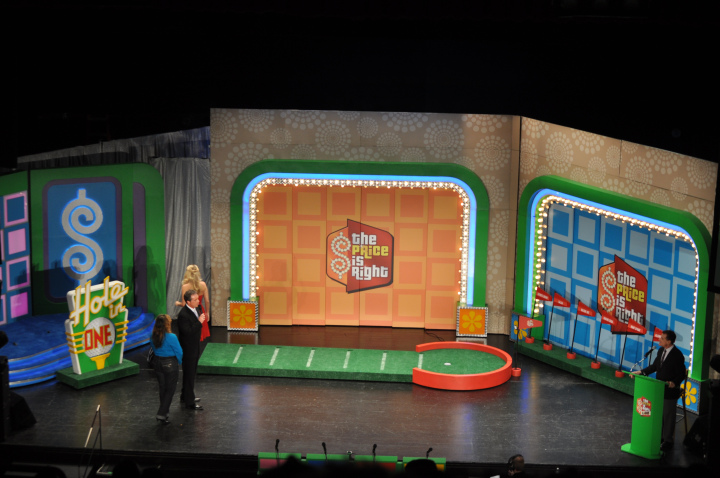 The famous Yellow Tags… Contestants' Row… The Big Wheel… & the Showcase Showdown are ready to entertain Washingtonians and fans everywhere. Are you ready to…. COME ON DOWN! The legendary Warner Theater was transformed into Studio 33 to host America's favorite game of prices, prizes and surprises! If you're looking for the ultimate game show thrill, then the fabulous Price is Right LIVE will make you dreams come true!
The Price is Right is like apple pie, a time honored American tradition. For over four decades, we watch willing contestants in a studio audience hoping to hear their name to COME ON DOWN to contestants' row to guess the price of a prize and earn their way up onstage to play a Pricing Game. Then, they will spin the Big Wheel hoping to make it into the Showcase Showdown where they could win the lot! Now, imagine if you can experience all the excitement of Price without having to make the trip to Los Angeles.
That's when TPIR Live comes in. Ten years ago, TPIR Live made its way to casinos in Reno, Atlantic City, Branson & Vegas with one goal in mind: to bring one of America's favorite game shows out of the studio and into our hometowns. In honor of the show's 40th anniversary, TPIR LIVE has traveled to 36 cities in 44 days to give its fans what they want – their chance to Come on Down!
The Price is Right LIVE feature the talents of 2012's Daytime Emmy-award winning game show emcee, Todd Newton, and announcer extraordinaire Randy West. I have seen both these men in action at the TPIR Live in Atlantic City many years ago. While Carey and Gray got the daytime version, the powerhouse team of Newton & West delivers a show-stopping performance that will lift your spirits. Newton does a great job as the most with the host. From the moment he steps out onstage, he let his personality shine and make you feel you're among friends. West has the quick-wit charm that every announcer must possess. He can look into the crowd and knows how to engage their attention in an instant! Newton & West is the best host/announcer team hands down. One more element to talk about is the Barker Beauty. She is the one who can make any product on stage shine like the gleam off the Holy Grail. What's special about this Barker Beauty is that she calls Fairfax, VA her home.
The stage version is TPIR is just like the one you see on television – with a few minor changes. Contestants are still chosen through a random drawing. No matter if you were sitting in the back row of theatre, you still have a chance to being called to play. Unlike the TV show, a whole new set of players are chosen to guess the "Item Up for Bid" and their chance to play a pricing game for wonderful prizes. "Contestants not appearing on stage" will receive a limited edition Price T-Shirt.
For the luckiest bidders, they will get to play a Pricing Game. Last night's show some of your favorite pricing games including Hole in One, Punch-a-Bunch, Cliff Hangers, Any Number and the grand-daddy of them all PLINKO! Could you win prizes on TPIR Live? Absolutely, the contestants are playing for trips, appliances, a game room and cold hard cash. No Price is Right show cannot be complete with its two main staples. The Big Wheel feature contestants from the Capital Beltway (DC, MD & VA) to spin their way to $1.00 in order to win a chance at a bonus spin. I am not going to say who won the Beltway Big Wheel Battle. I can tell you that the $1.00 was hit in one spin and that player walks away with $350!
Then the piece de resistance, the Showcase Showdown features prizes which includes a HDTV, a cruise to the Bahamas and a NEW CAR! Our two contestants placed their bids and the one that came closer, without going over, won the cruise. If they were $100 away, they win the entire showcase! While one contestant named Valenti gave a rather low bid and her opponent Rudolph gave an acceptable one by Price standards, to the audience's surprise Valenti came out on top for she did not OVERBID. In true celebratory fashion, she ran across the stage twirling around like the belle of the ball.
The Price is Right Live! is fun & exciting for the whole family. Whether you know the prices at your grocery store or yodel the Cliff Hangers theme, you really feel that you are part of the show. With over 1,600 people in attendance, I can tell everyone walked away with a smile on their face for they can say that they are now part of Price's ongoing history.
With two cities remaining: Oakdale Theatre in Wallingford, CT and Theatre at Westbury in Waterbury, NY – this is a Game Show Spectacular Must See. For over four decades, the show has proven that the PRICE is still RIGHT!