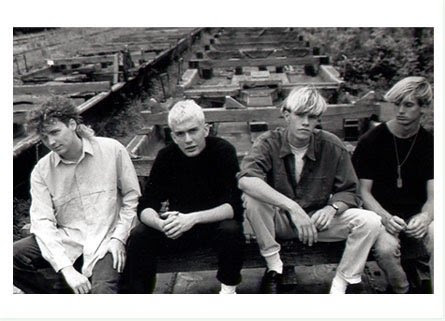 The Ocean Blue's self-titled album was originally released in 1989 but the melodies and beat are even better today. Produced by Mark Opitz—known for his work with AC/DC, INXS and The Divinyls—the self-titled album is what introduced fans to the creativity and upbeat sounds that only The Ocean Blue could create.
"Between Something and Nothing" is an energetic pop tune that is fun to dance to. "Vanity Fair" is upbeat and has a glorious sound. The background vocals are angelic and beautiful. "Drifting, Falling" is a bubbly and upbeat song. "The Circus Animals" is a little mellow and a more relaxed tune than the previous songs and would be great to enjoy on a peaceful day. We come back to the pop and danceable melodies with "Frigid Winter Days". Despite the fact that the song is about being stuck inside on a snowy day, this song has a sunny sound.
Much like "The Circus Animals", "Just Let Me Know" is a relaxed melody. The guitar, drums and keyboards make this song an amazing track to enjoy. "Love Song" is a sweet song that describes what love is to The Ocean Blue, including a brief reference to 1 Corinthians 13:4-8, "love is patient, love is kind…it does not boast, it is not proud". "Ask Me Jon" has The Ocean Blue asking the titular character "how I got here…how I got up here, John" while set to a soothing and exciting pop beat. The guitar and slow percussion in "Awaking to a Dream" gives this dreamy track a hypnotic sound. "The Office of a Busy Man" is a vibrant track that has The Ocean Blue singing as the receptionist to a caller looking for the "busy man" in the song.
"Myron" is a missing man the singer is searching for. Although the theme is a rather serious one, the music is very lively. The moving track, "A Familiar Face", starts out with a quite intro, leading into a lively guitar solo.
Each song on The Ocean Blue's self-titled album is outstanding and works for every occasion. They truly knew what they were doing when they carefully crafted their music. Lifelong fans of their music will be excited to hear it again and new fans will fall in love after hearing the first song.
Final Grade: A