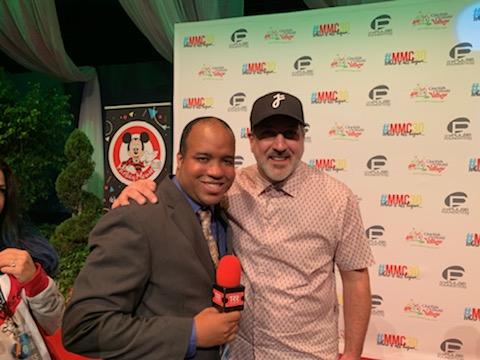 Continuing our special edition of the INTERVUE, I have traveled to Orlando for three fun-filled days of Mouseketeers and childhood memories come alive in the epic MMC30, the Mickey Mouse Club 30th Anniversary Reunion! If you loved Part I of my interviews of our beloved Mouseketeers at the World Showcase at Disney's Epcot, get ready Part II, enjoy!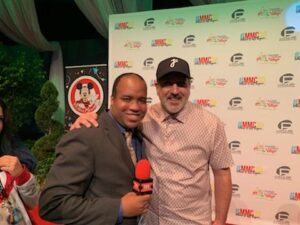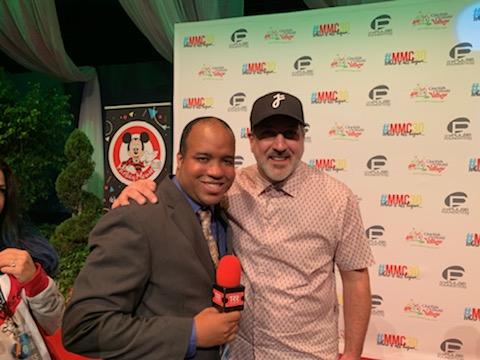 We start the second part with member of NSYNC, host of GSN's Common Knowledge, the MC of the festivties and Orlando treasure – Joey Fatone!
Mickey Mouse Club 3oth Anniversary, for those who are not here—
Why are you not here? You should be here! It's a great time. We gave out way in advice time, and we're excited to be here though. A lot of people have showed up. Everybody's eager to see the Mousketeers; there's about twenty of them, if I'm not mistaken out here.
You're missing out on nostalgia right here, because who knows if this is ever going to happen again with almost all of the cast of the Mickey Mouse Club kids that are out here. Probably once in a lifetime, I would say. You know, it's pretty crazy. It's been a lot of fun so far with the panel at MegaCon; we're going to kick off the party today right now. It's going to go on until the wee hours, I believe; or until they kick us out. It's going to be great.
Absolutely. Who are some of your favorite Mouseketeers?
I'm really partial to Jen McGill. She was a good friend of mine in high school as well. A couple of the other cast members were in high school, but I dated her, so that was kind of cool. And I think she dumped me.
Alright. Well, thank you very much. I appreciate it.
No problem, brother.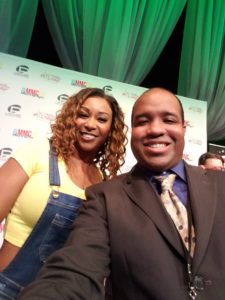 Next we have Nita Booth-Young, a mouseketeer from Season four through season seven!
So, tell us what are some of your fondest memories of being on MMC?
Oh, my goodness. There were so many, but I think a big part of it was getting to know so many talented people. As you know, a lot of talented has come out of that show. Some has moved on, and some is just fabulous and just where it's at, so it's all good. It's all good. So, we've built friendships that lasts a lifetime. Some of us stay in contact with each other.
That's good. So tell us, for the folks that don't know, what are you doing nowadays?
So, actually I own a band. It's called Infusion. It's based out of the D.C. Metro area—
(shouts) D.C.!
And if you're looking for a great time, good entertainment, you want Infusion. We actually just did Mayor Bower's inauguration.
Nice!
We've done for Delegate Ben Cramer, we've done so many different events around there, so you might just run into me at a special event in D.C., but if not, we'd love to come out and do something for you guys.
What do you miss about working with MMC and the cast? What do you miss?
Having to learn stuff in one minute.
(we both laugh)
No, I shouldn't say that. We learned stuff so fast, but it also has prepared me for everything else I do in life, i.e., tonight, I found out I'm doing a song with Rhona that we haven't done in twenty-something years, and I don't even remember the words. But that's ok, it's all good.
Well, we're definitely looking forward to it.
For more information on Nita's band, go to http://www.infusionband.net/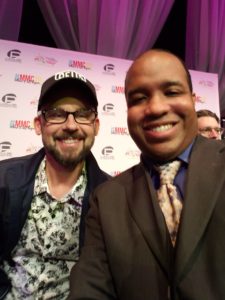 The amazing Kevin Osgood is next on the docket! He wore the ears from Seasons two to five and he was "Lt. Cmdr. Data in the Mouse Trek sketch, one of my favorite MMC sketches.
How are you doing today?
I'm doing great! This is amazing, it's exciting. It's very exciting.
How did you get involved with The Mickey Mouse Club?
Well, so season two, they unfortunately had lost two Mouseketeers and they needed someone to step in the middle of it, and sort of, like dive in. So, I just went through the audition process like anyone would. You know, just a formal process. It wasn't like a cattle call kind of thing. It was more of a 'through my agent' kind of thing. But anyways, I had been training, doing musical theater and just, you know, sort of stepped right in… you know, yeah.
Well, one of my favorite skits you were involved in—and I'm a huge fan—Star Trek, and you guys did the Mouse Trek skit. Tell us about the fun excitement doing that.
Well, that was awesome, because I remember them showing us the clip of the show, and just getting to do imitations and studying how Data spoke, and just learning how he spoke and mimicking him. I just loved that process, just recreating a classic show like that.
What are you doing nowadays?
I am a full time commercial director.
Nice!
So, yeah I do commercials and content for brands like HP, or Lincoln or Home Depot. That kind of thing.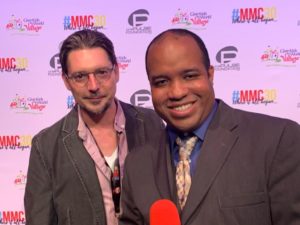 Speaking of the Mouse Trek, Marc Worden not only played Captain Picard in the Mouse Trek Sketches in MMC but he also played Alexander Rozhenko in Star Trek: Deep Space Nine. He was a mouseketeer for five seasons from 1990 – 1994.
What are some of your fondest memories of being on MMC?
Oh, man, being able to perform with such a spectacular cast everyday, and be able to go in front of a live audience of kids who were so happy to see us perform everyday.
So tell us, what are you doing nowadays?
These days, I'm doing voiceovers for animation and video games and narration work, stuff like that.
Awesome. And now you're here, 30th anniversary, among your cast mates. That must've been overwhelming, especially meeting your fans out here.
It's been an amazing experience, you know? Just reconnecting with these guys after so long, and then meeting people that came from all over the country, even other countries to be here to share in the celebration and party with us tonight. It's been great.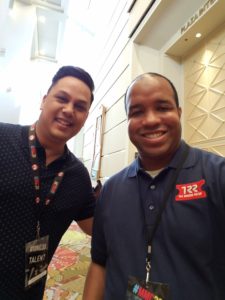 Next is David Kater who was Mousketeer who was part of the Club in the very first season. he appeared in Sister Act 2: Back in the Habit with fellow mouseketeer DeeDee Magno Hall and played Thuy in the touring cast of Miss Saigon
How are you doing, David?
I am doing great! This is such an exceptional event that we're in today. Giving back to the fans is amazing.
How did it feel to see all the fans out here this weekend, seeing all of you, remembering their favorites skits, their favorite moments?
It's so overwhelming. I mean, the turnout we have it's just overwhelming. We saw so many people that had grown up with us, you know? Those thirty little minutes we had on air beaming into everybody's television, and it was so amazing to see how many people just loved the show and the support they've continued to give us over the past thirty years.
Wonderful. You have done Miss Saigon; you have done Broadway, and you've done Sister Act 2. So, what are you doing nowadays?
I'm actually in music, still in music. I've done a lot of music for TV and film, a lot of composition, Gnome Alone on Netflix. I've just had a couple of things air on Lifetime yesterday.
Yesterday?
Last night. Yeah, I'm still doing it, man. I'm still doing it.
What do you want to say to all of the fans who could not be here, what do you want to say to them?
We love you, we missed you. Just because you're not here you're not in our hearts, you are. You're part of our family and next time, hopefully we can be together again.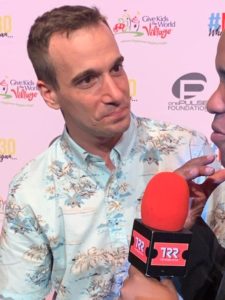 Rounding out this set of interviews is Amazing T.J. Fantini, a mouseketeer who wore the ears for the final two seasons of the series!
So, what were some of your favorite skits? Who were your favorite Mouseketeers to work with?
TF: I always loved watching the older guys do their skits. Like, when they would do the Fort Brain, I was way under the Fort Brain. I thought it was the coolest thing ever. That was always real fun, and then the other skit I liked is the one where Tony was tired of playing the quarterback. I got to come out and be like "I'm going to be the quarterback!"
Oh yeah!
TF: I like that one too. I never did get to be the quarterback though, did I?
No, no, no.
Everybody's little brother!
I can understand. So, what are some of your fondest memories of being on MMC? Especially since you're with some of your fellow cast members thirty years on, you know?
You know, the fact that we—it's so obvious now that we spent time with some of the most talented people around, and a lot of them are up here right now. And like, just being able to share in their talent and hear what they can do is amazing. I'm really looking forward to tonight's performance, so I haven't heard some of these people sing in years. So…
I know. What do you want to say to the fans who couldn't be out here, but wanted to be out here?
What would I say? Thank you, guys! Thank you so, so much for your support throughout the years. I wish you guys were here with us, but you know what? Next time.
Next time, indeed.
We just finished part II but there's one more to go. Stay tuned for Part III of the MMC30 Interviews. Now its time to say goodbye to all our company!