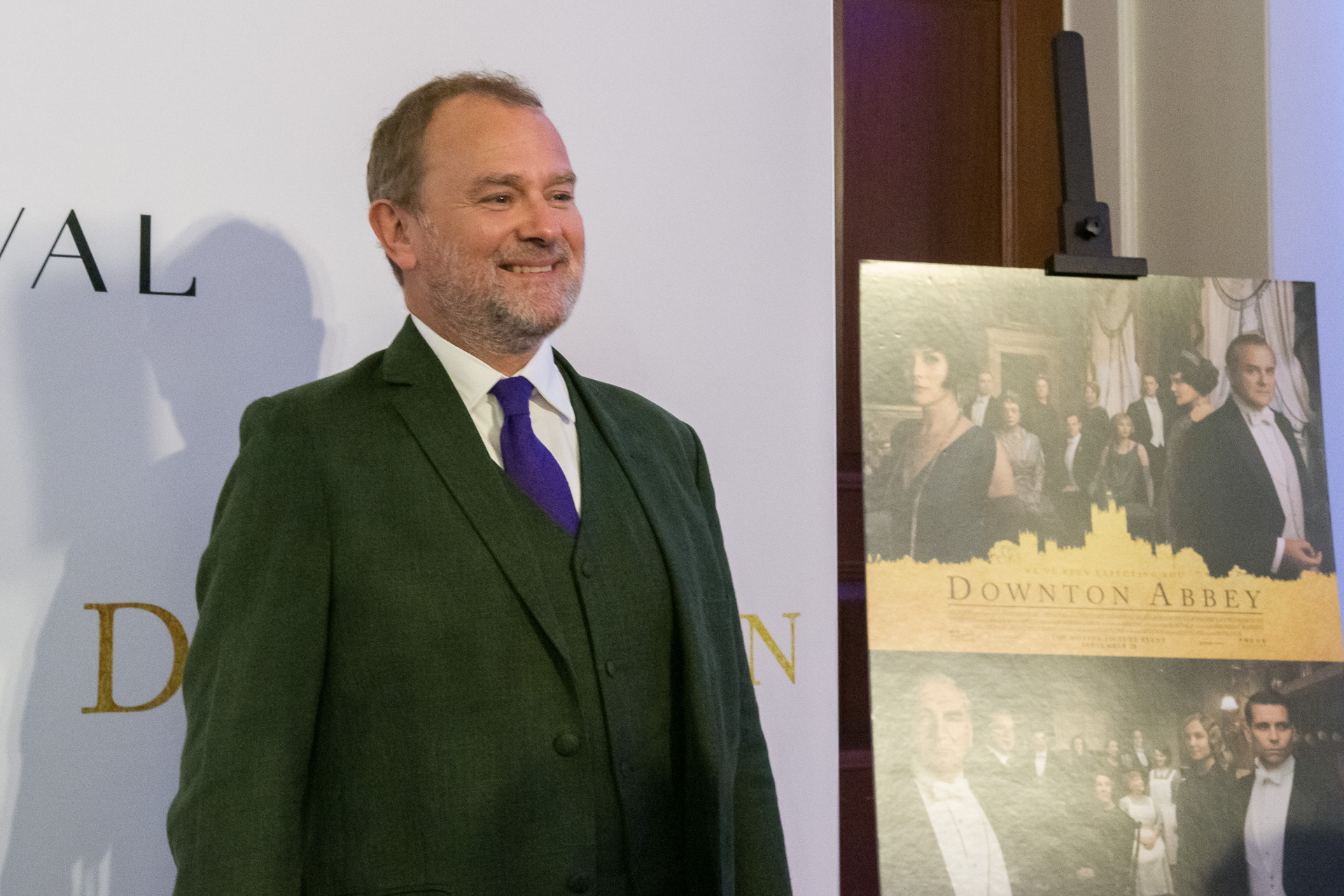 Washingtonians were in for a real treat as the cast of Downton Abbey presented at special screening at the British Ambassador's residency in our Nation's Capital in preparations for the upcoming release of the film adaptation of the amazing TV series coming to theatres this Friday from Focus Features.
The movie is saga of the Crawley family and the servants who work for them in the English countryside in the early 20th century as they prepare an official state visit by the king and Queen to the Crawley family's English country house in the Yorkshire countryside. On the red carpet, we talk to Downton stars Hugh Bonneville, Michelle Dockery, Lesley Nichol, producer Gareth Neame and Downton creator Julian Fellowes. TRR Reporters Dean Rogers & Candace Webb and photographer Cheryl Corman were on hand to bring your coverage from the brilliant smashing event!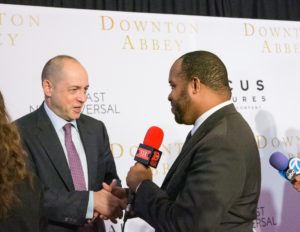 We talked to producer Gareth Neame and creator Julian Fellowes and asked what was the biggest challenge of bringing Downton from the small screen to the big screen? Gareth said "Two things: it was a different style of storytelling, because we've done a one-two hour movie rather than the 11 hours of a season we would do; and we have to try and create a story that had good scenes and meaningful storylines for all the beloved characters, so they're all in there and I believe there are. So, that was a challenge, a slightly different way of telling a story. And then the other thing was sort of a business thing, really. Getting all the actors available at the same time, making deals with them all, trying to encourage them all to come because if one person hadn't wanted to come and be in the movie, we really wouldn't have had the opportunity to recast anyone because the actors are too synonymous with those parts, so we really needed everyone to hold hands and sort of leap of faith together and I think I was very blessed that everyone did do that."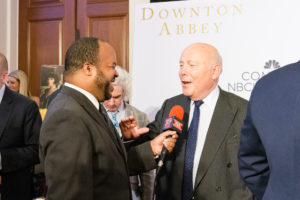 Julian added "Well, in a way, the biggest challenge was rounding them all up. Because they're all stars now, so they were doing Broadway, they were doing series, they were doing movies, they were doing plays. And Gareth had the task of somehow finding a twelve-week period when we have most of them for most of the time. And there was a lot of flying to and fro across the Atlantic and all that. That was, in a way the biggest challenge, but the other was to alter the structure so that we move from series to episodic television to a movie and that really requires an altered story. In a series, for instance, you don't have t finish a story every week. You can take them through several episodes. And also, not every member of the cast expects a big story every week. They probably expect two or three of the whole series; of the whole season. Not in a movie. Everyone in a movie has got a reason for being there and they've all got to be resolved, so that was something, but you've got to be the judge of whether I managed it."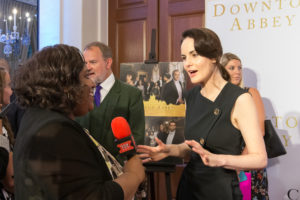 Our Downton follower, Candace Webb, talked to Lady Mary herself, Michelle Dockery, and asked if she has reacclimated to her role from the TV to the movie? "I had to watch a few episodes. SO I watched the ones toward the end to see where I left off but as soon as I was back on set with the gang it was like we never left. And I love playing her. So it was wonderful to get back into her shoes."
Candace wondered Is there a difference between the British fans & the American fans of Downton Abbey? "There's more hype here and its America's fascination with aristocracy and the Royal Family and all things English. At home, fans tend to be a lot more cooler. Maybe they won't admit that they are Downton fans. Its about the way people are but here in America, its much about the hype." Michelle said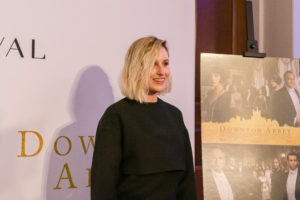 Dean continued with Laura Carmichael who plays Lady Edith Crawley and asked how does it feel to be back in the Downton Abbey movie after being part of a series that lasted for six series? "It feels like a privilege, really. We had such a wonderful time making the show and coming back together to make the film felt like a family reunion, really. So yeah, it felt like an amazing chance to celebrate the show that we love really."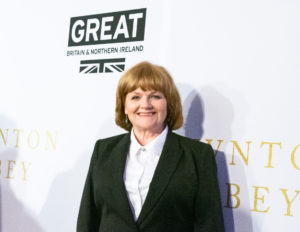 We pondered how has being Downton changed the lives of the cast members in attendance. Lesley Nichol who plays Mrs. Patmore joked with Dean by asking "How long have you got, Dean?" We both laughed then Lesley continued by saying "Ok, let's just say professionally and personally, a whole lot. Many, many ways, it's been probably the biggest life changer of my life." Her costar Michelle Dockery added "Oh, enormously, it completely changed my life. Its been a wonderful experience and to have the opportunity of doing it over again is and amazing response. So yeah, it has been life-changing."
Hugh Bonneville who played Robert Crawley told us about the new additions to the movie and what it was like working with them. "Oh, it was great. Simon Jones as the King, and Geraldine James as the Queen, and the legendary Imelda Staunton is part of the royal household. We've seen Imelda around quite a bit because in real life, she's married to Mr. Carson, the butler. I think he found it a bit frustrating that he had to serve his own wife at the dinner table, or at least stand there while she sat there and enjoyed lunch, or whatever it was. But they were great. They're wonderful actors of great pedigree and to have all of them onset was just great. To be honest, we're all used to each other, the main core company of the cast, that whenever any new artists came on it was like, "fresh meat!"and we fell upon them, tearing them limb from limb, devouring them." (laughs) Because of the excitement of having new friends.
Finally we asked what can fans expect of this film that they've already experienced from the past six series? Downton creator Julian Fellowes started with "Well, what I hope is that they're getting a bigger, bolder, brighter version of the show that they loved. I want them to feel intimate with Downton. I want them to feel the same warmth, same kind of embrace of the characters, but in a filmic way. And we've chosen a subject with the royal visit that gives us an opportunity for some scale, you know, and to fill the screen. I enjoy it very much and I hope they will."
And Gareth Neame added "Well, the fans can expect everything they loved about the television show. Somebody described it to me the other day as a love letter to Downton, or an homage. It covers all the characters that the fans love. We see them in scenarios that we've enjoyed them responding to in the past and new challenges and of course we have a whole bunch of new characters who come into the story who bring a whole new excellent energy and a new dynamic to it. It's all the places you've been to before, it's the comedy of manners, rivalry, the pulling together, the romance is there; there's a lot of romance again. And of course, all important zingers."
Downton Abbey – IN THEATRES THIS FRIDAY