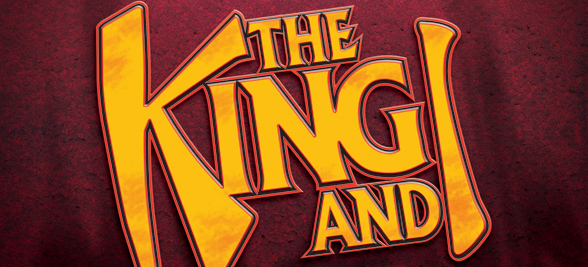 Well, as boring as my title is, that's how boring "The King and I" was. I'm not going to go too far with this revue because I know that I was in the minority! I will start by saying that, "The King and I" is a show that I have avoided performing in, for my whole career. It is usually a show that I like to watch occasionally, but after seeing this incarnation, I do not need to see it again for a long time! After seeing the non-union production of, "South Pacific" earlier in the season at Wolf Trap, I expected this union production to blow me away and it barely kept me awake! Right from the get-go, I was bored.
Anna, played by Victoria Mallory needed the first few scenes to warm-up. This Broadway veteran's voice wasn't warmed-up at the beginning of the show? She got better as the show progressed, but if we were watching this on Broadway at $125 a ticket, people would have thrown things! I was very surprised that people seemed to be enjoying themselves. I think that they were caught up with it being a live performance and possibly because they just love that show!? A bad show is a bad show, though! Besides Mallory not being capable of whistling a happy tune, she couldn't keep her accent. Before the fist scene commenced, she had already lost it.
My biggest grievance with the show is her performance throughout. She may have been a Broadway star in the 70's, but now, at over 60 years old, she came off more as Louie's grandmother and it was hard to believe that the King would have been interested in her.  That wasn't so much her age, but their lack of chemistry. The King, played by Ronobir Lahir, was another lost part. He didn't really command the stage or the show. He too, evolved throughout the evening, but I felt it was all too little, too late. Baayork Lee, who in her own right is a Broadway star/veteran put together a very lackluster cast. Everyone was good, but not great. The scenes rolled by with no depth. Characterizations were weak, singing was pretty, but not exciting and the same went for the acting.  Jee Hyun Lim playing Lady Thiang sang expertly, with clear diction (as they all did) but no one was dynamic.
One performer, who did stand out for good reasons and made the best attempt at standing out amongst the drearyness was Ali Ewoldt as Tuptim. I have seen her in shows before and her voice is clear, sweet, and beautiful. Her characterization was the best of the night. I believed that she was heartbroken and lovesick. Unfortunately for her, her passion for Lun Tha, played by Josh Dela Cruz was one-sided. She's lovely and he seemed to not want to go near her. It was more than a poor blocking choice. His actions didn't read well. It's one thing to keep their distance because the characters are forbidden to be together, but she had the look of longing and fear on her face, but he was just distant. His singing voice was wonderful, but there was hardly anything behind it. Ewoldt's narration of, "The Small House of Uncle Thomas" and the execution of that scene by the ensemble was the highlight of the evening.
Besides Ewoldt's portrayal throughout the show and a few moments here and there. I didn't love the show. It was just alright! I do need to say that the adult ensemble was a very good support system and made a great showing during, "The Small House of Uncle Thomas". The costumes and the scenery were amazing. All of the costuming was dead-on for period, fabrics, and made exquisitely. The sets consisted of lavish curtains, painted with different designs to show each room of the palace.  "…Uncle Thomas" had two large set pieces that were gorgeous. The show did bore me at points and I didn't care for either lead, but the sets and costuming brought it alive.
I did recommend the show to some theatre friends who are big fans of, "The King and I" and they felt underwhelmed as well. But others who are not as into theatre enjoyed it.
It is a professionally done show, although, Anna not being prepared to sing in the first scene was a little pathetic and I was really dismayed by her obvious real life age. It was like watching Bernadette Peters, at 50, play Annie Oakley who was 18…let's get real people!! These were real people whom the story was based, it's not up for interpretation!
Overall Production: C+, the costumes, the scenery, the adult ensemble, the choreography, and Ali Ewoldt's performance saved this grade from being very low! Any show where the main leads aren't superior shouldn't get saved, but that is how good the aforementioned parts are!
Venue: A-, the poor Gilbert and Sullivan Players melted into pools of sweat earlier in the season, luckily "The King and I" had better summer nights.  With the lights and all of the elaborate costumes, I do have to wonder if these types of musicals are a good fit for Wolf Trap, for the actor's sakes!? I think "Rock of Ages" will prove to be a better fit for the outdoors because the costuming is way less constrictive.
I am not going to grade any of the other individual actors because I don't want to offend. TOTS should definitely reconsider their casting methods. They are also the production company behind Cathy Rigby as Peter Pan and while Peter Pan wasn't a real person and we are always willing to believe a woman playing a young boy, Cathy Rigby is so talented at portraying the part, that we don't care about her age…that is not the case with Mallory as Anna!
"The King and I" presented by Atlanta's Theater of The Stars, returned to Atlanta for a limited engagement, for further details go to www.theaterofthestars.com and for the remainder of the season at The Filene Center and the full season at The Barns, go to www.wolftrap.com