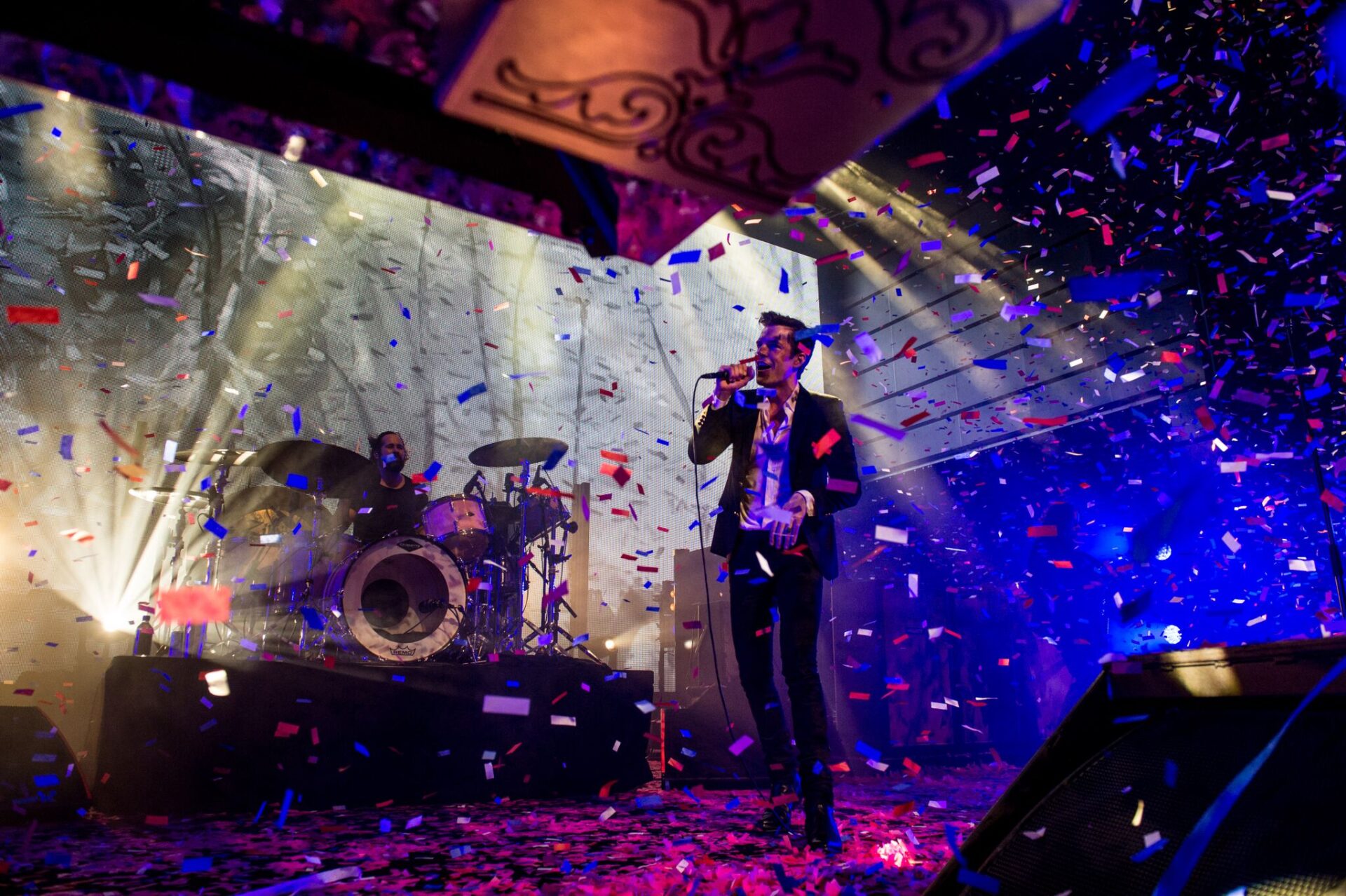 The Killers were definitely "Wonderful Wonderful" at The Anthem on Wednesday night, January 10th. "Wonderful Wonderful" is the title of their fifth studio album which debut at number one on the US Billboard 200 and becoming the Killers' first US number-one album. I decided to review from the third level of The Anthem because I could see the complete stage and observe overall positive crowd reactions from all angles.
By about 7:30 pm, the Wharf District's music venue started to fill up with thousands of anxious Killers' super fans like the Courthouse Arlington couple I met from Virginia who paid close to 300 dollars for their tickets and just wanted to hear two songs from their 2004 Hot Fuss album "Somebody Told Me" and "Mr. Brightside."
First up on the stage was an Australian pop-rock musician called Alex Cameron. He played a total of six songs which included "Happy Ending," "The Comeback," "Candy May," "Stranger's Kiss," "Runnin'Out Luck," and "Marlon Brando." I couldn't stop looking at his groovy dance moves on stage. I felt like I could listen to their music and fantasize being in an excellent 80's movie especially when they sang 'Marlon Brando.' I was digging on their keyboards and drum play action.
After about a 25 minute intermission, it was time for the main event. The Anthem was utterly packed with the 6000+ sold-out crowd cheering with glee as soon as they saw their rock heroes on stage. The incredible lead singer Brandon Flowers kicked off the show with the rock anthem "Run for Cover" with these enormous monitors displaying their sexy music video. This Vegas-inspired rock band brought their swagger, and I loved Flowers' fashion choice of a black suit jacket with skin-tight pants. He sang his heart out even though he apologized for feeling ill. Such a true performer!
Honestly one of my favorite performances of the night was their second song "The Man" because it was visually entertaining with their neon light show of a sexy dancing cowboy/cowgirl. I was under Flowers' vocal spell with the lyrics stating "…I'm the man, come round. No-no-nothing can break; no-nothing can break me down." It was unexpected showstopper moment because pink confetti exploded everywhere which gave me goosebumps! Flowers even quoted the daredevil Evel Knievel's message saying "people pay their hard own money to see the attempt not to see the perfect landing…" but in my opinion, The Killers are real showmen. You definitely don't want to miss them live!
Other highlights and honorable mentions included:
Drummer Ronnie Vannucci, Jr.
Singing favorites like "All These That I've Done" and "Spaceman" which hit number 17 on Rolling Stone's list of the 100 Best Songs of 2008.
Adding a sweet local flare musical moment was when Flowers introduced PG county Maryland musician Joe Pug to the audience. They sang Pug's country song "If Still It Can't Be Found."
Flowers final quote of the night was, "I know life can be tough; sometimes that's the way it goes. But, you got to remember – sometimes it goes the other way too" and with that a kick-ass finale encore song of "Mr. Brightside" wearing a fantastical golden glitter suit!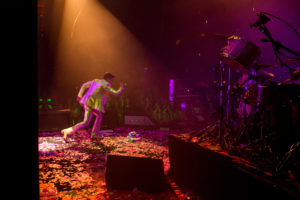 Upcoming US tour dates and locations consist of Jan 26 Sugarland, TX, Jan 27 Irving, TX, Feb 1 – 2 Los Angeles, CA, Feb 3 Las Vegas, Feb 5 Broomfield, CO, and Feb 6 Salt Lake City, UT.
Final Grade: A – I nominate The Killers as one of the hottest world tour performances of 2018.