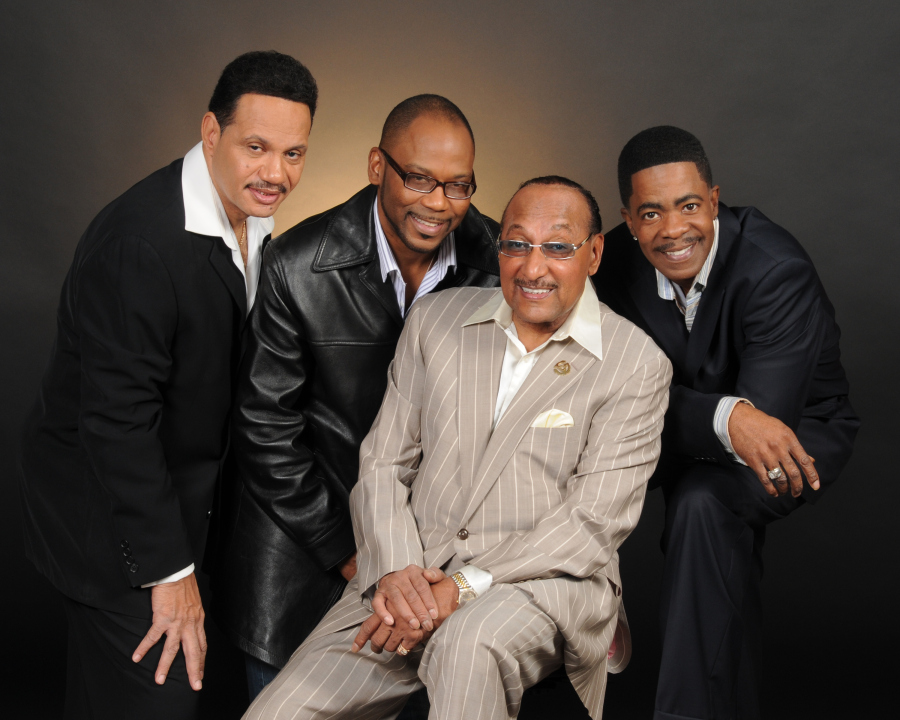 The Filene Center was alive with Motown last week, as the Four Tops and The Temptations joined together to form one awesome concert! The Four Tops started off the night in their gorgeous, silver suits.
Only one original member remains, Abdul "Duke" Fakir and at 77 he is a force to be reckoned with! The other three original members have, unfortunately left us, but before each of their passings they all remained with the Four Tops. They stayed together from 1953-1997 and only added a new member when Lawrence Payton died, in '97. This an amazing accomplishment and not a lot of groups can say that they have all of their original members. Sadly, as Renaldo "Obie" Benson and Levi Stubbs passed in 2005 and 2008 respectively, that's when the next new members were added.
The current group is a powerhouse conglomeration of new members Lawrence "Roquel" Payton, Jr.,  Ronnie McNeir, Harold "Spike" Bonhart, and of course Duke. They filled the night air with sweet harmonies and synchronized dance moves. Duke told stories from the early days and Roquel shared memories of his dad. They sang all of the hits, "Baby I Need Your Loving", "It's The Same Old Song", "Reach Out I'll Be There", "Standing in the Shadows of Love", and "Bernadette". Duke spoke about each fallen member glowingly and then a song was sung as tribute to each. Ronnie sang, "What's Going On", which Obie wrote for Marvin Gaye.
Roquel sang a very moving version of, "Dance With My Father" for his father, which brought me to tears. Then Duke sang, "My Way" (with some lyric changes) to all three members who aren't with us. They sang with such heartfelt emotion and genuine love. Naturally, they closed their set with one of their many hits, "I Can't Help Myself (Sugar Pie Honey Bunch)". Everyone was up and dancing and singing along. It was a perfect finish!
After intermission, we came back to another group of sharp dressed men, The Temptations. The fantastic five came out in hot, red suits and like the Four Tops, there is only one original member, Otis Williams. At 70 years young, he proves that you're never too old to do what you love! And do it they did…as with the Four Tops, they hit their groove and kept on going for the whole set. They too, hit those synchronized dance moves and it really pumps me up! They sang hits for us, including: "I Wish It Would Rain", "I Can't Get Next to You", "Papa Was a Rollin' Stone", "Just My Imagination (Running Away with Me)", "Get Ready", and "Treat Her Like a Lady"…just to name a few. Otis' voice is like sweet cream and the rest of the gentlemen, Ron Tyson, Terry Weeks, Bruce Williamson, and Joe Herndon create glorious harmonies. They, of course, sang, "The Temptations Anthem" as they called it, "My Girl". Again, everyone was up and dancing and singing along!
I have seen both of these groups over he years, individually and now together. It makes for a great night of song, dance, and memories! I highly recommend seeing both groups, separately, but putting them together seems like a no-brainer for a great night of Motown!
Overall Performance: A+, they are all professional and spot-on! It's a great combination for a family night or date night!
Four Tops Performance: A+, Spike's lead is really excellent and I enjoyed their report with each other immensely!
The Temptations Performance: A+, again, really great comradery, joking around, and the sound..whew!
Venue: two-part grade 1)It has been unusually hot and humid this year, so weather-wise C+, it was beyond hot and humid and there were very few moments when I wasn't conscious that we were outside and the members of the groups were dying of heat, being under the stage lights. 2) A+, it's great to be outside and typically it hasn't been an issue. The smart money is on buying your tickets and taking the chance. It's just like being on the lawn…if you buy your tix and the day-of it rains, that was the chance you took and the acts are so good that it's still a good time regardless.