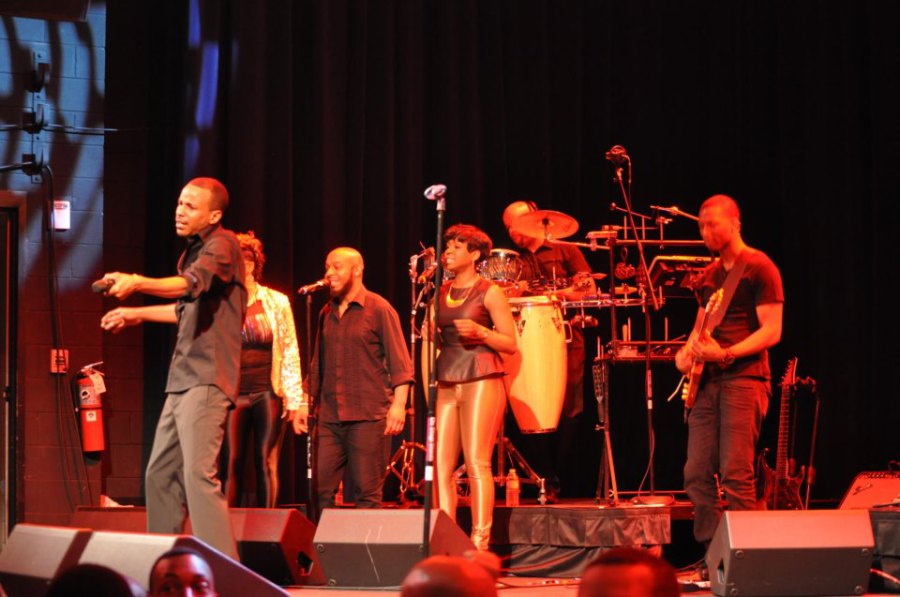 Life seemed much simpler in the early 90s and that is most evident in the media. Instead of fighting and tweeting, teen pop icons made appearances on sitcoms (what are those?!), further increasing their likability.  That is how I was introduced to Tevin Campbell. I was watching Fresh Prince of Bel-Air when he surprised Ashley Banks with a beautiful rendition of "Happy Birthday" and her first date, and I was forever mesmerized by his voice. I saw him again at the Howard Theatre, and it's good to see that my fascination is still there and still justified.
With all the rumors circulating about Tevin Campbell's health, I halfway expected him to be in a wheelchair. But he glided out onto the stage on his own two feet, smoothly moving along to the music of "Come Back to the World." Thin, but not scrawny, and hitting all of his signature high notes with ease, the grown-up Tevin was just as charming and amazing as the teenage version.
Campbell performed a mixture of music from his 10-year hit-making career, focusing mainly on the earlier tracks such as "I'm Ready" and "Round and Round." When he did venture into later songs, very few people sang along with him. He took that as a sign that he needed to sing something else, and that was disappointing. I love when artists trot out material that is new, or at least new to most of their fans because we get to know them a little better and see firsthand how broad their range is. The disappointments kept coming as he performed a tribute to a man he (and I) called "the greatest entertainer to grace the stage," Michael Jackson. He started with one of my favorite MJ tunes, "Butterflies," and forgot the words to the second verse. He just stood there, smiling awkwardly at his backup singers until he could find his place later in the song. We all have bad days, but I have no patience for Amateur Hour antics after you go on and on about how special the person receiving the tribute is.
Before I could form a real opinion about the show as a whole, it was over. Campbell did a half of a verse of his first hit "Tomorrow (A Better You, Better Me)" and then all of the crowd-pleasing "Can We Talk" and left the stage. The audience members just looked at each other like, "Really? That's it?" because it had been a little less than an hour. There were no band introductions, no background singers taking the spotlight while the headliner gets a break, or any other bit that artists do to stretch out the show. He really could have performed all of "Tomorrow" since that was one of his biggest hits, and even I had to perform the whole thing at my 5th grade graduation. He came back out to sing Stevie Wonder's "Superstitious" as an encore, but we were all over it at that point.
With that much vocal talent and energy, that should have been a better (and longer) show. His voice is still incredible and he is still dripping with enough charisma to sell albums. I hope his entourage gets his tour together so he can make a comeback, and guest star on "Modern Family" or something.
TRR Concert Revue by Stephanie Taylor