Tesla Boy's DC Debut
3 min read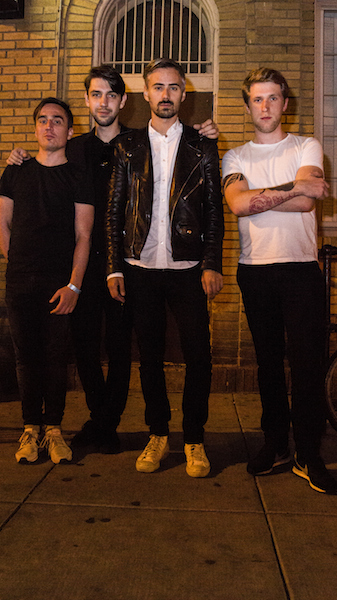 TRR Revue and Photography by: Alan Duckworth and Dorian Fernandez
Since 2008, the Russian synth sensations Tesla Boy has been releasing a steady stream of mesmerizing new wave rock. I would include them amongst a trio of Prince influenced bands that began establishing themselves around the same time; the other two being Miami Horror and Chromeo. Other than Prince, I would say their sound is similar to The Cure and Depeche Mode. Last Thursday night they opened for Gold Room at U St. Music Hall.
Their debut self titled EP featured "Spirit of the Night," and "Runaway Man" two great upbeat soul inspiring hits; when I first heard them I thought I was actually listening to 80's music! Their follow up album Modern Thrills turns up the volume with tracks like "Electric Lady," "Rebbeca," and "Thinking of You." They recently released The Universe Made of Darkness in March 2013; it remained consistent and true to their unique sound with songs like "Fantasy," "Dream Machine," "Split," "Undetected," and "Another Light." Given their number of releases and popularity in Russia, Tesla Boy has established themselves quite well.
Vocalist and keyboardist Anton Sevidov utilizes a 1977 Korg MS-10. It really gives the music a distinct sound and along with his Prophet 8 keyboard, they blend fluently with the other instruments. Tesla Boy features Leo Zatagin on bass, Mike Studnitsyn on drums and Stan Astakhov on guitar. Other electronic elements include a Simmons Drum Pad and Akai MPC. They sounded fantastic! The song "Fantasy" was incredibly enjoyable and emitted a sense of euphoria. Another great track was "Dream Machine," I really like the violin samples. Anton's singing filled the close quarters of the venue and the harmony proceeded. The mix of electronic elements and rock n roll, primarily Funk, Jazz and R&B creates a feel good groove.
The band sounded great! You think that would be enough to make for a good concert but that wasn't the case. Due to really whack scheduling, Tesla Boy was literally forced off the stage at 8:10pm with the audience still pleading for more songs. The U St. sound crew cut them off as they started to play! What a anti-climatic ending! Tesla Boy, which began their set at 7:30, played for a whopping 40 minutes! The amount of material Tesla Boy has could easily fill a two hour set! Anton later stated they've never been cut off like that before. I don't know who's to blame, U St. Music Hall or All Things Good Promotions but it was uncalled for! Would it have killed them to let them play one more song? They've come all the way from Russia! Anton handled himself quite well given the circumstances.
I felt obligated to apologize on behalf of DC for the debacle. I really hope this experience doesn't deter the band from returning. They assured us it wouldn't; just maybe a different venue. It's only a matter of time before they're more recognized in the US for their talent and sound. This may sound a little cliché but Tesla Boy truly is the genuine article. I saw a uncompromising passion for the music they make. It was pure enjoyment. They were undeterred by any of the happenings; Anton at this point was more interested in seeing the rest of the city. It really was a privilege to have seen this band live. I really hope they return. Here are some fan shots from the show.
Stolichnaya Vodka