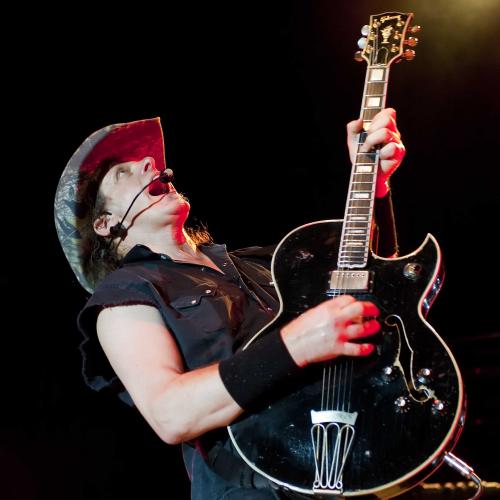 The Motor City Madman Ted Nugent brought the Sonic Batizm Tour and rocked Rams Head Live in Baltimore Saturday night. The hard rock icon has been performing since 1958. With Uncle Ted in the house, we all caught a little "Cat Scratch Fever."
Tonight Ted Nugent played his 6,549th concert. He said when he started playing in the early sixties concerts were called sock hops. Tonight the atmosphere felt like a sock hop. It was a Saturday night and Market Place Boulevard was buzzing! Except, these women weren't wearing any socks. Might as well have called it a legs hop. The ladies were out tonight! Not a bad place to be on a Saturday night. It was "The Nuge" in a nightclub-like setting.
The stage dawned a huge American flag. A wall of Kustom Quad 100 DFX combo amplifiers lined the back. Two cow skulls were on opposite ends with glowing red eyes. A Native American headdress sat on top of one of the amplifiers. In the center, a Pearl drum set surrounded with plexiglass. Ted Nugent used three different guitars for this concert. His signature vintage 1962 Gibson Byrdland guitar, a custom Les Paul Stars and Stripes, and a Gibson Byrdland "Great White Buffalo."
Ted was joined by bassist and vocalist Greg Smith and Jason Hartless drummer for Ballistic. It's incredible how much sound Ted Nugent's band can produce with just three people. It reminds me of ZZ Top and how they can produce complex sound with only three members.
The concert opened with "The Star-Spangled Banner," the Ted Nugent version. This was an amazing guitar solo! At 67 years old I don't know how Ted still has the finger dexterity to pull off such intricate solos. It sounded great! Ted can still play guitar at a very high level! He talked about his age with us. He said people might think as I get older I might tone it down a little, play slower. He assured us as long as he has a dick, he'll be playing hard rock.
It doesn't get more hard rock than "Gonzo" the second song. It's fast and loud and the guitar just screams! It gets you moving. Another really good song was "Snakeskin Cowboys." This song was released in 1975, it's a precursor to heavy metal and that's exactly what it sounds like. The opening guitar riff makes you want to make devil horns with your hands and scream. It's funny because Ted Nugent is a devote Catholic who regularly attends church.
Ted took the time to explain to us that country western music wouldn't exist without big fat pussy. He said he's not going country anytime soon but does have his own Big Fat Pussy song. He then played "Wang Dang Sweet Poontang." It was a funny intro, I got a kick out of him screaming big fat pussy into the microphone. While "Wang Dang Sweet Poontang" had a hard rock sound, the next song "Hey Baby" was very bluesy. This was a fantastic display of instrumentation for both Ted Nugent and Greg Smith. It felt and sounded like a pure blues jam session.
Ted Nugent played "Cat Scratch Fever" and "Stranglehold" back-to-back. When Ted played the opening riff to "Cat Scratch Fever" everybody in the whole club cheered like the Ravens just scored a touchdown. It was a great song to hear live and one of rock n roll history's best hard rock songs. To see it played by Ted Nugent himself was amazing!
The next song "Stranglehold" was my personal favorite. Greg's bass playing in the opening stanza was so smooth. This song is a perfect example of blues and metal fusing together seamlessly. It has a rock n roll groove with some hard hitting blues solo instrumentation and vocals. When this song came on people started high fiving each other around the club. You could tell it was a crowd favorite.
As an encore, Ted played "The Great White Buffalo" on his Gibson Byrdland "Great White Buffalo." The final moments were like a fireworks show of sound. This was a great concert and a fun evening.